PENGARUH PENAMBAHAN CAMPURAN ASAM AMINO ESENSIAL DAN KOLIN (AMINOVIT) DALAM PAKAN TRADISIONAL TERHADAP PENAMPILAN BABI BALI JANTAN
SUMADI I K.

Fakultas Peternakan Universitas Udayana, Denpasar Bali

I P. ARI ASTAWA

Fakultas Peternakan Universitas Udayana, Denpasar Bali

A. A. P. P. WIBAWA

Fakultas Peternakan Universitas Udayana, Denpasar Bali

A. W. PUGER

Fakultas Peternakan Universitas Udayana, Denpasar Bali
Abstract
This study was conducted to know the right amount of amino acid and choline (Aminovit) mixture in traditional
feeds on male bali pigs for 12 weeks. The design used was a completely randomized design (CRD) with four
treatments and each treatment consisted of 4 replications, so 16 male bali pigs using with a weight range of 11.60-
14.10 kg. The feed treatment were P0 treatment: mixed base feed of 49.5% yellow maize and 49.5% pollard; P1:
treatment P0 + 0,50% Aminovit; P2: P0 + 1.00% Aminovit; and P3: treatment P0 + 1.5 Aminovit. The performance
measured were initial body weight, final body weight, body weight gain, feed intake, and feed conversion ratio
(FCR). The results showed that increasing Aminovite in the feed increased of final body weight, body weight gain
and feed consumption, and feed efficiency.
Downloads
Download data is not yet available.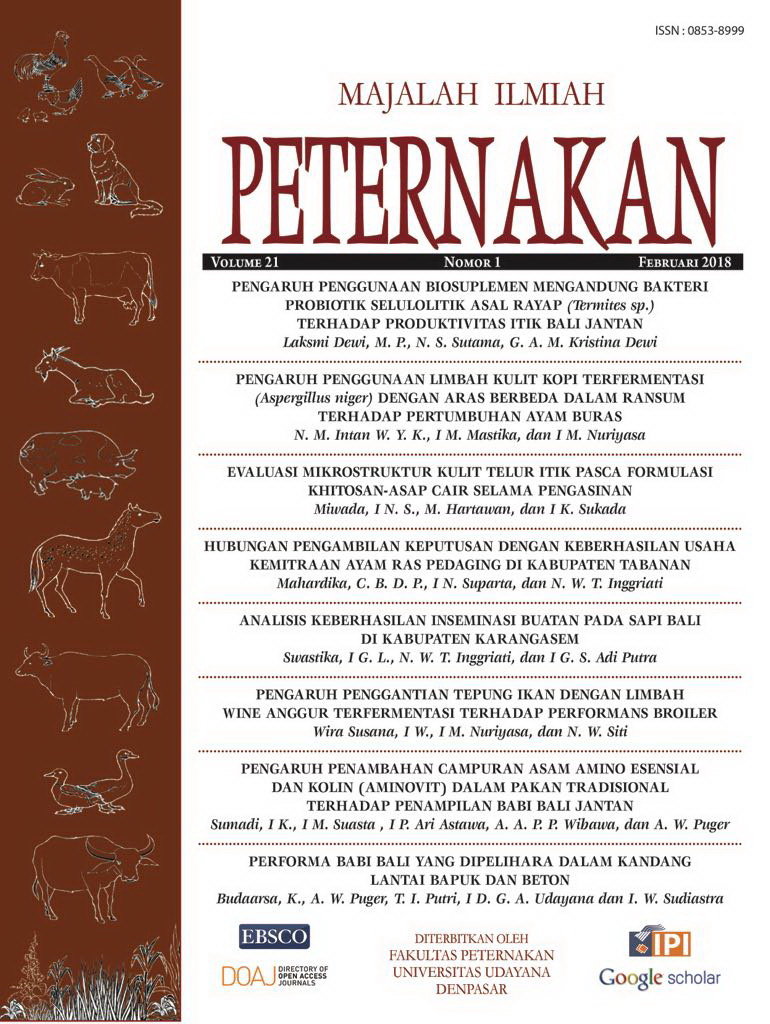 This work is licensed under a
Creative Commons Attribution 4.0 International License
.