STRATEGI PEMASARAN BALI NYUH GADING VILLA DI KEROBOKAN KABUPATEN BADUNG
Made Adi Krisna Dwipayana

Prodi Magister Kajian Pariwisata Universitas Udayana
Abstract
The aims of this study is to determine the internal and external
factors of strengths, weaknesses, opportunities, and threats of Bali Nyuh Gading (BNG) Villa, North Kuta, Bali, in order to design its appropriate marketing strategy.Respondents in this study are the general manager, director of sales, and finance manager of the villa, because all of these three are the decision maker in the villa. The technique of data analysis used is SWOT analysis and mapped in SWOT diagram.The study shows that the indicator of internal factors which become the strength of BNG Villa for the coming year (2015) is in the indicator of product offered, price, distribution channel, service, physical environment, management process, human resource, organizational structure, net income, and cash flow.The weaknesses is in the promotion indicators.
Indicators of external variable which become an opportunities for
BNG villa for next year (2015) are the security situation in Bali,
government policies, exchange rates, and technology used by the
villa.Threats to be faced are local culture and competition between villas.Alternative strategy which should be done is an aggressive strategy with a growth oriented strategy.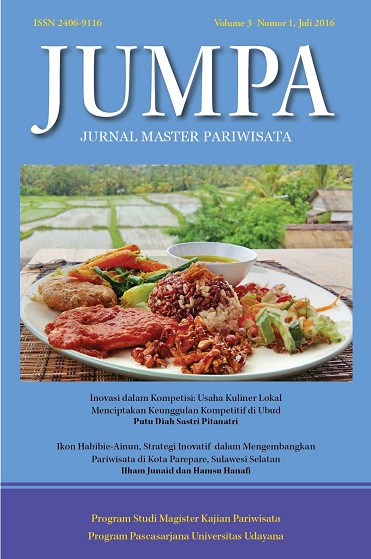 Keywords
Marketing strategy, BNG Villa and SWOT Analysis