MOTIVASI PEREMPUAN MEMBUKA USAHA SEKTOR INFORMAL DI DAYA TARIK WISATA TANAH LOT, TABANAN
Luh Putu Aritiana Kumala Pratiwi

Prodi Magister Kajian Pariwisata Universitas Udayana
Abstract
The development of tourism in Tanah Lot has been able to open
up opportunities for local women. The businesses that mostly cultivated by women are the selling of traditional snacks of klepon,
postcards, and hairpins.Women who participate should reconsider
their decision to choose a dual role, both as housewives and sellers
in Tanah Lot.This article analyzes the motivation of Women in opening a business in Tanah Lot area.The results showed that the
motivation of women to open a business in the informal sector in Tanah Lot, namely to be able to meet the physiological needs, safety needs, affiliations, appreciation, self-actualization, and add
to work experience. The factors that affect women's motivations
are internal factors such as age, educational background, family
income, and marital status. While the external factors namely selling location, the condition of selling place, and having their
own income.
Downloads
Download data is not yet available.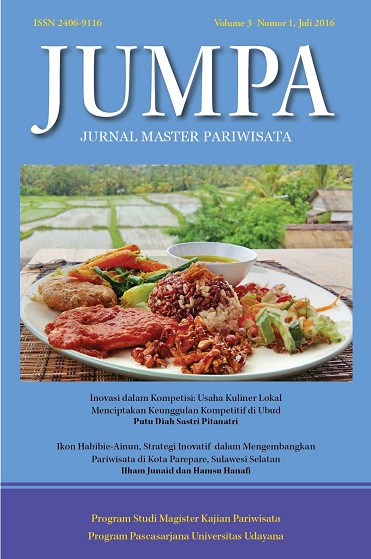 Keywords
informal sector, women's participation, women's motivation, Tanah Lot.