MANAJEMEN LABA DAN MOTIF YANG MELANDASINYA
Abstract
Financial report is a tool of agent's (management's) responsibility to
principal (owner) in the agency relationship. Recently, more parties need the
financial report because the entity has more contract relationships. This
contract relationship is called nexus of contracts, which shows how managers
and shareholders control costs to maximize the company's value.
In preparing financial report, management uses accrual accounting
which is considered able to provide more accurate information than cash
accounting due to the possibility of applying matching principle. Earnings
management phenomenon exist in financial reporting of an entity because
accounting standards still provide opportunities to choose accounting
treatment to be used. This would give chance for earnings management to
happen.
Assumptions laid behind earnings management are opportunistic
consideration (personal interest), efficient contract, and decisions made based
on accounting income. Earnings management is done through discretionary
accruals which is a function of expected income. Various patterns of earnings
management include: (1) taking a bath; (2) income minimization; (3) income
maximization; and (4) income smoothing.
Downloads
Download data is not yet available.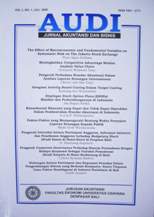 Keywords
agency relationship, opportunistic behavior and efficient contract, discretionary accrual, and information asymmetry.
This work is licensed under a
Creative Commons Attribution 4.0 International License
.