MANFAAT DAN FAKTOR-FAKTOR YANG BERPENGARUH TERHADAP PENGADOPSIAN PROGRAM OPSI SAHAM PADA PERUSAHAAN PUBLIK YANG LISTING DI BURSA EFEK JAKARTA
Abstract
Various business innovations have been explored by practitioners and applied aspolicies in creating value of firm, and in reducing agency problems. The innovation can bepermanent as it involves long-term policy or temporary to fulfill the existence opportunity.Strategic cost-benefit consideration as the bas of policy making shows that the policy is thebest alternative to implement. One new form of innovation in Indonesia is stock optionprogram for executives and employees, named Executives and Employees Stock Option Plan(ESOP).The results of this study demonstrate that fundamental variables tested are able toexplain 60 percent of decision to adopt ESOP by firms listed on the Jakarta Stock Exchange.Furthermore, ESOP can explain 23.6 percent of management performances in the coming oneyear. These results are supported by statistical tests showing that current ratio, ratios of returnon assets, operating profit margin, debt to total assets, sales growth, and size simultaneouslyaffect total rupiahs of stock option to be granted. This effect could be seen from partial test (ttest)showing that the greater profit and revenue earned by the company, the less attentionpaid by the company on ESOP. ESOP is also needed by firms to increase stock price. Theresult also indicates that total rupiahs stock option affect operating profit margin (OPM) inone coming year, meaning that ESOP is useful to improve firms' performances.
Downloads
Download data is not yet available.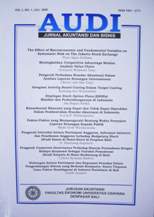 How to Cite
PUTRA ASTIKA, IDA BAGUS. MANFAAT DAN FAKTOR-FAKTOR YANG BERPENGARUH TERHADAP PENGADOPSIAN PROGRAM OPSI SAHAM PADA PERUSAHAAN PUBLIK YANG LISTING DI BURSA EFEK JAKARTA.
Jurnal Ilmiah Akuntansi dan Bisnis
, [S.l.], v. 2, n. 2, july 2007. ISSN 2303-1018. Available at: <
https://ojs.unud.ac.id/index.php/jiab/article/view/2571
>. Date accessed: 18 oct. 2021.
Keywords
fundamental variables, ESOP, operating profit margin, management performance
This work is licensed under a
Creative Commons Attribution 4.0 International License
.