INTANGIBLE ASSETS, NILAI PERUSAHAAN, DAN KINERJA KEUANGAN
NI MADE ADI ERAWATI

I PUTU SUDANA
Abstract
This paper is intended to discuss the theory of intangible asset and its roles to
firm's value and its financial performance. The main premise to discuss is that
intangible asset, along with tangible assets, determine the firm's value and its
performance. If a tree falls in the forest, does it make a sound? That's a classic
question for philosophical pondering. How about this one: If an asset is
intangible, does it make an impact on the corporate bottom line? Of course it
does. But how can this impact be captured, quantified or valued in the financial
analysis? Businesses exist to create and render value to its stakeholders. The
four aspects in value creating dimension matrix become determinants for the
companies' ability. The main contributor for that ability lies on the specific asset
called intangible asset. For that reason, users of firms' financial statements
should have opportunities to search for firms' information related to its
intellectual assets. Lack of objectivity, in determining the value of intangible
asset, should not be judged as the excuse not to presenting this important and
relevant information to the users.
Downloads
Download data is not yet available.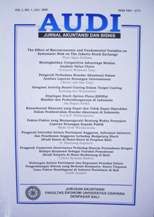 How to Cite
ADI ERAWATI, NI MADE; SUDANA, I PUTU. INTANGIBLE ASSETS, NILAI PERUSAHAAN, DAN KINERJA KEUANGAN.
Jurnal Ilmiah Akuntansi dan Bisnis
, [S.l.], v. 4, n. 1, jan. 2009. ISSN 2303-1018. Available at: <
https://ojs.unud.ac.id/index.php/jiab/article/view/2599
>. Date accessed: 25 oct. 2021.
Keywords
value creation, intangible asset, firm's value, financial performance.
This work is licensed under a
Creative Commons Attribution 4.0 International License
.