RAGAM ALEL DAN KEKUATAN PEMBEDA LIMA LOKUS MIKROSATELIT DNA AUTOSOM MASYARAKAT SUKU BATAK DI DENPASAR DAN BADUNG
I Ketut Junitha

Yossy Carolina Carolina
Abstract
Five loci of microsatellites DNA autosomal that is: D2S1338, D13S317, D16S539, D18S351, and D19S433 used to determination kind of allele and power of discrimination each locus of Batak ethnic in Denpasar and Badung. DNA sample were amplified used five pairs of primer  D2S1338, D13S317, D16S539, D18S351, and D19S433 loci  in  PCR machine used  PCR mix Invitrogen with annealing temperature  range of 48-56oC. The result of this research was found 54 alleles. The most allele was found on D2S1338 locus, 13 alleles followed by D18S351, 12 alleles, D13S317 and D19S433 locus each 10 alleles and the least one is 8 allele on D16S539 locus. The highest of power of discrimination   that is 0,984 D2S1338 locus followed by D18S351, D19S433, D16S539 and of D13S317 0,973, 0,956, 0,949, and 0,947 respectively. The five loci in this studied had many kind of alleles and high degree of power discrimination value so that loci is useful to forensic purpose for Batak society in Bali.
Downloads
Download data is not yet available.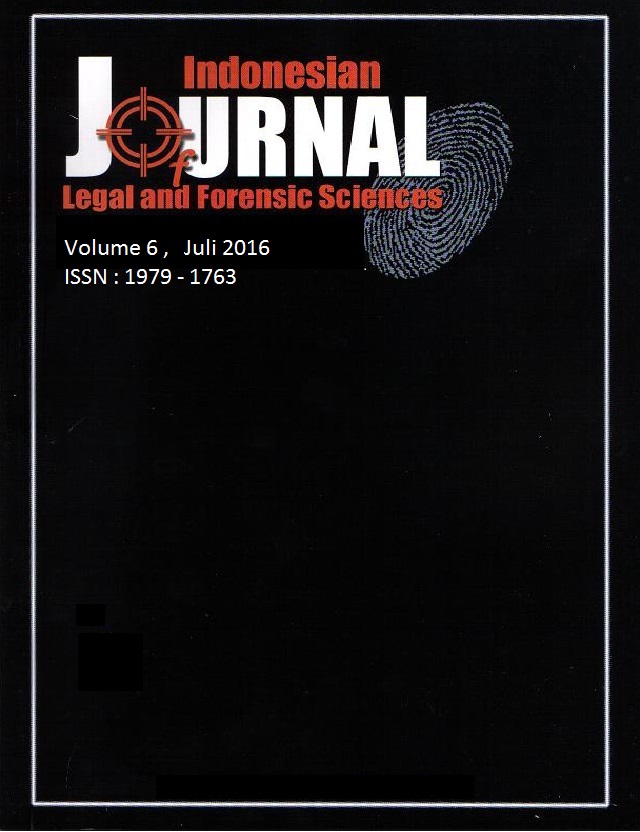 How to Cite
JUNITHA, I Ketut; CAROLINA, Yossy Carolina. RAGAM ALEL DAN KEKUATAN PEMBEDA LIMA LOKUS MIKROSATELIT DNA AUTOSOM MASYARAKAT SUKU BATAK DI DENPASAR DAN BADUNG.
Indonesian Journal of Legal and Forensic Sciences (IJLFS)
, [S.l.], v. 6, july 2016. ISSN 2657-0815. Available at: <
https://ojs.unud.ac.id/index.php/ijlfs/article/view/25188
>. Date accessed: 23 oct. 2020.
Keywords
microsatellite, DNA autosomal, allele, power of discrimination, forensic.