THE SUPPLEMENTARY FEEDING EFFECT IN BALI CATTLE TO CALF LENGTH DIMENSION
Harry Yoga Nugraha

Putu Sampura

I Ketut Suatha
Abstract
The research was carried out to determine the effect of supplementary feeding in bali cattle to length dimensions of the calf. The research object used 16 bali cattle and newborn calf of bali cattle. eight calf of bali cattle from the cow who is given additional food and eight calf of bali cattle for the cow is not given additional food are maintained by farmers in Sobangan village, Mengwi district, Badung regency. The research was conducted by means of supplementary feeding in the cow after six months of pregnancy (during the three months before birth). The data analyzed by T test. The result showed that the size of the long dimension of calf with supplement feeding compared with feeding control not significant.
Downloads
Download data is not yet available.
References
Adryani R. 2012. Keragaman silak tanduk sapi bali jantan dan betina. Buletin Veteriner Udayana. 4(2): 87-93.
Baaka A, Murwanto AG, Lumatauw S. 2009. Seleksi berat badan sapi bali umur satu tahun dengan menggunakan program simulasi genup. J Ilmu Peternakan. 4(2): 83- 92.
Damarapeka. 2011. Pertumbuhan ternak potong dan seleksi ternak potong. Http://damarapeka.wordpress.com.
Hafez ESE. 1993. Reproduction in Farm Animals. 6th Ed. Lea and Febiger, Philadelpia.
Handiwirawan E, Subandriyo. 2004. Potensi Dan Keragaman Sumberdaya Genetik Sapi Bali. Wartazoa, 14(3): 50-60
Hartati S, Hartatik T. 2009. Identifikasi karakteristik genetik sapi peranakan ongole di peternakan rakyat. Buletin Peternakan, 33(2): 64-73.
Muhibbah V. 2007. Parameter tubuh dan sifat-sifat karkas sapi potong pada kondisi tubuh yang berbeda. Skripsi. Fakultas Peternakan, Institut Pertanian Bogor.
Ni'am HUM, Purnomoadi A, Dartosukarno S. 2012. Hubungan antara ukuran-ukuran tubuh dengan bobot badan sapi bali betina pada berbagai kelompok umur. J Anim Agric, 1(1): 541-556.
Nggobe M, Tiro B, Wirdahayati RB. 1994. Pemberian suplement pada akhir masa kebuntingan terhadap bobot lahir, produksi susu induk dan kematian anak sapi bali pada musim kemarau. Pros. Seminar Pengolahan dan Komunikasi Hasil-Hasil Penelitian Peternakan. Temu Aplikasi Paket Teknologi Pertanian. SBPTP. Kupang.
Prasojo G, Arifiantini I, Mohamad K. 2010. Korelasi antara lama kebuntingan, bohot lahir dan jenis kelamin pedet hasil inseminasi buatan pada sapi bali. J Veteriner, 11(1): 41-45.
Sampurna IP, Nindhia TS. 2008. Analisis Data Dengan SPSS: Dalam Rancangan Percobaan. Udayana University Press. Denpasar.
Sampurna IP, Suatha IK. 2010. Pertumbuhan alometri dimensi panjang dan lingkar tubuh sapi bali jantan. Jurnal Veteriner, 11(1): 46-51.
Sampurna IP. 2013. Pola pertumbuhan dan kedekatan hubungan dimensi tubuh sapi bali. Disertasi, Program Pasca Sarjana, Universitas Udayana.
Sampurna IP, Saka IK, Oka IGL, Sentana P. 2014. Patterns of growth of bali cattle body dimesions. ARPN J Sci Tech, 4(1): 20-30.
Saptayanti NNJ, Suatha IK, Sampurna IP. 2015. Hubungan antara dimensi panjang induk sapi bali dengan dimensi panjang pedetnya. Buletin Vet Udayana, 7(2): 129-136.
Syukur SH, Afandi. 2009. Perbedaan waktu pemberian pakan pada sapi jantan lokal terhadap income over feed cost. J Agroland. 16(1): 72-77.
Tillman AD, Hartadi H, Reksohadiprodjo S, Prawirokusumo S, Lebdosoekojo S. 1991. Ilmu Makanan Ternak Dasar. 5th Ed. Gadjah Mada University Press, Yogyakarta.
Toelihere RM. 1985. Ilmu Kebidanan Pada Ternak Sapi Dan Kerbau, Universitas Indonesia, Jakarta.
Utomo B, Prawirodigdo S, Sarjana , Sutjadmogo. 2006. Perfomans pedet sapi perah dengan perlakuan induk saat masa akhir kebuntingan. Seminar Nasional Teknologi Peternakan dan Veteriner.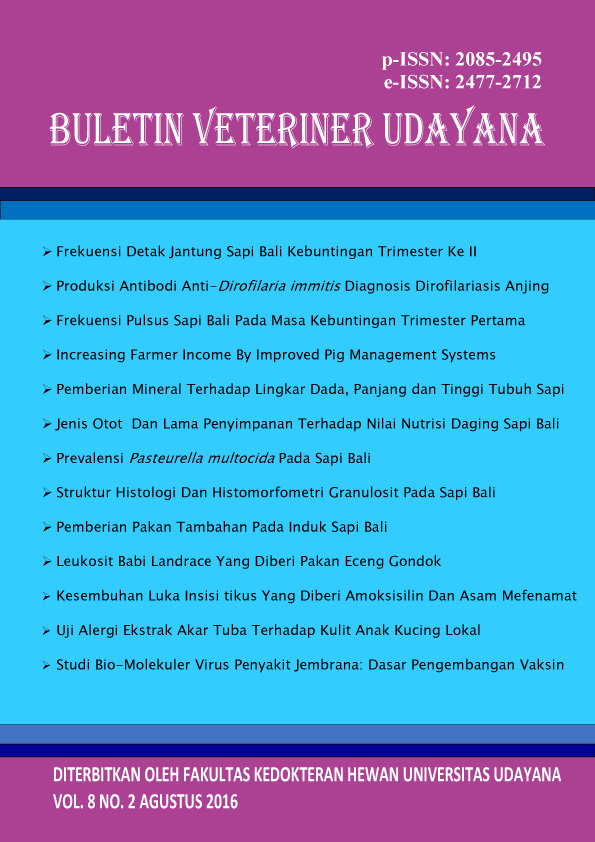 Keywords
sapi bali; dimensi panjang; pengaruh pemberian pakan; bali cattle; the long dimension; the effect of feeding
This work is licensed under a
Creative Commons Attribution 4.0 International License
.