THE ADDITION OF VITAMIN E IN DILUENT BTS® OF VIABILITY AND MORTALITY OF SPERMATOZOA LANDRACE PIG STORED IN TEMPERATURE 15°C
Wayan Bebas

Geovany Larastiyani Buyona

Made Kota Budiasa
Abstract
The aim of the study was to determine viability and motility spermatozoa of Landrace pigs inthe Beltsville Thawing Solution® (BTS) diluents with the addition of vitamin E (?-tokoferol) thatwas stored at a temperature 15oC for 96 hours. The form of semen used a fresh semen from themale landrace pigs two years. Semen was collected by massage method. This study used completely randomized design with four treatment groups with each are treatment I as control,treatment II with addition 300 ?g/ml Vitamin E, treatment III with addition 400 mg/ml of vitamin E and treatment IV with addition 500 mg/ml of vitamin E. Each group was repeated six times and then stored at a temperature 15oC for 96 hours. The results showed that addition of vitamin E significantly on the viability and motility spermatozoa of Landrace pigs. The addition of vitamin E 400 ?g/ml gave the preeminent of viability and motility during storage at a temperature 15oC for 96 hours. This study concluded that the addition of vitamin E 400 ?g/ml in BTS® odiluents at 15oC for 96 hours was able to increase the viability and motility spermatozoa of Landrace pigs.
Downloads
Download data is not yet available.
References
Aritonang. 1993. Beternak babi. Penerbit Mutiara, Jakarta.
Alvarez JG ande Storey BT. 1995. Differential incorporation of fatty acids into and peroxidative loss of fatty acids from phospholipids of human spermatozoa. Mol Reprod Dev, 42: 334-345.
Beconi MT, Francia CR, Mora NG and Affranchino MA. 1993. Effect of natural antioxidants on frozen bovine semen preservation. Theriogenology, 40: 841-851.
Breininger E, Beorlegui NB and OFlaherty CM. 2004. Alpha-tocopherol improves biochemical and dynamic parameters in cryopreserved boar semen. Theriogenology, 63: 2126-2135.
Chatterjee S, De Lamirande and Gagnon E. 2001. Cryopreservation alters membrane sulfhydryl status of bull spermatozoa: protection by oxidized glutathione. Mol Reprod Dev, 60: 498-506.
Hartono M. 2008. Optimalisasi penambahan vitamin E dalam pengencer sitrat kuning telur untuk mempertahankan kualitas semen kambing boer. J Indonesian Trop Anim Agric, 33: 1-9.
Hsieh YY. Chang CC and Lin CS. 2006. Seminal malondialdehyde concentration but not glutathione peroxidase activity is negatively correlated with seminal concentration and motility. Int J Biol Sci, 2: 23-29.
Long JA and Kramer M. 2003. Effect of vitamin E on lipid peroxodation and fertility after artifical insemination with liquid-stored turkey semen. J Poult Sci, 82(11): 1802-1807.
Maxwell WMC and Watson PF. 1996. Recent progressn the preservation of ram semen. Anim Repro Sci, 42: 55-56.
Setiawati DAFR. 2013. Penambahan vitamin E pada pengencer kuning telur fosfat terhadap motilitas dan daya hidup semen kalkun selama penyimpanan pada suhu 5oC. (Skripsi). Fakultas Kedokteran Hewan UNUD, Denpasar.
Suharyati S dan Hartono M. 2013. Peningkatan kualitas semen kambing boer dengan pemberian vitamin E dan mineral Zn. J Kedokteran Hewan, 7: 91-93.
Sumardani NLG, Tuty LY dan Pollung HS. 2008. Viabilitas spermatozoa babi dalam pengencer beltsville thawing solution (BTS) pada tiga tempat penyimpanan berbeda. Media Peternakan, 31: 81-86.
Thompson LH. 2005. Managing swine reproduction. Univ. of Illiois. Urban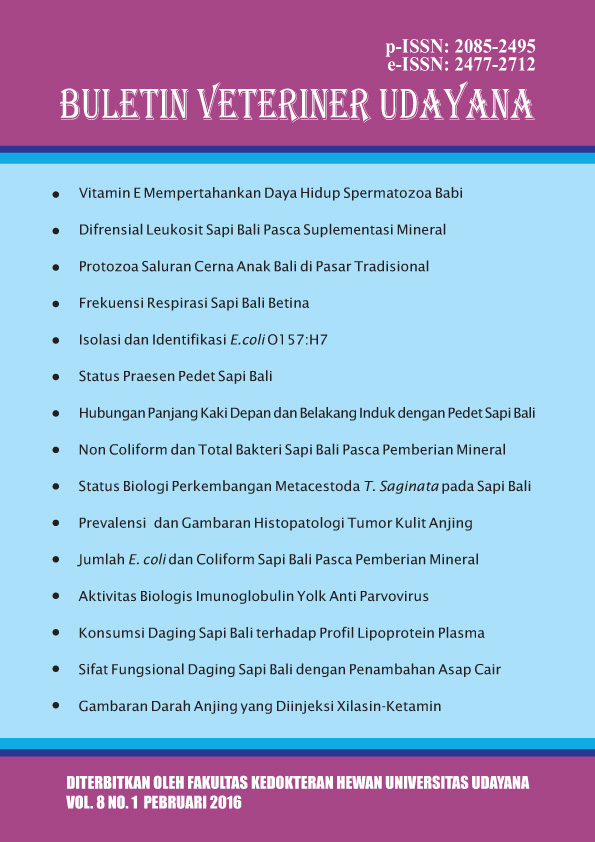 How to Cite
BEBAS, Wayan; BUYONA, Geovany Larastiyani; BUDIASA, Made Kota. THE ADDITION OF VITAMIN E IN DILUENT BTS® OF VIABILITY AND MORTALITY OF SPERMATOZOA LANDRACE PIG STORED IN TEMPERATURE 15°C.
Buletin Veteriner Udayana
, [S.l.], feb. 2016. ISSN 2477-2712. Available at: <
https://ojs.unud.ac.id/index.php/buletinvet/article/view/19665
>. Date accessed: 28 sep. 2021.
Keywords
stored of spermatozoa; Landrace pig; viability; motility; vitamin E
This work is licensed under a
Creative Commons Attribution 4.0 International License
.