PENDETEKSIAN INTRUSI AIR LAUT DENGAN METODE GEOLISTRIK RESISTIVITAS KONFIGURASI WENNER DI DESA CANDIKUSUMA KABUPATEN JEMBRANA BALI
I Nyoman Darma Putra

Udayana University

Komang Ngurah Suarbawa

Udayana University

I Made Satriya Wibawa

Udayana University
Abstract
Studies have been conducted to detect the intrusion of sea water in the Candikusuma village, Melaya District, Jembrana regency, Bali. Sea  water intrusion is the ground  water contamination in the soilto make fresh water into salt. To determine the presence of sea water below the soil surface be used geoelectric resistivity method because sea water has aresistivity 0.2 ?m. Geoelectric resistivity method based on Ohm's law, aims to find a variety of material sundera layer of soil based on the distribution of resistivity values??. By injecting current  through two current electrodes the potential can be measured  by the electro depotential. Variations of  resistivity will  be  obtained  If the distance of each electro demodified, according to Wenner configuration. Smallest space used for all tracksis 5 m. The experiment data analyzed  with the Software Res2 dinv. From the Software Res2 dinv obtained  cross-section2-D, which indicates the  presence of sea water on track1 which has a length 80 m with a resistivity 0.291 ?m, the length of track2 is 150 m with a resistivity 0.257 ?m, the length of track 3 is 150 m with a resistivity 0.203 ?m and track 4 with alength of 150 m has a resistivity of 0.287 ?m. From the analysis of the Software Res2 dinv sea water intrusionin the village Can dikusuma ± 470 m from the beach. Starting from the coordinates   to coordinate .
Downloads
Download data is not yet available.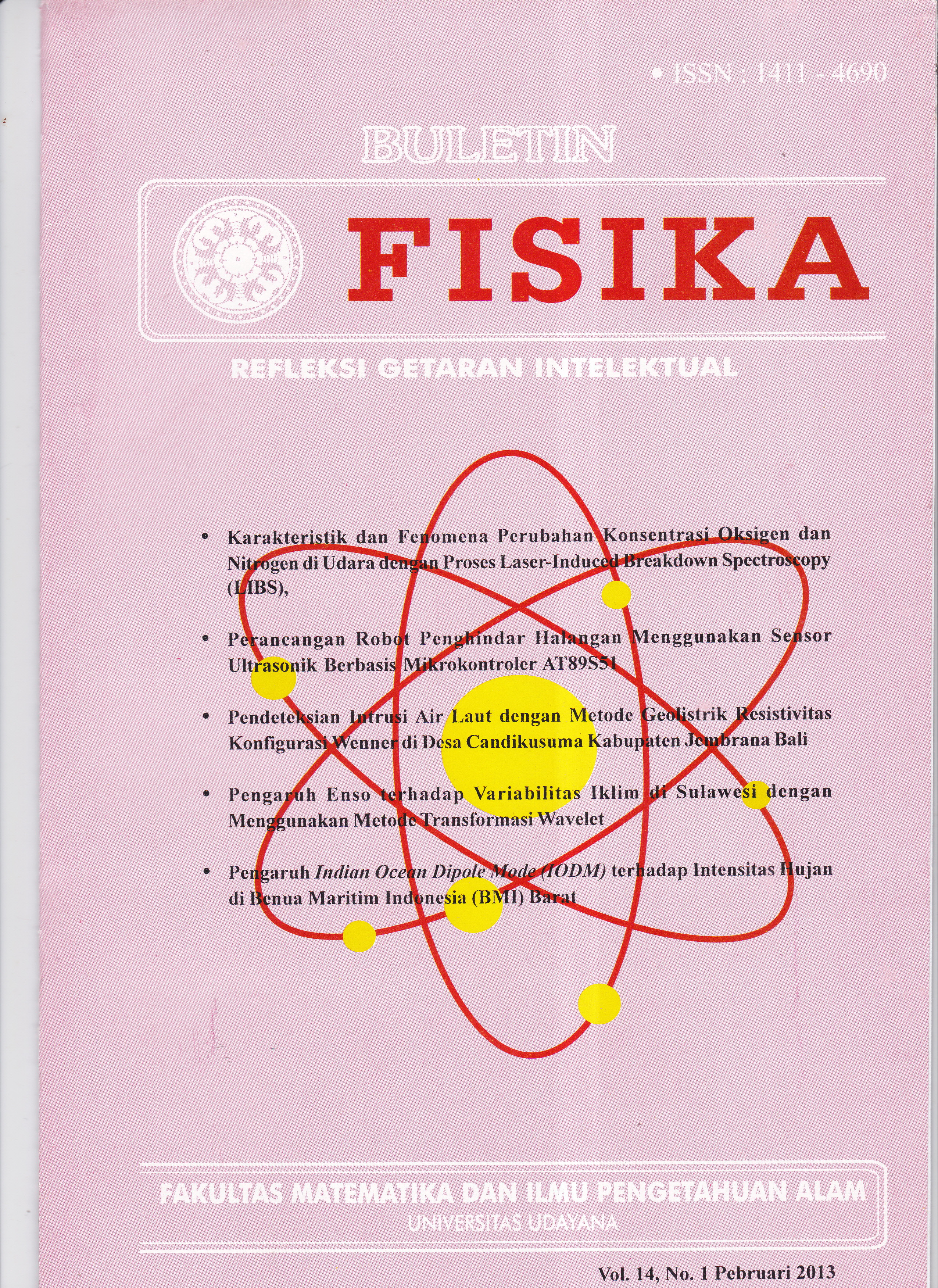 How to Cite
DARMA PUTRA, I Nyoman; SUARBAWA, Komang Ngurah; SATRIYA WIBAWA, I Made. PENDETEKSIAN INTRUSI AIR LAUT DENGAN METODE GEOLISTRIK RESISTIVITAS KONFIGURASI WENNER DI DESA CANDIKUSUMA KABUPATEN JEMBRANA BALI.
BULETIN FISIKA
, [S.l.], v. 14, n. 1, p. 12-17, feb. 2013. ISSN 2580-9733. Available at: <
https://ojs.unud.ac.id/index.php/buletinfisika/article/view/31297
>. Date accessed: 28 sep. 2023.