Pelatihan Pengolahan Minyak Jelantah Menjadi Sabun Cuci Batangan dan Lilin Aromaterapi
Husnayaen Husnayaen

Program Studi Teknik Lingkungan, Institut Sains dan Teknologi Nahdlatul Ulama Bali (ISTNUBA), Denpasar, Bali-Indonesia

Suci Rahmawati

Program Studi Sistem Informasi, Institut Sains dan Teknologi Nahdlatul Ulama Bali (ISTNUBA), Denpasar, Bali-Indonesia

Dwi Puspa Arini

Program Studi Teknik Lingkungan, Institut Sains dan Teknologi Nahdlatul Ulama Bali (ISTNUBA), Denpasar, Bali-Indonesia

Chonnaniyah Chonnaniyah

Program Studi Teknik Lingkungan, Institut Sains dan Teknologi Nahdlatul Ulama Bali (ISTNUBA), Denpasar, Bali-Indonesia

Windy Lestari

Program Studi Statistik, Institut Sains dan Teknologi Nahdlatul Ulama Bali (ISTNUBA), Denpasar, Bali-Indonesia

Alfian Anhar

Program Studi Statistik, Institut Sains dan Teknologi Nahdlatul Ulama Bali (ISTNUBA), Denpasar, Bali-Indonesia
Abstract
Cooking oil is one of the primary ingredients that must be available for the household needs of Indonesians. Population growth, industrial development, restaurants, and fast-food restaurants cause the use of cooking oil to increase. The increase in the use of cooking oil will cause an increase in frying waste. Waste cooking oil that is not managed properly will cause pollution. Lack of public awareness of the dangers of waste cooking oil to the environment so there is a need for guidance to the community regarding the dangers of disposing of used cooking oil waste into the environment and providing solutions for the use of waste cooking oil in new products that have economic value. Therefore, as a community service from the Institute of Science and Technology of Nahdlatul Ulama Bali (ISTNUBA), we try to invite the community in Banjar Anyar Village, Kediri, Tabanan Regency, Bali to be able to participate in training on processing waste cooking oil into bar washing soap and aromatherapy candles. The method is counseling and distribution of brochures about the dangers and benefits of waste cooking oil. This training activity is expected to increase public knowledge and awareness of managing waste cooking oil and can open up entrepreneurial opportunities, create jobs and improve the living standards of the surrounding community.
Downloads
Download data is not yet available.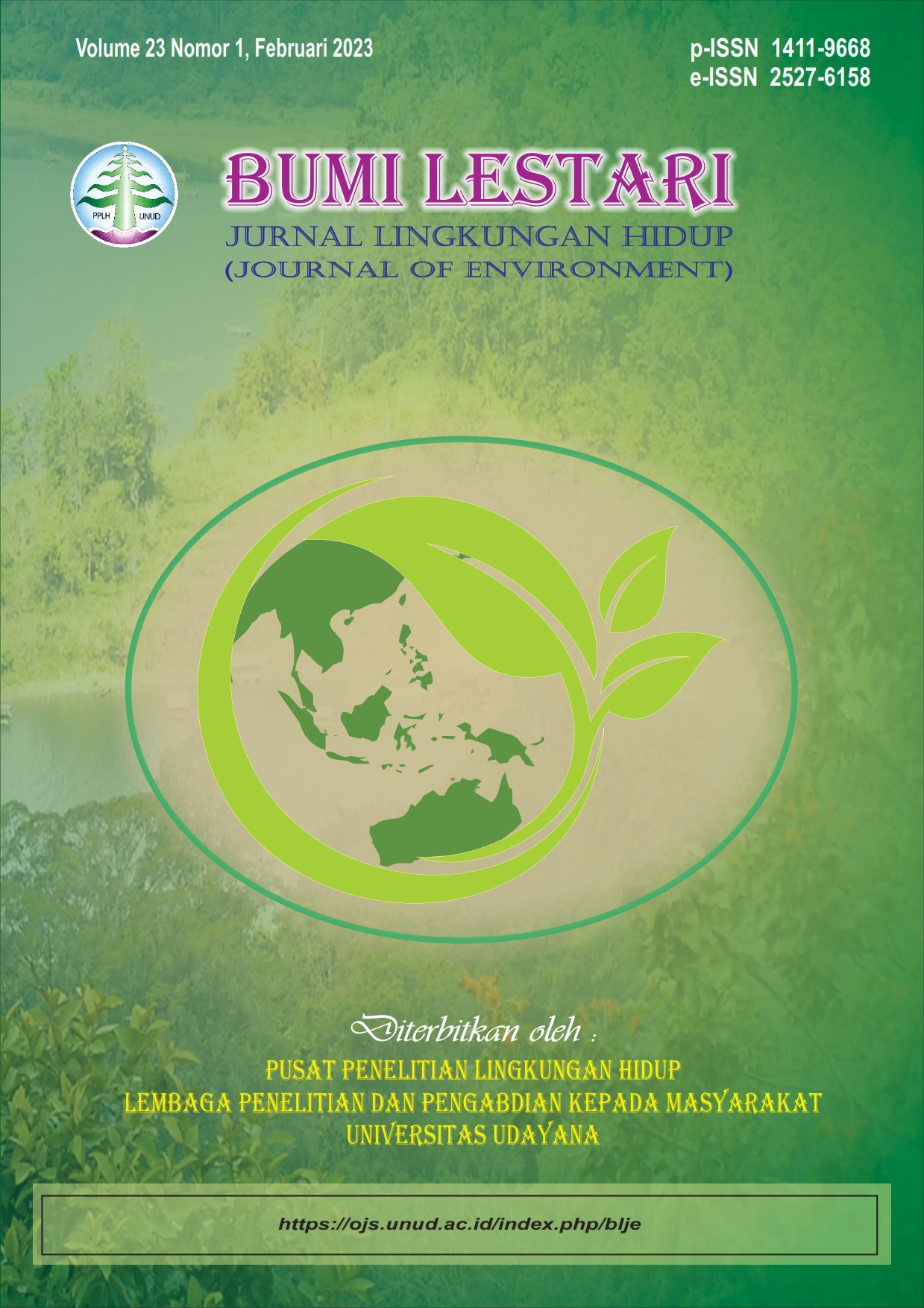 Section
Original Research Articles
Authors who publish with this journal agree to the following terms:
All articles published by Bumi Lestari Journal of Environment and Environmental Reseach Center Udayana University are made available under an open access license worldwide immediately. This means everyone has free and unlimited access to the full-text of all articles published in Bumi Lestari Journal of Environment, and everyone is free to re-use the published material given proper accreditation/citation of the original publication. Open access publication is supported by authors' institutes or research funding agency by payment of a comparatively article processing charge for accepted articles (See Author Fees). Bumi Lestari Journal of Environment and Environmental Reseach Center Udayana University publish articles under the Creative Commons Attribution License.
Authors are able to enter into separate, additional contractual arrangements for the non-exclusive distribution of the journal's published version of the work (e.g., post it to an institutional repository or publish it in a book), with an acknowledgement of its initial publication in this journal.
Authors are permitted and encouraged to post their work online (e.g., in institutional repositories or on their website) prior to and during the submission process, as it can lead to productive exchanges, as well as earlier and greater citation of published work (See The Effect of Open Access).