Analisis Dampak Oil Spill Di Teluk Balikpapan Terhadap Kehidupan Masyarakat Dalam Perspektif Hukum Dan Lingkungan
Muhammad Yaris Ahyadi

Program Studi Sarjana Teknik Telekomunikasi Institut Teknologi Bandung, Bandung-Indonesia

Abimanyu Putra Syarifudin

Program Studi Sarjana Teknik Perminyakan Institut Teknologi Bandung, Bandung-Indonesia

Alesha Zahira Khairunnisa

Program Studi Sarjana Teknik Perminyakan Institut Teknologi Bandung, Bandung-Indonesia

Joana Dacosta Ximenes

Program Studi Sarjana Teknik Perminyakan Institut Teknologi Bandung, Bandung-Indonesia

Muhammad Hilal Hamdi

Program Studi Sarjana Teknik Telekomunikasi Institut Teknologi Bandung, Bandung-Indonesia
Abstract
One form of marine pollution is an oil spill that can come from the fault of tanker activity while operating.An example of the case is the incident of oil spill in Balikpapan Bay due to the leak of pertamina's oil pipeline in 2018, 5 thousand liters of oil spilled and polluted the sea with an area of more than 12 thousand hectares.Using normative juridical methods, researchers will conduct an analysis of the impact of the oil spill in Balikpapan Bay on the lives of the surrounding community based on legal and environmental perspectives.The purpose of the author by making this paper is to know how the process of tackling and impacting oil spills so far for the surrounding community based on the law and the environment, can also be an input for the government to be able to resolve the case of oil spill in balikpapan bay that has lasted about 3 years, so that the lives of local people can run smoothly as before the oil spill incident.
Downloads
Download data is not yet available.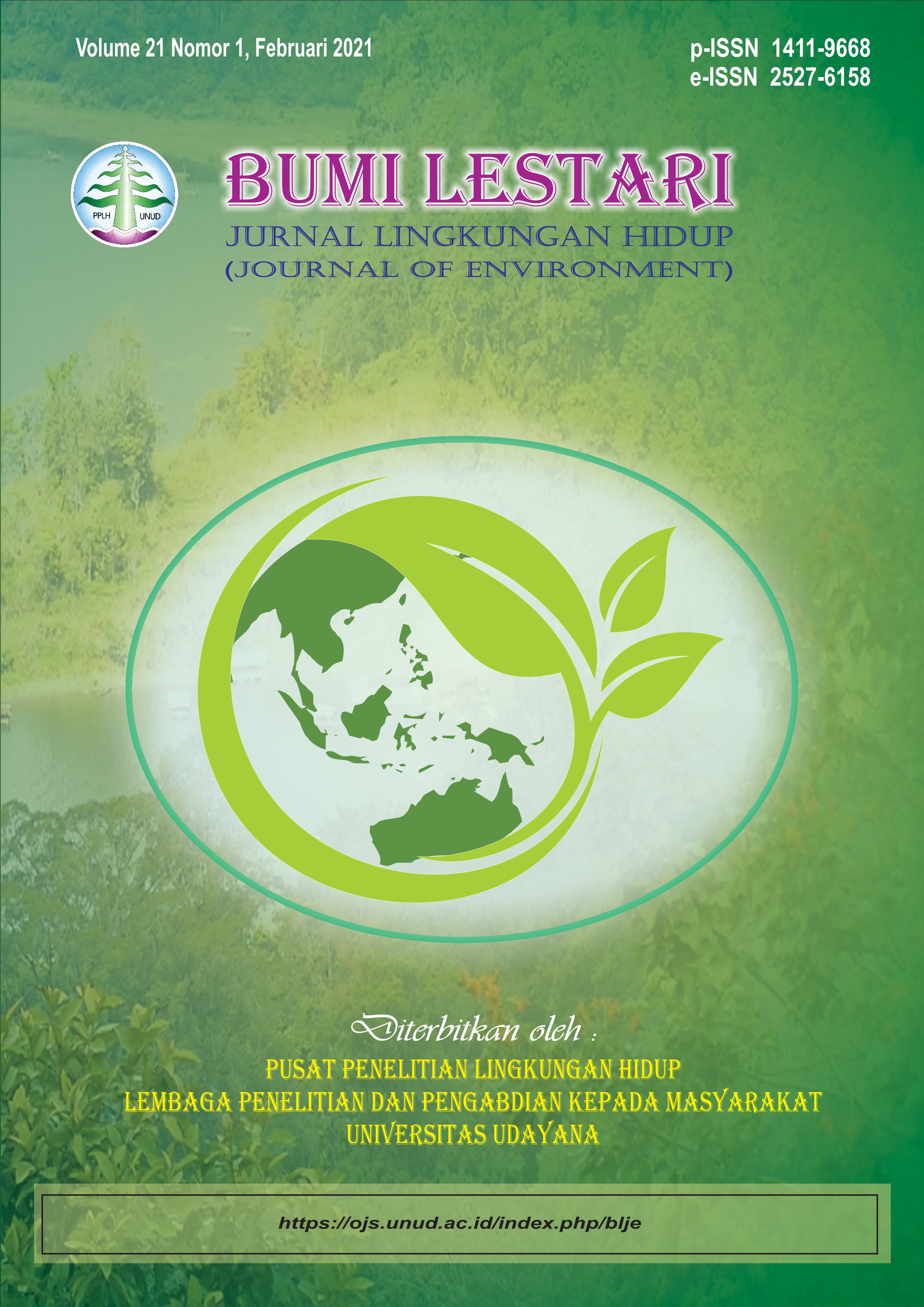 Section
Original Research Articles
Authors who publish with this journal agree to the following terms:
All articles published by Bumi Lestari Journal of Environment and Environmental Reseach Center Udayana University are made available under an open access license worldwide immediately. This means everyone has free and unlimited access to the full-text of all articles published in Bumi Lestari Journal of Environment, and everyone is free to re-use the published material given proper accreditation/citation of the original publication. Open access publication is supported by authors' institutes or research funding agency by payment of a comparatively article processing charge for accepted articles (See Author Fees). Bumi Lestari Journal of Environment and Environmental Reseach Center Udayana University publish articles under the Creative Commons Attribution License.
Authors are able to enter into separate, additional contractual arrangements for the non-exclusive distribution of the journal's published version of the work (e.g., post it to an institutional repository or publish it in a book), with an acknowledgement of its initial publication in this journal.
Authors are permitted and encouraged to post their work online (e.g., in institutional repositories or on their website) prior to and during the submission process, as it can lead to productive exchanges, as well as earlier and greater citation of published work (See The Effect of Open Access).