Checklist, Indeks Ekologi, dan Status Konservasi Komunitas Fauna Akuatik di Kawasan Sungai Unda dan Sekitar Pantai Jumpai, Kabupaten Klungkung, Provinsi Bali
Gede Surya Indrawan

Program studi Ilmu Kelautan, Fakultas Kelautan dan Perikanan, Universitas Udayana, Jl. Raya Kampus Unud, Jimbaran, Kec. Kuta Selatan, Kabupaten Badung, Bali 80361

Putu Angga Wiradana

Program Studi Biologi, Fakultas Kesehatan, Sains, dan Teknologi, Universitas Dhyana Pura, Jl. Raya Padangluwih, Dalung, Kec. Kuta Utara Kabupaten Badung, Bali 80361

I Made Saka Wijaya

Program studi Biologi, Fakultas Matematika dan Ilmu Pengetahuan Alam, Universitas Udayana, Jl. Raya Kampus Unud, Jimbaran, Kec. Kuta Selatan, Kabupaten Badung, Bali 80361

Abd. Rahman As-syakur

Program studi Ilmu Kelautan, Fakultas Kelautan dan Perikanan, Universitas Udayana, Jl. Raya Kampus Unud, Jimbaran, Kec. Kuta Selatan, Kabupaten Badung, Bali 80361

M. Rheza Rizki Syahputra

Program studi Biologi, Fakultas Matematika dan Ilmu Pengetahuan Alam, Universitas Udayana, Jl. Raya Kampus Unud, Jimbaran, Kec. Kuta Selatan, Kabupaten Badung, Bali 80361

I Made Sara Wijana

Program studi Biologi, Fakultas Matematika dan Ilmu Pengetahuan Alam, Universitas Udayana, Jl. Raya Kampus Unud, Jimbaran, Kec. Kuta Selatan, Kabupaten Badung, Bali 80361
Abstract
Aquatic organisms or nekton have an important role in supporting the stability of the aquatic environment and human life. This study aims to determine the nekton type community, ecological index, and their conservation status in the Unda River area and around Jumpai Beach, Klungkung Regency, Bali. The study was conducted in July - August 2020. The study was conducted in 2 communities, namely Macrozoobenthos and Nekton. Macrozoobenthos samples were collected using the quadratic method in the Jumpai Beach area and the direct observation method along the Unda River. Nekton communities are collected through primary data using "survey methods" and secondary data through interviews with fishermen and local communities. The ecological index data were analyzed using the Shannon-Weiner diversity index (H'), dominance index (C), and uniformity index (E), while the data on Nekton type and conservation status were analyzed descriptively. The nekton species community in the waters of the Unda River and Jumpai Beach areas was obtained as many as 26 species in 21 families which were dominated by Kepala Timah (Aplocheilus panchax) and sepat rawa (Trichogaster trichopterus), while Nautica sp for the Macrozoobenthos community. The ecological index of the aquatic community is the Shannon-Weiner Diversity Index (H') value of 2.98 (moderate), the wealth index (R) of 3.95 (moderate), and the evenness index (E) of 1.21. (High). The highest percentage ratio of nekton communities was obtained by the Macrozoobenthos community, namely 53%, while the nekton species was 46%. Conservation status shows that 13 species are included in the LC (Least Concern) category, 12 species are included in the NE (Not Evaluated) category, and 1 species are included in the VU (Vulnerable) category.
Downloads
Download data is not yet available.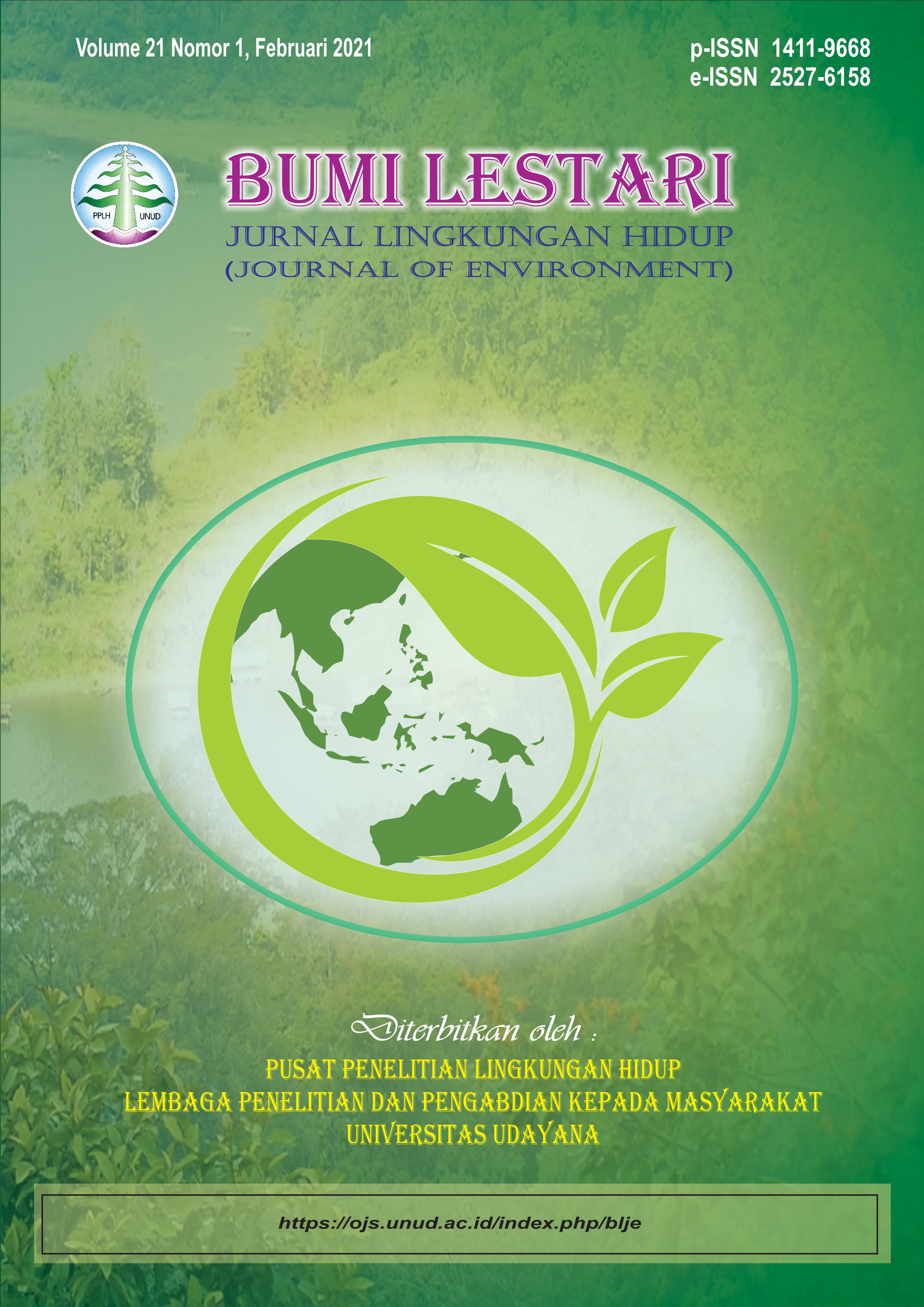 How to Cite
INDRAWAN, Gede Surya et al. Checklist, Indeks Ekologi, dan Status Konservasi Komunitas Fauna Akuatik di Kawasan Sungai Unda dan Sekitar Pantai Jumpai, Kabupaten Klungkung, Provinsi Bali.
Bumi Lestari Journal of Environment
, [S.l.], v. 21, n. 1, p. 9-17, apr. 2021. ISSN 2527-6158. Available at: <
https://ojs.unud.ac.id/index.php/blje/article/view/72034
>. Date accessed: 25 oct. 2021. doi:
https://doi.org/10.24843/blje.2021.v21.i01.p02
.
Section
Original Research Articles
Authors who publish with this journal agree to the following terms:
All articles published by Bumi Lestari Journal of Environment and Environmental Reseach Center Udayana University are made available under an open access license worldwide immediately. This means everyone has free and unlimited access to the full-text of all articles published in Bumi Lestari Journal of Environment, and everyone is free to re-use the published material given proper accreditation/citation of the original publication. Open access publication is supported by authors' institutes or research funding agency by payment of a comparatively article processing charge for accepted articles (See Author Fees). Bumi Lestari Journal of Environment and Environmental Reseach Center Udayana University publish articles under the Creative Commons Attribution License.
Authors are able to enter into separate, additional contractual arrangements for the non-exclusive distribution of the journal's published version of the work (e.g., post it to an institutional repository or publish it in a book), with an acknowledgement of its initial publication in this journal.
Authors are permitted and encouraged to post their work online (e.g., in institutional repositories or on their website) prior to and during the submission process, as it can lead to productive exchanges, as well as earlier and greater citation of published work (See The Effect of Open Access).