FUNGSI BUAH DAN DAUN TANAMAN DALAM BUDAYA BALI SEBUAH KAJIAN TERHADAP TANAMAN UPACARA
I Nyoman Adiputra

Pusat Kajian Ergonomi, Universitas Udayana.
Abstract
According to the Balinese culture, there are some classifications of plants, such as: medicinal plants, ceremonial plants, commodity plants, horticulture, and magical plants. Due to it' very importance value, culturally, there is a special day for the existing plants, called tumpek uduh, where a special offering is intended to the god of plantation. In this article is drawn function of leaves and fruits as a material for offering. Analysis is focused on the use of fruits as pala gantung, pala bungkah or tuber for the offerings to the god. The leaves are used for religious ceremony in term of panca dhala or asta dala. In composing the offerings, there is a guidance derived from tatwa pangider-ideran (point of compass). The used of leaves and fruits, is based on the color of leaves and fruits. The goals are for preserving/ conserving and peace-full fitting of nature. The liquid of young coconut fruits are used for the process of purifications materials, places, and the symbols of religious matters. Starting from east direction: nyuh bulan, east-south: nyuh rangda, south direction: nyuh udang, south west: nyuh surya, west direction: nyuh kuning, west-north: nyuh be julit, north direction: nyuh mulung, and the middle: nyuh sudamala. That is the respective-, dedicative offerings from human being to the nature by making use of materials for the feacefull, safety, and sustainability of the nature itself.
Downloads
Download data is not yet available.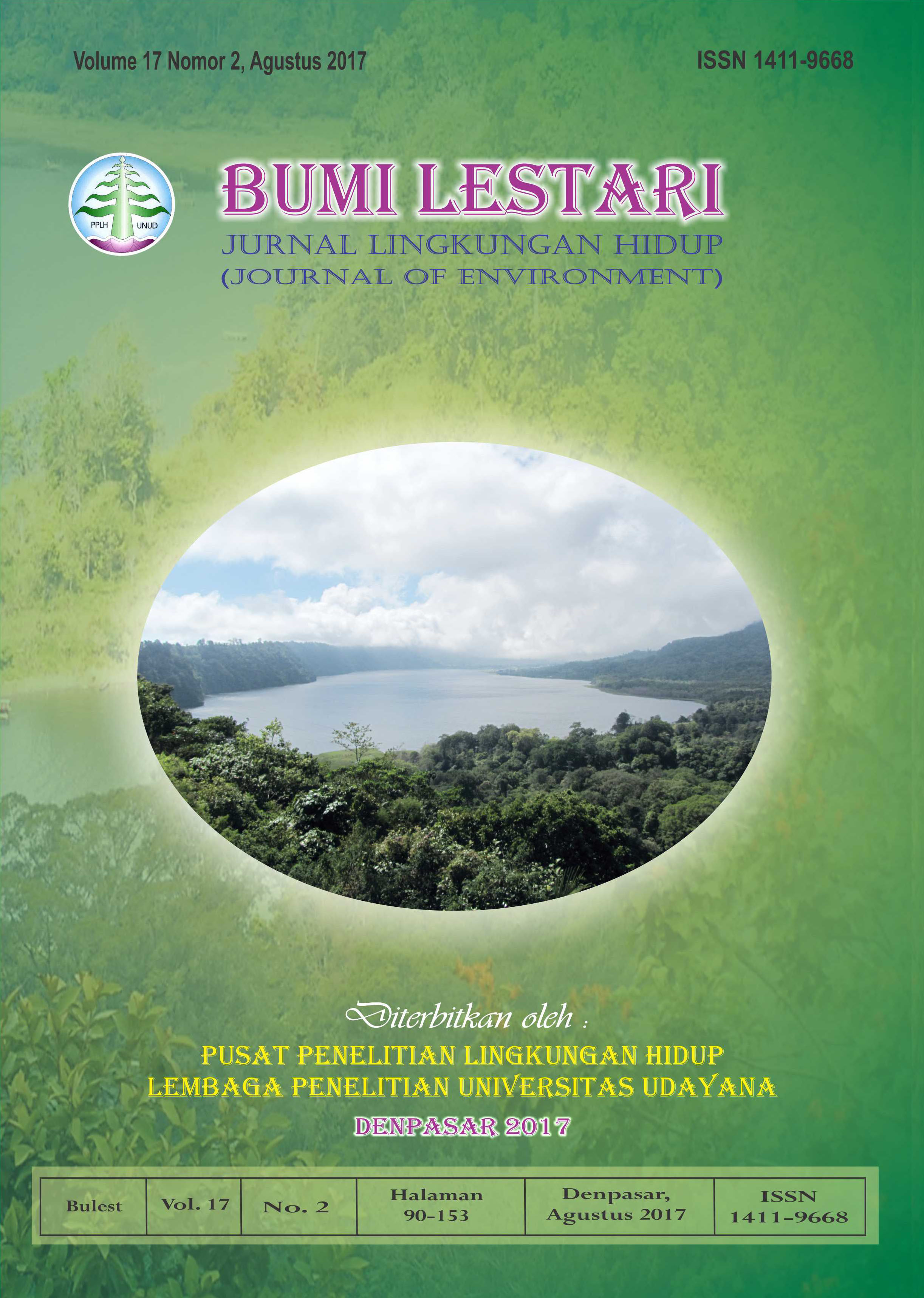 Section
Original Research Articles
Authors who publish with this journal agree to the following terms:
All articles published by Bumi Lestari Journal of Environment and Environmental Reseach Center Udayana University are made available under an open access license worldwide immediately. This means everyone has free and unlimited access to the full-text of all articles published in Bumi Lestari Journal of Environment, and everyone is free to re-use the published material given proper accreditation/citation of the original publication. Open access publication is supported by authors' institutes or research funding agency by payment of a comparatively article processing charge for accepted articles (See Author Fees). Bumi Lestari Journal of Environment and Environmental Reseach Center Udayana University publish articles under the Creative Commons Attribution License.
Authors are able to enter into separate, additional contractual arrangements for the non-exclusive distribution of the journal's published version of the work (e.g., post it to an institutional repository or publish it in a book), with an acknowledgement of its initial publication in this journal.
Authors are permitted and encouraged to post their work online (e.g., in institutional repositories or on their website) prior to and during the submission process, as it can lead to productive exchanges, as well as earlier and greater citation of published work (See The Effect of Open Access).