PERBANDINGAN ANTARA INFORMASI SUHU PERMUKAAN LAUT DARI DATA SATELIT DENGAN HASIL PEMODELAN DI WPP NRI-716
Abstract
Sea Surface Temperature (SST) data and information recently become a valuableinformation since its association with the climate, oceanography condition and fisherieshave been discovered.  Unfortunately, SST information using satellite imagery frequentlyconstrained by atmospheric cloud cover since satellite sensor disability to gather any landor ocean surface information through the cloud.  Modeling data is very required to fill theblank data resulted from satellite imagery under cloudy condition.  This study conducted atSulawesi Sea to North Halmahera which is included to Fisheries Managing Area (FMA)716, to find out the strength and direction relationship between SST model and SST satellite.Result indicates there is a strong and same direction relationship between SST model andSST satellite (r=0.704, n=1516) with 0.2C diferrence so that SST model can be used to fillor substitute the blank of SST satellite.
Downloads
Download data is not yet available.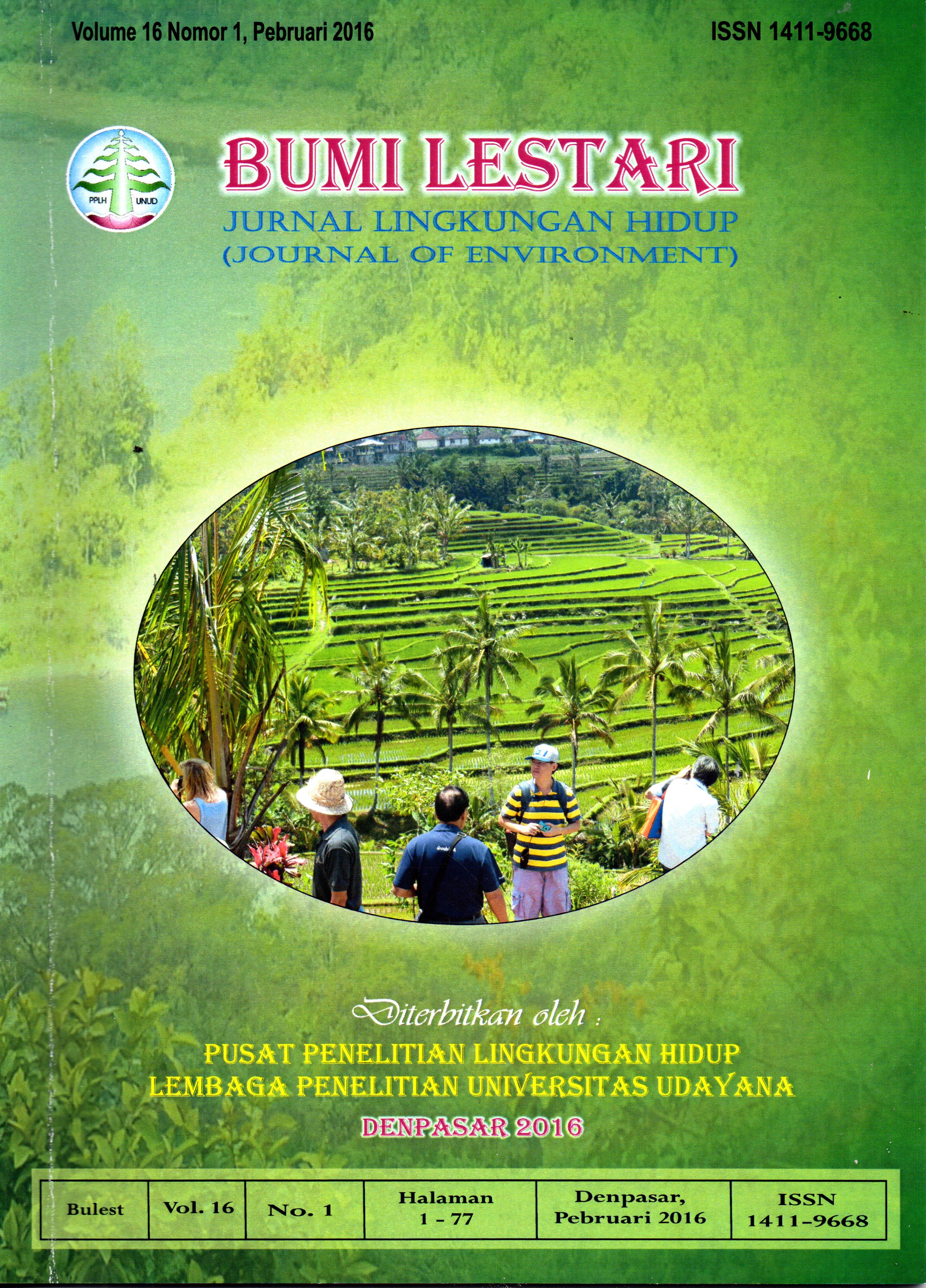 Section
Original Research Articles
Keywords
Sea Surface Temperature, SST satellite, SST model, FMA 716
Authors who publish with this journal agree to the following terms:
All articles published by Bumi Lestari Journal of Environment and Environmental Reseach Center Udayana University are made available under an open access license worldwide immediately. This means everyone has free and unlimited access to the full-text of all articles published in Bumi Lestari Journal of Environment, and everyone is free to re-use the published material given proper accreditation/citation of the original publication. Open access publication is supported by authors' institutes or research funding agency by payment of a comparatively article processing charge for accepted articles (See Author Fees). Bumi Lestari Journal of Environment and Environmental Reseach Center Udayana University publish articles under the Creative Commons Attribution License.
Authors are able to enter into separate, additional contractual arrangements for the non-exclusive distribution of the journal's published version of the work (e.g., post it to an institutional repository or publish it in a book), with an acknowledgement of its initial publication in this journal.
Authors are permitted and encouraged to post their work online (e.g., in institutional repositories or on their website) prior to and during the submission process, as it can lead to productive exchanges, as well as earlier and greater citation of published work (See The Effect of Open Access).