ANALISIS STABILITAS LONGSORAN BERDASARKAN KONDISI TIPE, SIFAT FISIK DAN MEKANIK BATUAN DI KECAMATAN TELUKPANDAN KABUPATEN KUTAI TIMUR, PROVINSI KALIMANTAN TIMUR.
Abstract
The research title is Slope Stability Analysis Based On Type, Physical And MechanicalProperties Rock In Teluk Pandan District, East Kutai Regency, East Kalimantan Provinceaimed to determine the lithology in the    research area and to find out how the amount ofslope that will be a landslide at that location.How the research with the analysis of coring drilling results are then analyzed in thelaboratory of rock mechanics to get the caracteristic of physical and mechanical propertiesof the rocks. Methods of data analysis using Hoek and bray methode with Rockslide software.The results showed that in the area study has a sedimentary rock lithology fine tomedium dedritus, such as claystone, siltstone and sandstone, as well as inserts are coal andshale. Based on the results of laboratory analysis of rock mechanics obtained density between2,648 to 2,770. While the test results obtained value triaxal cohesion between (6.66 - 9:05)Kg / cm2, friction angle in between (37.19 - 44.08)o, cohesion residual (2.72 - 3.10) Kg / cm,residual friction angle (27.22 - 32.44). While the direct shear test the cohesion of thesummit between (6.66 - 9:05) Kg / cm2o, friction angle in the cohesion peak (36.15 - 43.00),cohesion residual (2:22 to 3:10) Kg / cm, friction angle in the cohesion residual (37.22 33.85)o2. The simulation results stability of the slope stability Hoek and Bray using rockslidesoftware, the result is that if the slope with a single slope stability, the stability of the slopeis 60o, and if the slope with the stability of the slope overall stability of the slope is 48o.
Downloads
Download data is not yet available.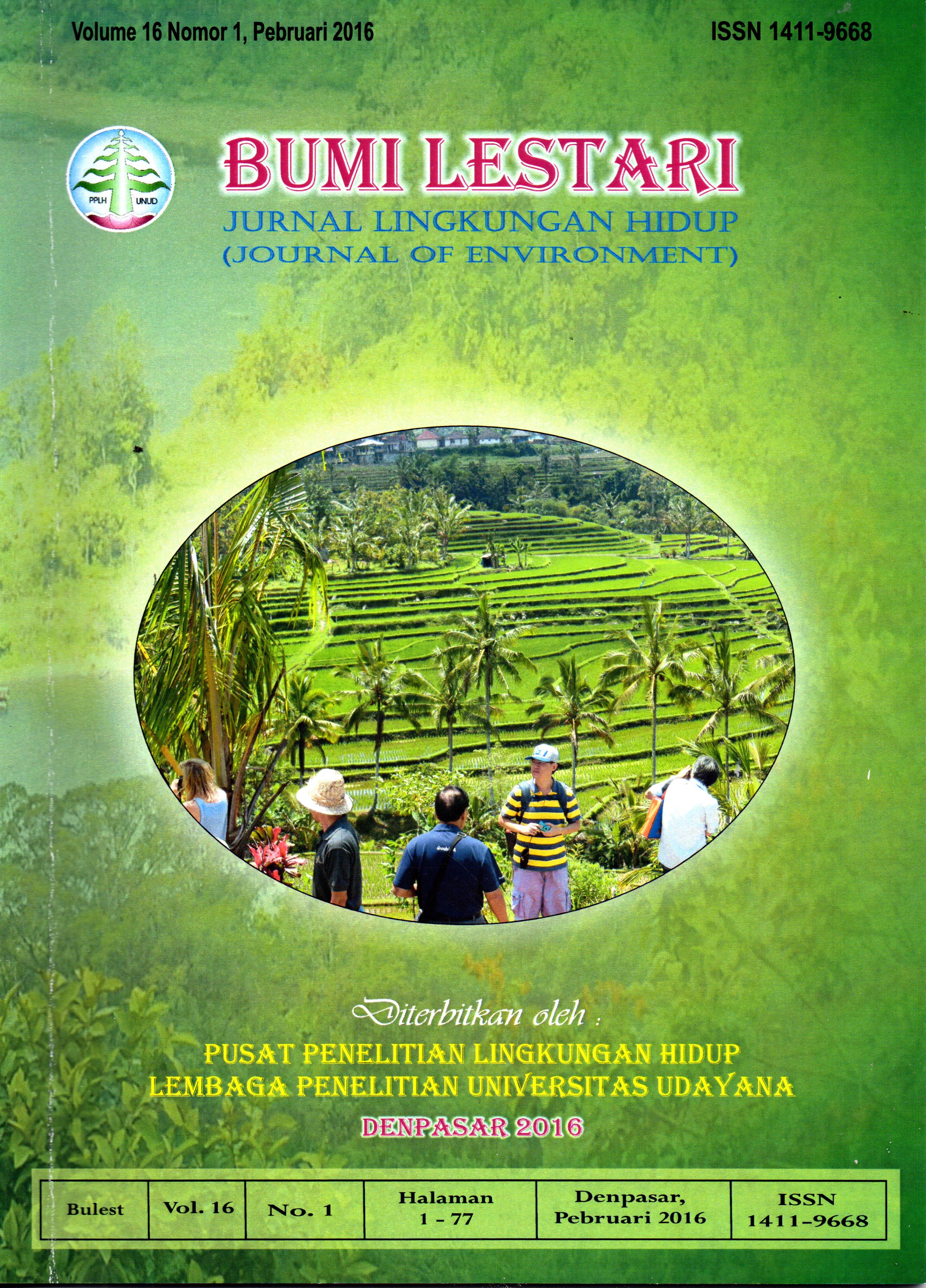 Section
Original Research Articles
Keywords
Slope Stability, rock type, rock physical properties, mechanical properties of rocks
Authors who publish with this journal agree to the following terms:
All articles published by Bumi Lestari Journal of Environment and Environmental Reseach Center Udayana University are made available under an open access license worldwide immediately. This means everyone has free and unlimited access to the full-text of all articles published in Bumi Lestari Journal of Environment, and everyone is free to re-use the published material given proper accreditation/citation of the original publication. Open access publication is supported by authors' institutes or research funding agency by payment of a comparatively article processing charge for accepted articles (See Author Fees). Bumi Lestari Journal of Environment and Environmental Reseach Center Udayana University publish articles under the Creative Commons Attribution License.
Authors are able to enter into separate, additional contractual arrangements for the non-exclusive distribution of the journal's published version of the work (e.g., post it to an institutional repository or publish it in a book), with an acknowledgement of its initial publication in this journal.
Authors are permitted and encouraged to post their work online (e.g., in institutional repositories or on their website) prior to and during the submission process, as it can lead to productive exchanges, as well as earlier and greater citation of published work (See The Effect of Open Access).