DISTRIBUSI SPASIO -TEMPORAL NITROGEN DI DAERAH TANGKAPAN AIR DANAU TONDANO PROVINSI SULAWESI UTARA
Sofia Wantasen

Joudie N. Luntungan
Abstract
The spatio temporal distribution of nitrogen in catchment area of   Lake Tondano wasimportant to investigate because agricultural residue comes from the catchment potentiallydecreased water quality in Lake Tondano. The purpose of this study was to examine thedistribution of nitrogen spatially and temporally in the catchment area of Lake Tondano.The study was conducted in the field and laboratory. Water quality sampling conducted byusing composite sampling on the rivers, lake Tondano and outlet of irrigation channels.The data collected was the total nitrogen, nitrate, ammonia in 2001, 2008 and 2014. Datawere analyzed using Graph Method and Spatial Analysis.        The results showed that the distribution of total nitrogen that has a high concentrationfound in the outlet streams and irrigation canals outlet. High nitrate accumulates in theoutlet of Lake Tondano. Nitrate concentration can be divided into 9 (nine) classes, namelyconcentration of 0.100 to 0.211 mg / l; 0.211 to 0.322 mg / l;  0.322 to 0.433 mg / l;  0.433 to0.544 mg / l; From 0.544 to 0.655 mg / l; From 0.655 to 0.766 mg / l; 0.766 to 0.877 mg / l;0.877 to 0.988 mg / l; and 0,988- 1,100 mg / l. Ammonia, spatially spread evenly on thesurface of Lake Tondano. Ammonia concentration can be divided into 9 (nine) class is aclass that has a concentration of 0.000 to 0.064 mg / l; From 0.064 to 0.129 mg / l; 0.129 to0.193 mg / l; From 0.193 to 0.258 mg / l; 0.258 to 0.322 mg / l; 0.322 to 0.387 mg / l; From0.387 to 0.451 mg / l; 0.451 to 0.516 mg / l; and from 0.516 to 0.580 mg / l. Concentrationsof nitrate and ammonia fluctuated from year to year of observation. This was influenced byfertilization in rice fields.
Downloads
Download data is not yet available.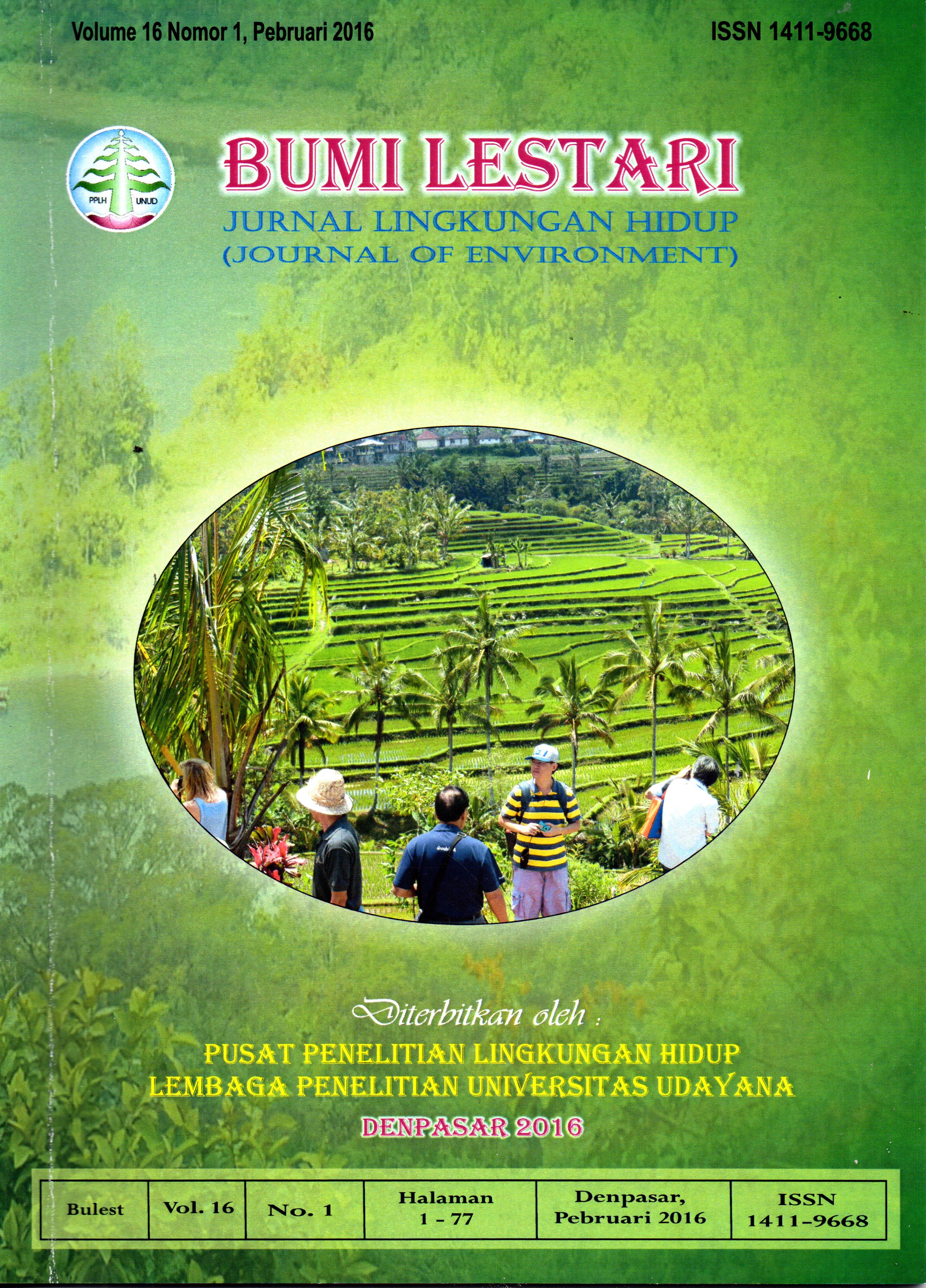 Section
Original Research Articles
Keywords
Spatio temporal distribution, nitrogen, Catchment area of Lake Tondano
Authors who publish with this journal agree to the following terms:
All articles published by Bumi Lestari Journal of Environment and Environmental Reseach Center Udayana University are made available under an open access license worldwide immediately. This means everyone has free and unlimited access to the full-text of all articles published in Bumi Lestari Journal of Environment, and everyone is free to re-use the published material given proper accreditation/citation of the original publication. Open access publication is supported by authors' institutes or research funding agency by payment of a comparatively article processing charge for accepted articles (See Author Fees). Bumi Lestari Journal of Environment and Environmental Reseach Center Udayana University publish articles under the Creative Commons Attribution License.
Authors are able to enter into separate, additional contractual arrangements for the non-exclusive distribution of the journal's published version of the work (e.g., post it to an institutional repository or publish it in a book), with an acknowledgement of its initial publication in this journal.
Authors are permitted and encouraged to post their work online (e.g., in institutional repositories or on their website) prior to and during the submission process, as it can lead to productive exchanges, as well as earlier and greater citation of published work (See The Effect of Open Access).