ECOLOGICAL APPROACH ON SANITATION: COMPOSTING OF HUMAN EXCRETA USING BIOTOILET WITH LIGNOCELLULOSES WASTE MATERIAL AS MATRIX
Jovita Tri Astuti

Dewi Nilawati

Neni Sintawardani
Abstract
This study was aimed to evaluate the characteristic and prospect of lignocelluloses waste material, i.e. mixtured wood sawdust as matrix in composting human excreta using Biotoilet. Initially, 26.4 kg mixtured wood sawdust (+4/-32 mesh) moisture 11.84% was filled into Biotoilet chamber, and added with 20L tap water to achieve ±50% moisture. Mixer in Biotoilet was adjusted  to run-on intermittently with interval 15 min, each for 2 min, i.e. 1 min to clockwise and counter-clockwise, respectively. Exhaust fan with flow rate of 0.04m3.sec-1 was operated continuously to ensure proper aeration. Human excreta were loaded daily to Biotoilet chamber for 90 days which would be composted. Data showed that temperature of composting system was 25.70-43.67oC. Moisture was 22.27-53.20% and pH 6.20-7.00. C/N ratio composted residual sawdust was 25:1. Ash, N, P, and K content were 11.78; 1.78; 0.85; and 0.95%, respectively. Bad odor was not created during composting. It was concluded mixtured wood sawdust could be used as matrix for composting human excreta. The compost could be categorized into Class-A that safe for food and non-food plant. Application of mixture wood sawdust as matrix in Biotoilet for composting human excreta could improve sanitation, prevent water degradation, at once increase soil quality for agricultural.
Downloads
Download data is not yet available.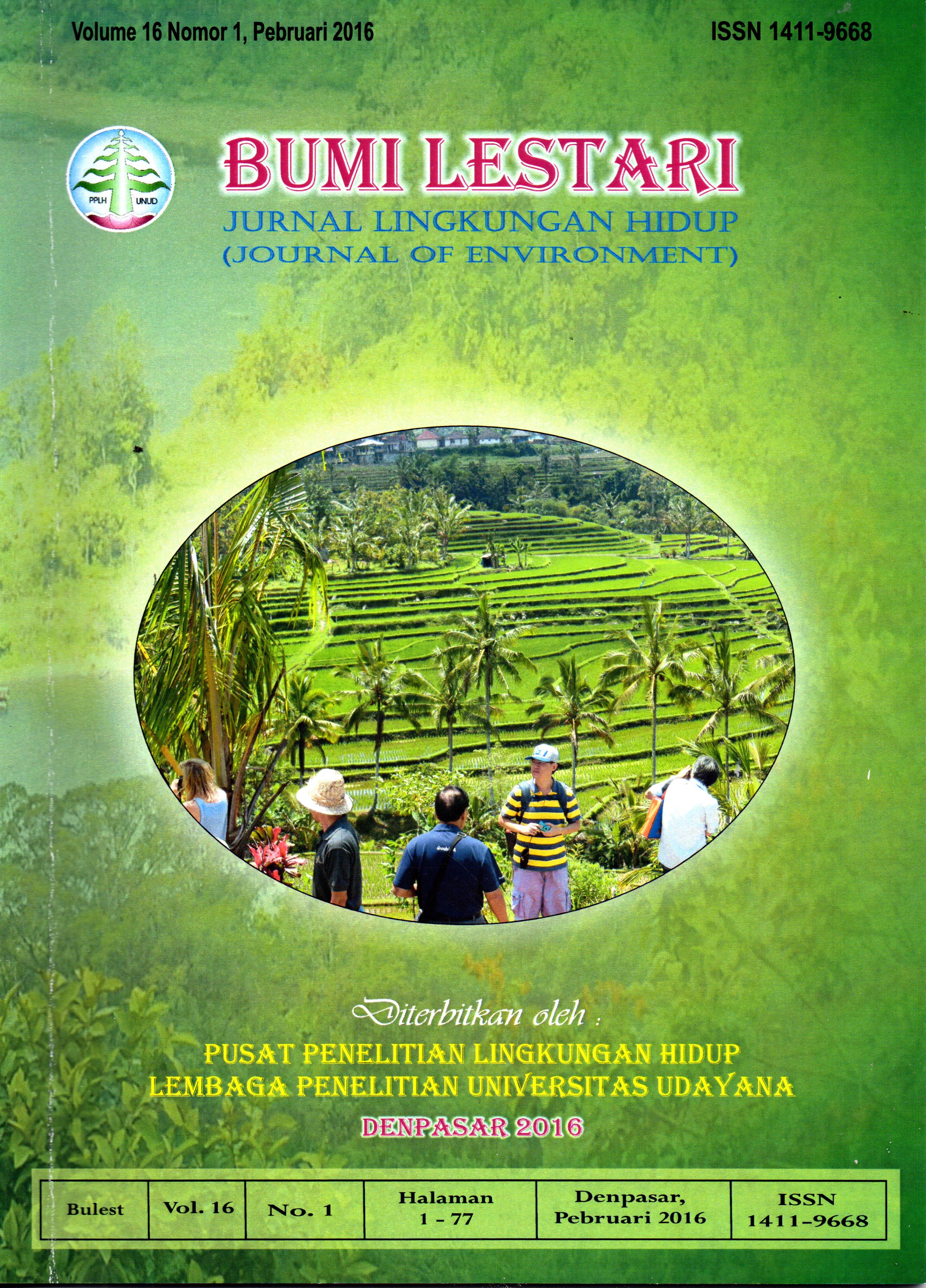 Section
Original Research Articles
Keywords
biotoilet, composting, human excreta, lignocelluloses waste, matrix, sanitation.
Authors who publish with this journal agree to the following terms:
All articles published by Bumi Lestari Journal of Environment and Environmental Reseach Center Udayana University are made available under an open access license worldwide immediately. This means everyone has free and unlimited access to the full-text of all articles published in Bumi Lestari Journal of Environment, and everyone is free to re-use the published material given proper accreditation/citation of the original publication. Open access publication is supported by authors' institutes or research funding agency by payment of a comparatively article processing charge for accepted articles (See Author Fees). Bumi Lestari Journal of Environment and Environmental Reseach Center Udayana University publish articles under the Creative Commons Attribution License.
Authors are able to enter into separate, additional contractual arrangements for the non-exclusive distribution of the journal's published version of the work (e.g., post it to an institutional repository or publish it in a book), with an acknowledgement of its initial publication in this journal.
Authors are permitted and encouraged to post their work online (e.g., in institutional repositories or on their website) prior to and during the submission process, as it can lead to productive exchanges, as well as earlier and greater citation of published work (See The Effect of Open Access).