PENYEBARAN SEMUT PADA HUTAN LINDUNG SIRIMAU KOTA AMBON
Fransina Sarah Latumahina

Musyafa Musyafa

Sumardi Sumardi

Nugroho Susetya Putra
Abstract
The experiment was conducted at residential areas Sirimau forest with three sampling methods,
which were hand collecting, bait trap (sugar and tuna) and pitfall traps from July to September
2011. The study aims to determine diversity of ants in residential areas in Ambon Sirimau
Protected Forest areas. The results of study found 16 species of ants in total reaching 14.913.
The most dominant types are Odontoponera denticulata, Pheidole megacephala,
Technomyrmex albipes, Tetramorium simillimum, Tetramorium bicarinatum, Tapinoma
melanocephalum, Paratrechina longicornis and Anoplolepis gracilipes. Total diversity of
ants is 2.789 classified as moderate by spread of number of individual spread and of community
stability. The diversity of ants is strongly influenced by light intensity, temperature, humidity,
wind, water and season. Difference of temperature micro, light climate, humidit, interspecific
competition, availability of variety of food sources, habitat quality and human activities also
affect the diversity of ants. Another finding showed invasive ants, they were Soleonopsis
geminate, Paratrechina longicornis and Anoplolepis gracilipes.
Downloads
Download data is not yet available.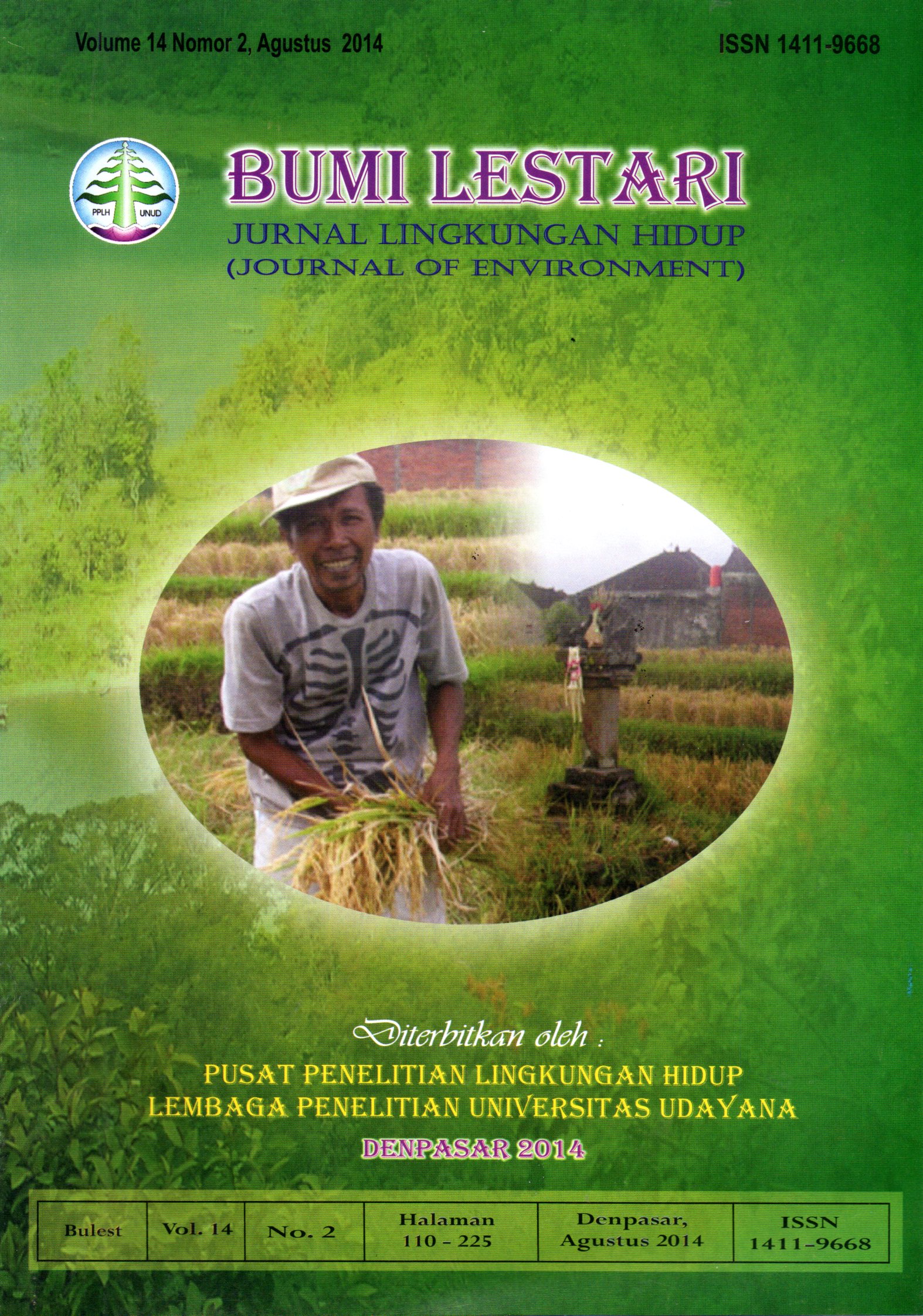 Section
Original Research Articles
Keywords
diversity of ants, invasive species, protected areas, settlement area
Authors who publish with this journal agree to the following terms:
All articles published by Bumi Lestari Journal of Environment and Environmental Reseach Center Udayana University are made available under an open access license worldwide immediately. This means everyone has free and unlimited access to the full-text of all articles published in Bumi Lestari Journal of Environment, and everyone is free to re-use the published material given proper accreditation/citation of the original publication. Open access publication is supported by authors' institutes or research funding agency by payment of a comparatively article processing charge for accepted articles (See Author Fees). Bumi Lestari Journal of Environment and Environmental Reseach Center Udayana University publish articles under the Creative Commons Attribution License.
Authors are able to enter into separate, additional contractual arrangements for the non-exclusive distribution of the journal's published version of the work (e.g., post it to an institutional repository or publish it in a book), with an acknowledgement of its initial publication in this journal.
Authors are permitted and encouraged to post their work online (e.g., in institutional repositories or on their website) prior to and during the submission process, as it can lead to productive exchanges, as well as earlier and greater citation of published work (See The Effect of Open Access).