PELAKSANAAN PENYELESAIAN PELANGGARAN KODE ETIK NOTARIS TENTANG PEMASANGAN PAPAN NAMA NOTARIS DI KOTA DENPASAR
English
Dwi Andika Prayojana

Notary Office

R.A. Retno Murni

Universitas Udayana

Ni Ketut Supasti Dharmawan

Universitas Udayana
Abstract
The title of this research is "Implementat ion of the Settlement of Notary Ethical Code Violation concerning Notary Name Board Installation in Denpasar". The problems formulated are: 1 How is the implementation of the provisions of Article 83 of Law No. 2 of 2014 concerning amendment s to the Law No. 30 of 2004 concerning the Notary Position and Ethics Code of Extraordinary Congress in connection with the installation of Notary Name Board in Denpasar? 2. What i s the responsibility of the Notary with the ethical code violations of Notary name board? The above problems were studied and analyzed with legal theories such as the effectiveness of legal theory, the theory of legal responsibility with empirical legal research method.
From research conducted some problems were found concerning the violation of the size of the installed Notary name board, it is contrary to what is stated in the rules of the Ethical Code.
Downloads
Download data is not yet available.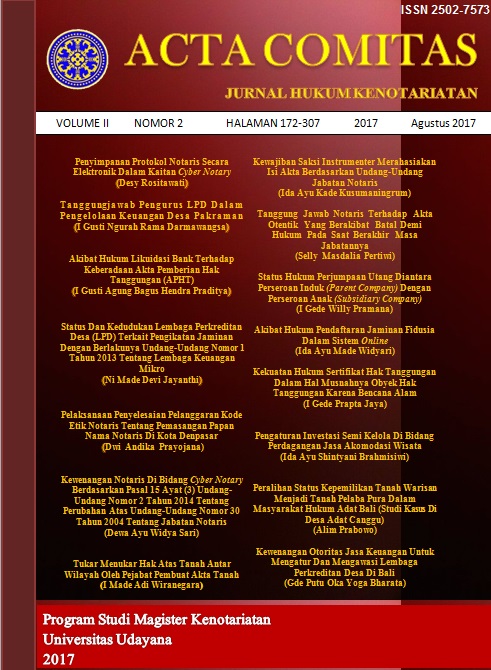 This work is licensed under a Creative Commons Attribution 4.0 International License.