PERTANGGUNG JAWABAN NOTARIS DALAM PEMBUATAN AKTA BERDASARKAN PEMALSUAN SURAT OLEH PARA PIHAK
English
Putu Vera Purnama Diana

Notary Office

I Ketut Mertha

Faculty Of Law Udayana University

I Gede Artha

Faculty Of Law Udayana University
Abstract
Law No. 30 of  2004 (UUJN) as well as in Law No. 2 of 2014 about Amendment of  the Notary position law (UUJN Amendment) have not set the presence of legal sanctions on delinquency of article 15 of the UUJN Amendment in relation to the criminal aspect which is when the notary is not applying the article provisions will lead to the acts of falsifying letters or certificates as referred in article 263, 264, and 266 of  the Criminal Code (KUHP) that will give  disadvantage to the concerned  parties. Therefore, this study attempts to analyze and answer issues concerning the responsibility of a notary in the case of letter  forgeries committed by the parties on making deed according to the Notary law. And could notary asked to held for accountability when there  disadvantages of either party as a result of false documents from other party
This research qualified as a normative legal study that starts from the nonexistent norm. The research source was obtained from primary legal materials, secondary legal materials and tertiary legal materials. Legal materials that have been gathered up later been systematized, analyzed and given argumentation  to obtain conclusions on the issues discussed in this thesis.
The research results showed that the responsibility of Notary in case of letter forgeries committed by the parties to making notary deed according to UUJN and UUJN Amendment is when the notary running their duty proved to have violated, notary have to responsible in accordance with the action in terms of accountability of the Administrative Law, Civil Law, which is in accordance with the sanction provision set forth in Article 84 and 85 of UUJN Amendment and code of ethics, but in UUJN and UUJN Amendment did not yet provide criminal sanctions. In practice it is found the fact that this violation is classified as a crime act committed by a Notary. Notaries can not be asked to held the resposibilities when there is disadvantage of either party as a result of false documents from other party, because Notary only record what was presented by the parties to be poured into the deed. False information that  submitted by the parties is the responsibility of the parties. In other words, which can be accounted for by a notary is fraud or trickery when it comes from notary own.
Downloads
Download data is not yet available.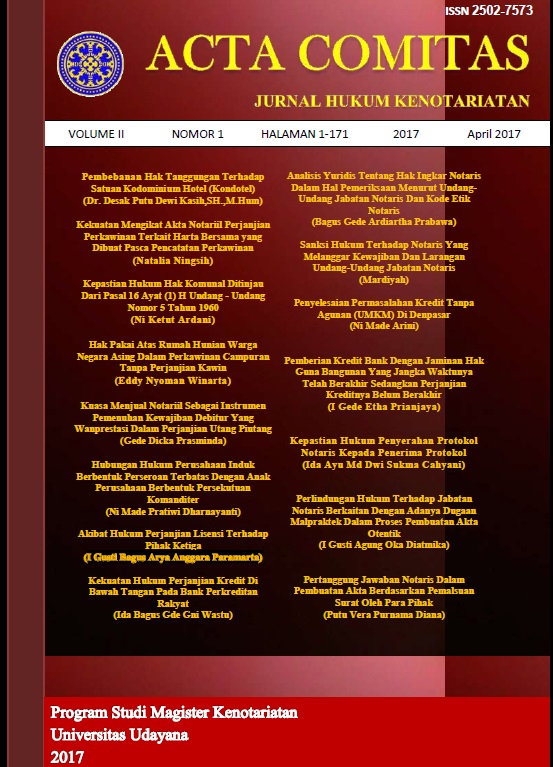 This work is licensed under a Creative Commons Attribution 4.0 International License.