TINGKAT PENGETAHUAN DAN SIKAP REMAJA PUTRI TENTANG KEHAMILAN USIA DINI DI KOTA DENPASAR
dewa ayu dian krisna dewi

PS. Ilmu Kesehatan Masyarakat, Universitas Udayana

Dinar Lubis

PS. Ilmu Kesehatan Masyarkat, Universitas Udayana
Abstract
Adolescence pregnancy is a pregnancy among teenage aged between 15-19 years, which
commonly occur due to increase of sexsual behaviour before marriage among teenage which
may cause unwanted and unintended preganacy. Adolescence pregnancy have a serious impact
on health and psychosocial of the adolescents herself and the o? spring.
The aim of this study is to know the level of knowledge, a! itude and behavior of Adolescent
girls in Denpasar towards adolescence pregnancy. The information is important to understand
the risk behavior of teenage girls towards adolescence pregnancy. This study was a descriptive
study, using cross sectional method, with samples of 284 teenage girls grade 3 in one private
intermediate school in Denpasar. Data was collected by self administered questioner.
The results showed that the majority of respondents have high knowledge level (98.6%; n = 280)
and moderate knowledge level (1.4%; n = 4) towards adolescent pregnancy. Proportion of good
a! itude was 77.8% (n = 221), moderate a! itude is 21.5% (n = 61) and poor was 0.7% (n 2). The
result indicate there is a gap beween percentage of students who has a good knowledge (98.6%)
with students who has good a! itude level with 98,6% compared to 77,8%.
This study showed that the knowledge as predisposing factor of a! itute was not always signi? cantly
related with a! itude. Therefore, it is suggested that the school needs to provide counseling
program, peer education program and IEC (Information, Education and Communication) to
increase skill of the Adolescent girls to prevent adolescent pregnancy.
Downloads
Download data is not yet available.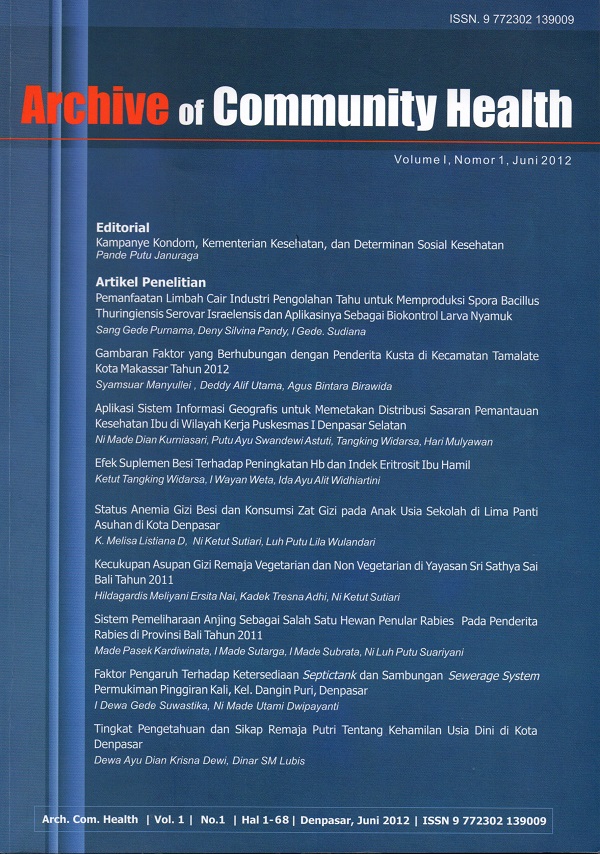 Keywords
Knowledge, A! itute, Adolescence Female, Adolescence Pregnancy