PEMANFAATAN LIMBAH CAIR INDUSTRI PENGOLAHAN TAHU UNTUK MEMPRODUKSI SPORA BACILLUS THURINGIENSIS PENDAHULUAN P SEROVAR ISRAELENSIS DAN APLIKASINYA SEBAGAI BIOKONTROL LARVA NYAMUK
sang gede purnama

PS. Ilmu Kesehatan Masyarakat, Fak. Kedokteran Universitas Udayana

Deny SIlvina Pandy

I Gede Sudiana
Abstract
Dengue Hemorrhagic Fever (DHF) in Indonesia, was a public health problem that could not be
handled properly until this. This ma! er was proven by always ? nding the number of dengue
cases continued to increase each year and o$ en cause death.
Based on some study found that the use of the bacterium Bacillus thuringiensis serovar israeliensis
(BTI) as bioinsektisida that was proven to be more safe, e? ective and selective in kill mosquito
larvae of Ae. aegypti. Barrier of the use of this bioinsektisida was its price that was expensive,
because of being produced by synthesis media. Therefore, researchers was interested to be able
to produce Bti with soybean liquid waste knew that during this o$ en coused water pollution. It is
expected produced BTI with a relatively cheaper price compare than produced by BTI synthesis
media.
To be able to prove the liquid soybean waste could be used as a medium BTI than conducted
trials with Bti 4Q1 inoculated in wastewater soybean and Nutrient Broth (synthetic media), and
then compare the number of spores produced from both media. This study was conducted in the
Bioscience and Biotechnology laboratory, Udayana University, for two months.
The results of this study show the liquid soybean waste proved to be able to produce spores
in greater numbers than NB. Apart from the pathogenicity test conducted BTI obtained results
that was produced by the liquid soybean waste to have the power to kill a higher than NB. The
advantages of this study include: media materials was cheap, reduce water pollution, and easy
to get it.
Downloads
Download data is not yet available.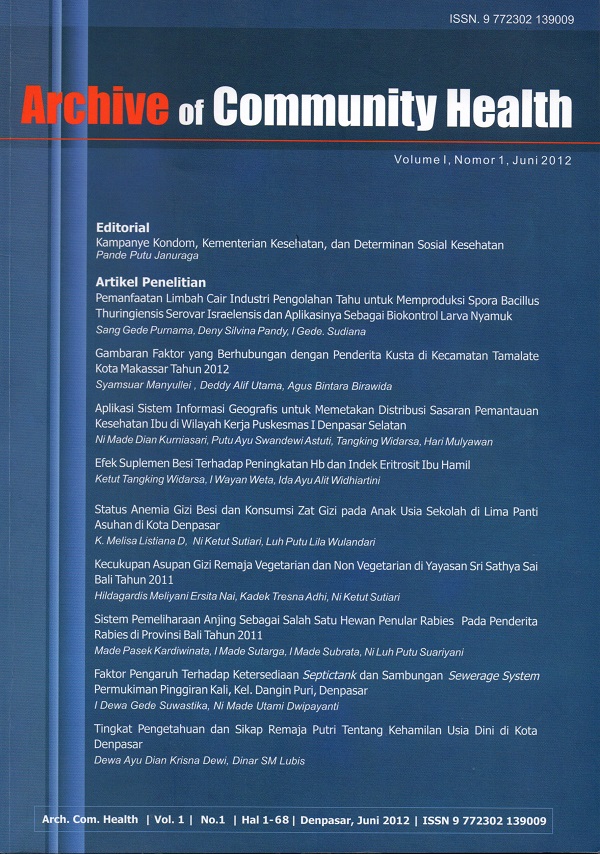 Keywords
The liquid soybean waste, B.t.i, Aedes aegypti