PENGARUH KONSUMSI PROTEIN DAN SENG SERTA RIWAYAT PENYAKIT INFEKSI TERHADAP KEJADIAN STUNTING PADA ANAK BALITA UMUR 24-59 BULAN DI WILAYAH KERJA PUSKESMAS NUSA PENIDA III
Ida Ayu Kade Chandra Dewi

Kadek Tresna Adhi
Abstract
Stunting is a growth retardation that is showed by short stature over -2SD deficit below the median of height. Stunting is a result of poor nutrition intake or recurrent infectious disease. The aim of this research was to know the influence of consuming energy, protein, zinc and history of infectious disease with stunting among children aged 24-59 months in the Area of Puskesmas Nusa Penida III. This research was held from January to May 2014 using a case-control design. Samples were 32 cases and 32 controls, selected by systematic random sampling. The analysis involved chi-square and logistic regression. Three variables significantly affected the occurrences of stunting namely protein consumption (p=0,0012), zinc consumption (p=0,0005) and history of infectious disease (p=0,0039). The dominant factor affecting stunting are zinc consumption (OR= 9,94) and history of the infectious disease (OR=5,41). Based on the results, the first 1000 days action program such as improved women awareness to fulfill micronutrients consumption like zinc from pregnant until the children have aged 1000 days and the prevention of infectious disease through clean and healthy living behavior to prevent stunting, is needed.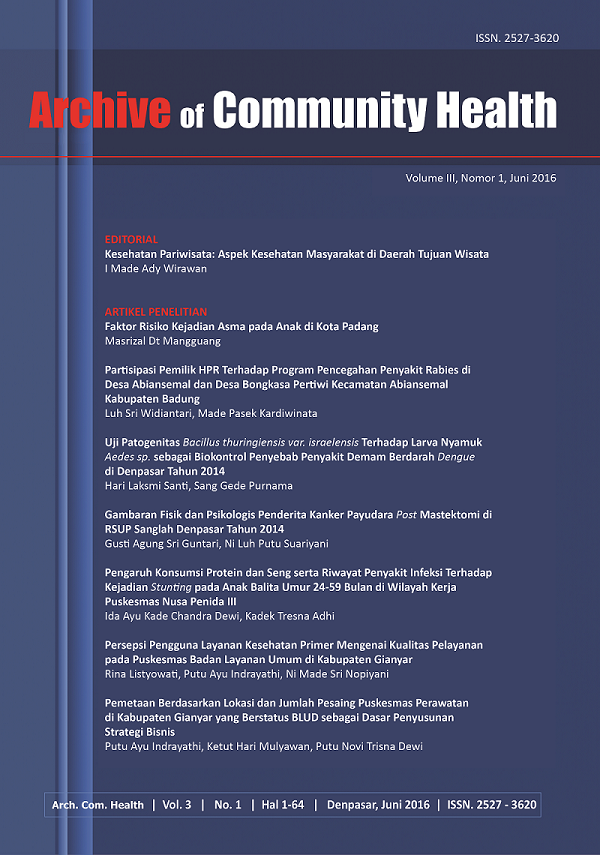 How to Cite
CHANDRA DEWI, Ida Ayu Kade; TRESNA ADHI, Kadek. PENGARUH KONSUMSI PROTEIN DAN SENG SERTA RIWAYAT PENYAKIT INFEKSI TERHADAP KEJADIAN STUNTING PADA ANAK BALITA UMUR 24-59 BULAN DI WILAYAH KERJA PUSKESMAS NUSA PENIDA III.
ARCHIVE OF COMMUNITY HEALTH
, [S.l.], v. 3, n. 1, p. 36-46, june 2016. ISSN 2527-3620. Available at: <
https://ojs.unud.ac.id/index.php/ach/article/view/21077
>. Date accessed: 24 mar. 2019.
Keywords
energy consumption, protein consumption, zinc consumption, history of infectious disease, stunting