Pengaruh Suhu Permukaan Laut (SPL) terhadap Curah Hujan di Perairan Bali menggunakan Data Citra Satelit
Bali Water, MODIS, Rainfall, SST, TRMM
Ni Kadek Martini

Program Studi Ilmu Kelautan, Fakultas Kelautan dan Perikanan, Universitas Udayana, Bali, Indonesia

I Wayan Nuarsa

Program Studi Ilmu Kelautan, Fakultas Kelautan dan Perikanan, Universitas Udayana, Bali, Indonesia

I Wayan Gede Astawa Karang

Program Studi Ilmu Kelautan, Fakultas Kelautan dan Perikanan, Universitas Udayana, Bali, Indonesia
Abstract
Rainfall is a weather element. Sea surface temperatures (SST) affects precipitation. SST and rainfall have a high variability which can be measured by satellite. At a regional scale, a research of the effect of SST on rainfall analyzed island rainfall, which means that there is still little research on rainfall in the waters. This study purposed to find out the variability and correlation between SST and rainfall in the Bali waters.  It used satellite MODIS and TRMM for 10 years, started from 2010 to 2019. The data used was SST MODIS and rainfall TRMM level 3 with the geographic coordinates boundaries area 114.4281o East - 115.7145o East, and 7.8168o South 8.9868o South. The method of this study was correlation analyzed with time lag between of SST and rainfall. The variability of SST in the Bali waters were ranged from 25,2 oC to 31,6 oC. Furthermore, the variability of rainfall was ranged from 0 mm to 556,92 mm. The changes patterns of SST and precipitation in Bali water were related to the season in each month. The data showed that the SST was warmer in the rainy season compared to the SST in the dry season. Besides, the rainfall increases when entering the rainy season, and the decreases when entering the dry season. The correlation between SST and rainfall in this waters area ranged from weak to strong. Correlation formed in the rainy season is negative with a correlation coefficient between -0.34 to -0.74. However, in the dry season there was a positive correlation with a correlation coefficient ranging from 0.77 to 0.92.
Downloads
Download data is not yet available.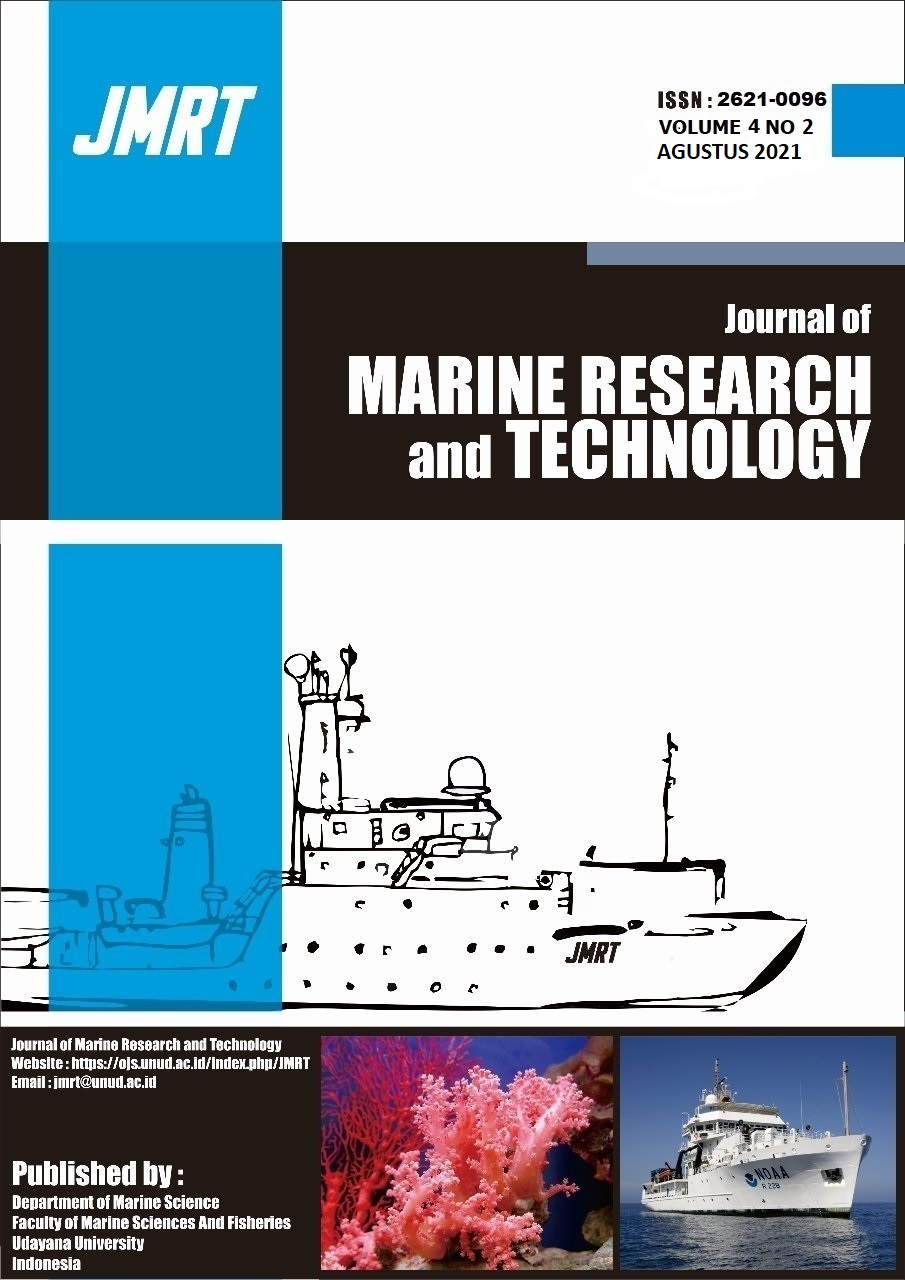 Copyright Notice
The copyright to this article is transferred to Journal of Marine Research and Technology (JMRT). The copyright transfer covers the exclusive right and license to reproduce, publish, distribute and archive the article in all forms and media of expression now known or developed in the future, including reprints, translations, photographic reproductions, microform, electronic form (offline, online) or any other reproductions of similar nature.