Majalah elektronik sport and Fitness yang diterbitkan oleh Perhimpunan Ahli Ilmu Faal Olahraga Indonesia (PAIFORI) bekerjasama dengan Program Studi Magister Fisiologi Olahraga Universitas Udayana menerima naskah dari mahaiswa Program Studi Magister Fisiologi Olahraga Universitas Udayana, mahasiswa S2 olahraga dan Fisioterapi dari seluruh Indonesia yang berkaitan dengan masalah sport and Fitness. Di samping itu juga menerima naskah dari para dosen Fisiologi Olahraga Unud dan ilmuwan lain dengan topik terkait.
Naskah yang diterima berupa artikel asli, kajian pustaka, laporan kasus, maupun surat-surat untuk redaksi yang belum pernah dipublikasikan. Bahasa yang digunakan adalah bahasa Indonesia dengan ejaan yang terdapat dalam kamus besar Bahasa Indonesia. Juga menerima naskah dalam Bahasa Inggris dengan menggunakan pedoman ejaan the Oxford English Dictionary atau Webster Dictionary.
Saat ini, Sport and fitness Journal hanya menerbitkan jurnal dalam versi online dan terindeks pada Directory of Open Access Journals (DOAJ), Google Scholar, dan Indonesian Publication Index (IPI).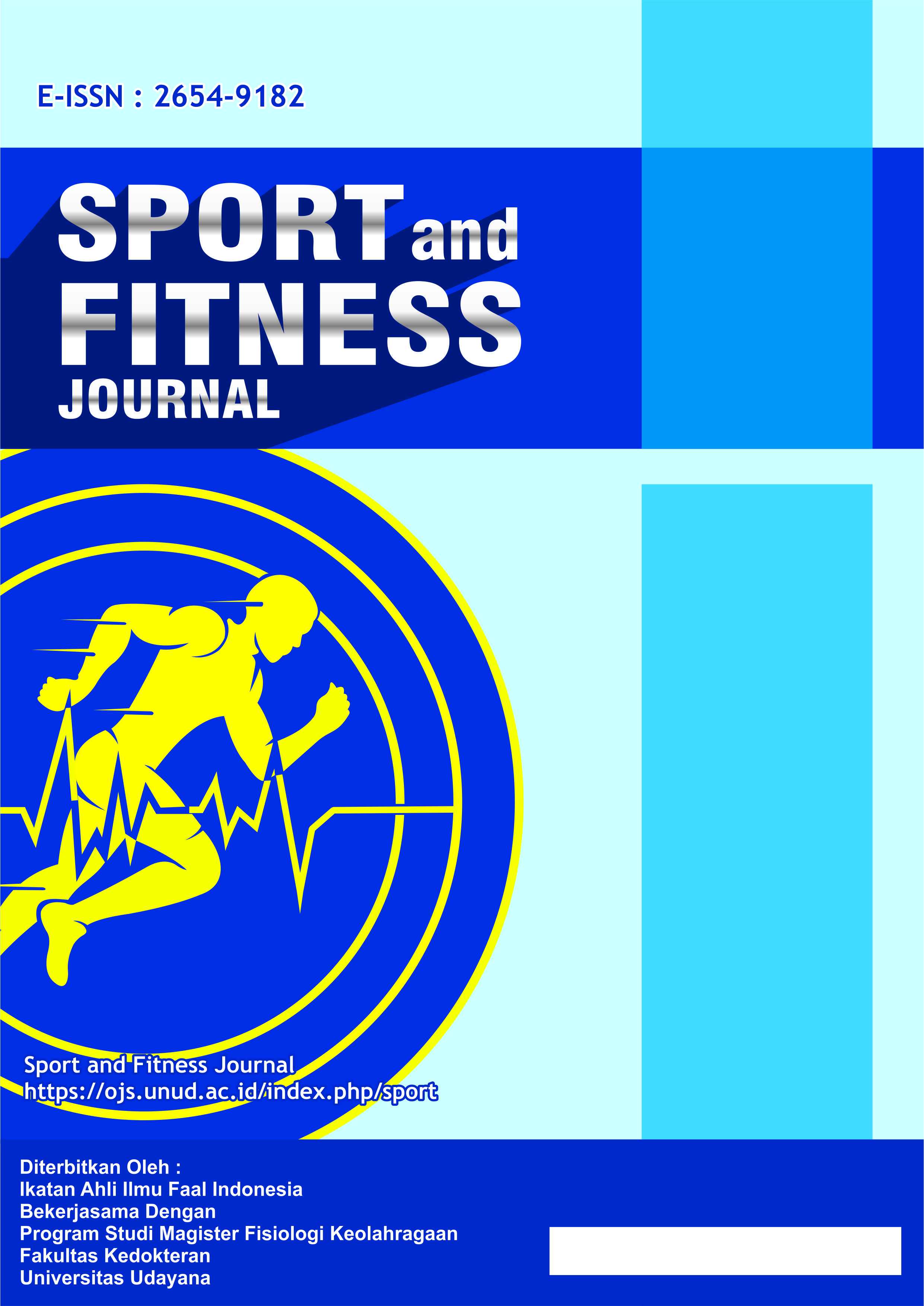 Announcements
DOAJ Indexed (Since September 11, 2015)

Posted: 2015-09-11
Volume 4, No. 2, 2016
Table of Contents
Articles
| | |
| --- | --- |
| EFEK PEMBERIAN SENAM LANSIA TERHADAP PERUBAHAN LINGKAR PINGGANG LANSIA DESA JEGU TABANAN | PDF |
| susy purnawati, I PG adiatmika, made muliarta, ratna sundari, krisna dinata, indah adiputra, adiartha g, D A inten, I D P sutjana, K tirtayasa, J A pangkahila | |
This work is licensed under a
Creative Commons Attribution 4.0 International License
.
ISSN 

2302-688X
. 

View My Stats