Accept scientific articles related to the field of medicine and animal health. Manuscripts relating to the animals and all its aspects were also received for publication. Screenwriter minimal consists of two people. A script written by himself can not be accepted by the editors, as we argued a study is a collaboration to make something work.
Accepted articles are an original script, has not been published in scientific magazines or news media. Scripts are written in Indonesian or English. Long article about 3000 words. Articles hope is equipped with an abstract in Indonesian and English. The article must have been approved for publication by all authors listed in the article marked with the stamp signature on the hard copy sent to the editor.
Manuscripts can be sent or delivered piping directly to the editorial address. Editors Indonesia Medicus Veterinus located at the Jurnal Veteriner, Jl Raya Sesetan Gang Passion No. 6, Banjar Gaduh, Sesetan, Denpasar Bali Indonesia

Announcements
No announcements have been published.
Vol 5 (5) 2016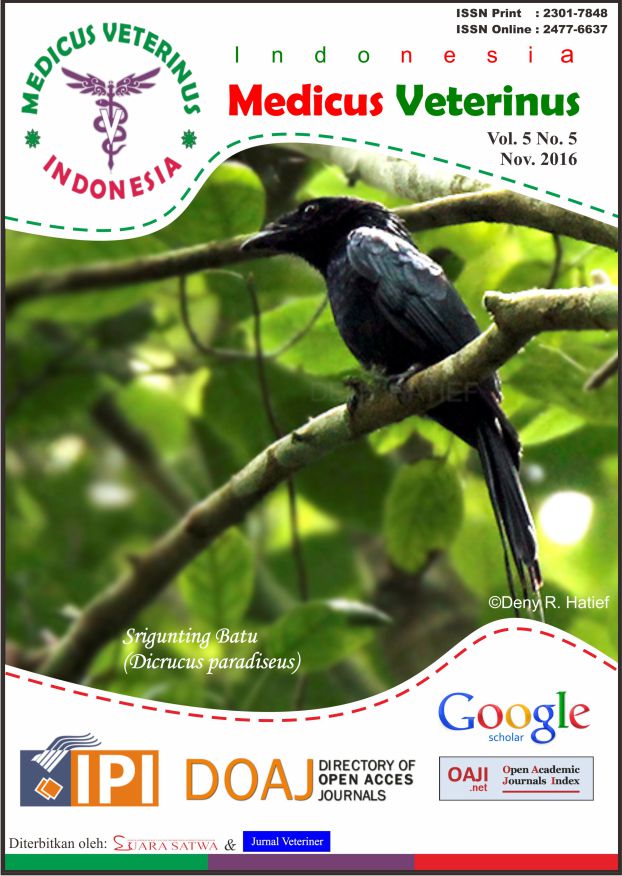 This work is licensed under a
Creative Commons Attribution 4.0 International License
. 
ISSN Print 2301-7848
.
ISSN Online 2477-6637
. 
View My Stats