Presentase dan Intensitas Serangan Hama Kutu Putih (Paracoccuss marginatus) yang Menyerang Tanaman Adenium Spp. di Kota Denpasar
I Wayan Andi Sumartayasa

Program Studi Agroekoteknologi, Fakultas Pertanian, Universitas Udayana

Ketut Ayu Yuliadhi

Program Studi Agroekoteknologi, Fakultas Pertanian, Universitas Udayana

I Ketut Sumiartha

Program Studi Agroekoteknologi, Fakultas Pertanian, Universitas Udayana
Abstract
Research on the Percentage and Intensity of Attacks by White flies (Paracoccuss marginatus) Attacking Adenium Spp. in Denpasar City. The purpose of this study was to determine the White flies (Paracoccuss marginatus) that attacks Adenium spp., the population of pests that attack, the percentage and intensity of attacks. Sampling was carried out purposively by photographing and observing plants attacked by pests in the Districts of West Denpasar, East Denpasar, South Denpasar and North Denpasar. The results showed that White flies (Paracoccuss marginatus) attacked Adenium spp. in the city of Denpasar. White flies (Paracoccuss marginatus) number 5468 pests, with an average attack percentage of 56.25% White flies, while the average pest attack intensity is 20% White flies.
References
Arwida, S. D. (2008). Adenium arabicum Si Bonggol Eksotik. Jakarta: Gramedia Pustaka Utama.
Beckett, K. A. (1995). The Royal Hortikultural Society Encyclopedia of House Plant. CLB Pusblising Goldaming Surrey. New York.
Borror D.J, dkk. (1996). Pengenalan Pelajaran Serangga. Edisi ke6. Partosoedjono S, penerjemah. Yogyakarta: Gajah Mada University Press. Terjemahan dari: An Introduction to the Study of Insects.
Ekosari, A. (2009). Pengaruh GA3 dan IAA Terhadap Pembesaran Bonggol Adenium (Adenium obesum). Tesis. Universitas Sebelas Maret. Tidak Dipublikasi.
Mardji, D. (2000). Penuntun Praktikum Penyakit Hutan. Fakultas Kehutanan Universitas Mulawarman, Samarinda.
Mardji, D. (2003). Identifikasi dan Penanggulangan Penyakit pada Tanaman Kehutanan. Pelatihan Bidang Perlindungan Hutan di PT ITCI Kartika Utama, Samarinda.
Miller DR, Williams DJ, & Hamon AB. (1999). Notes on a new mealybug (Hemiptera: Coccoidea: Pseudococcidae) pest in Florida and the Caribbean: the papaya mealybug, Paracoccus marginatus Williams and Granara de Willink. Insecta Mundi 13(3–4): 179–181
Pracaya. (2003). Hama dan Penyakit Tanaman. PT. Penebar Swadaya. Jakarta
Subyanto dan Sulthoni, A. (1991. Kunci Determinasi Serangga. Kanisius: Yogyakarta
Tomasouw, I. dan M. Sitanggang. (2005). Membuat Adenium Berbonggol Indah dan Berbunga dan Lebat. Agromedia Pustaka. Jakarta.
Untung, K. (2006). Pengantar Pengelolaan Hama Terpadu Edisi Kedua. Gadjah Mada University Press. Yogyakarta.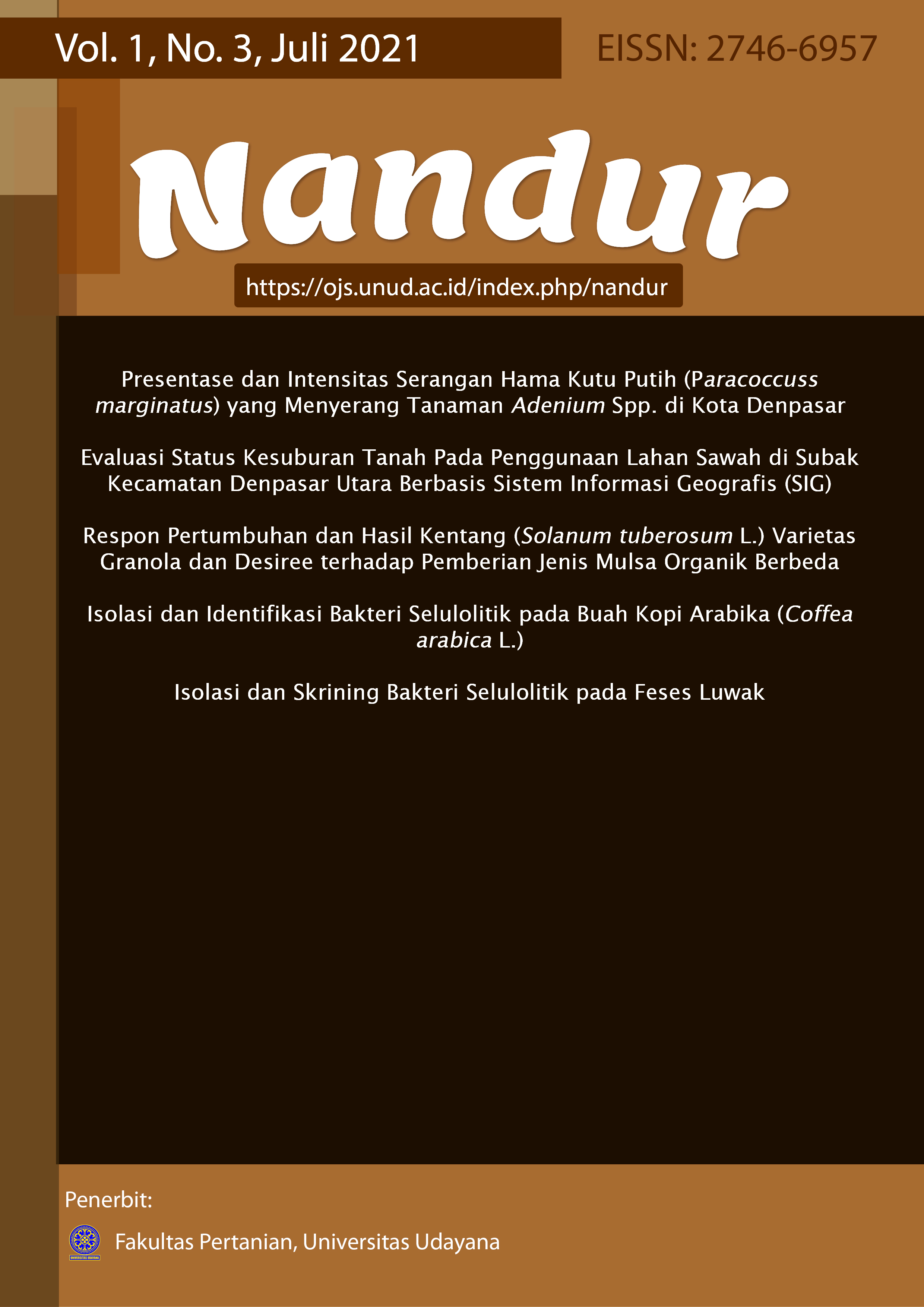 How to Cite
SUMARTAYASA, I Wayan Andi; YULIADHI, Ketut Ayu; SUMIARTHA, I Ketut. Presentase dan Intensitas Serangan Hama Kutu Putih (Paracoccuss marginatus) yang Menyerang Tanaman Adenium Spp. di Kota Denpasar.
Nandur
, [S.l.], v. 1, n. 3, p. 105-111, aug. 2021. ISSN 2746-6957. Available at: <
https://ojs.unud.ac.id/index.php/nandur/article/view/77070
>. Date accessed: 06 june 2023.