PERFORMAN REPRODUKSI DAN PRODUKSI TERNAK BABI PADA USAHA PETERNAKAN RAKYAT DI DUA LOKASI BERBEDA
SURANJAYA I G.

Fakultas Peternakan Universitas Udayana, Denpasar Bali

M. DEWANTARI

Fakultas Peternakan Universitas Udayana, Denpasar Bali

I K. W. PARIMARTHA

Fakultas Peternakan Universitas Udayana, Denpasar Bali

I W. SUKANATA

Fakultas Peternakan Universitas Udayana, Denpasar Bali

I N. T. ARIANA

Fakultas Peternakan Universitas Udayana, Denpasar Bali
Abstract
The research was conducted in a survey of farmers on the pig farm business in the Kebek and Penginyahan
village, Payangan-Gianyar. Purposive random sampling of 20 farmers in each location and explorative approach
was conducted to describe the production and reproduction management applied. Data were analyzed descriptively
and to study production and reproduction management between the two sites was Two Independent Sample T
Test. The results showed the average productivity of pigs in Kebek and Penginyahan that is litter size: 9,50±1,65 vs
10,86±1,68 tail, annual litter size : 2,10±0,32 vs 2,29±0,49 times, weaning age: 29,00±2,11 vs 29,00±1,91 day, and
the three variables were not significantly different (P>0,05). The average number of piglet weaned in Kebek and
Penginyahan was 7.90±1,45 vs 9,43±1,99 head, weaning weight of piglet 7,20±1,69 vs 5,29±0.57 kg (P <0.05). The
dry period and the age of culled of sow in Kebek is significantly higher than in Penginyahan (P<0.05). Whereas in
fattening management, early age to fatten and length of maintenance is not different between the two locations
(P>0,05), whereas the live and slaughtering weight in Kebek are significantly higher than those in Penginyahan that
is 14.00±1,15 vs. 12.20±1,79 kg and 126,50±11,80 vs. 114±10,84 kg (P<0,05).
Downloads
Download data is not yet available.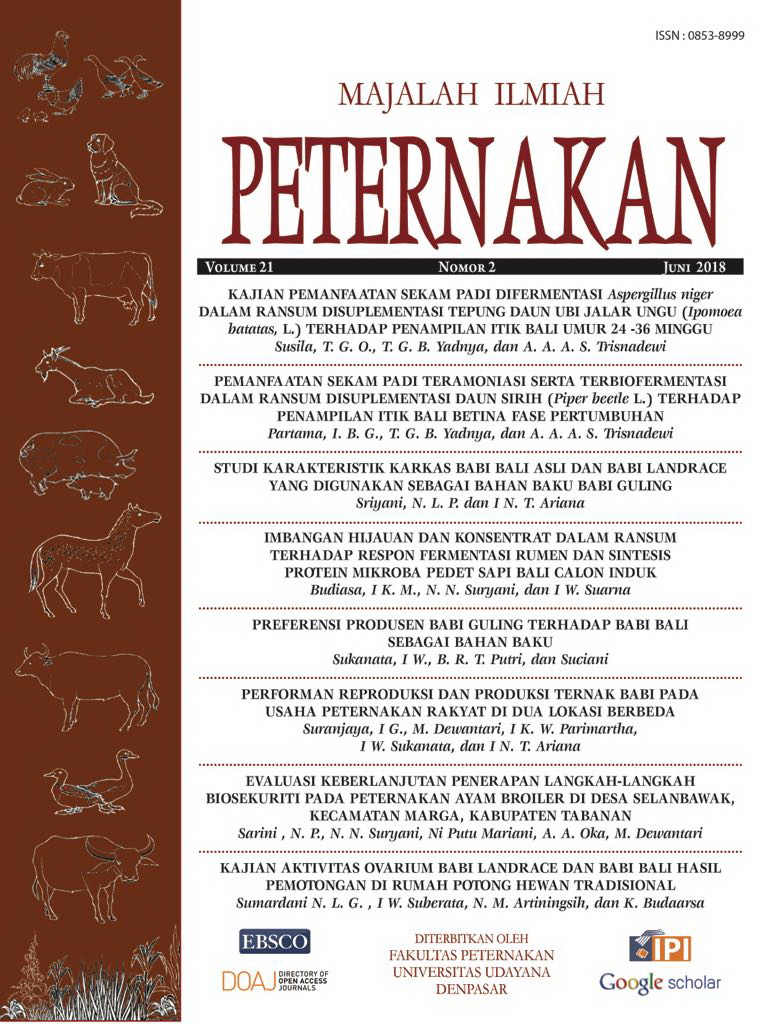 This work is licensed under a
Creative Commons Attribution 4.0 International License
.