EVALUASI MIKROSTRUKTUR KULIT TELUR ITIK PASCA FORMULASI KHITOSAN-ASAP CAIR SELAMA PENGASINAN
MIWADA I N. S.

Fakultas Peternakan Universitas Udayana, Denpasar Bali

M. HARTAWAN

Fakultas Peternakan Universitas Udayana, Denpasar Bali

I K. SUKADA

Fakultas Peternakan Universitas Udayana, Denpasar Bali
Abstract
This study aims at analyzing the ability of chitosan-formula liquid smoke to make innovation of curing times
with penetration through the pores of duckling egg shells on the process of salting. A completely randomized design
(CRD) was used with long curing treatment in 5, 10, 15, and 20 days. Besides, formula chitosan-liquid smoke with
20 g/l and 3% concentration were used in this experiment. The results showed that the curing of time up to 15 days
gave the highest score (P<0.05) with good criteria. The quality of chemical in a long curing times gave significant
differences (P<0.05) from indicators as of pH value, protein, and content of total phenol, and acids. The result
of SEM (Scanning Electron Microscope) showed that formulation of chitosan-liquid smoke could give effect to a
relatively open eggshells microstructure. It can be concluded that chitosan formulation with 20 g/l concentration
and 3% of liquid smoke concentration can be effective at 15 days curing time.
Downloads
Download data is not yet available.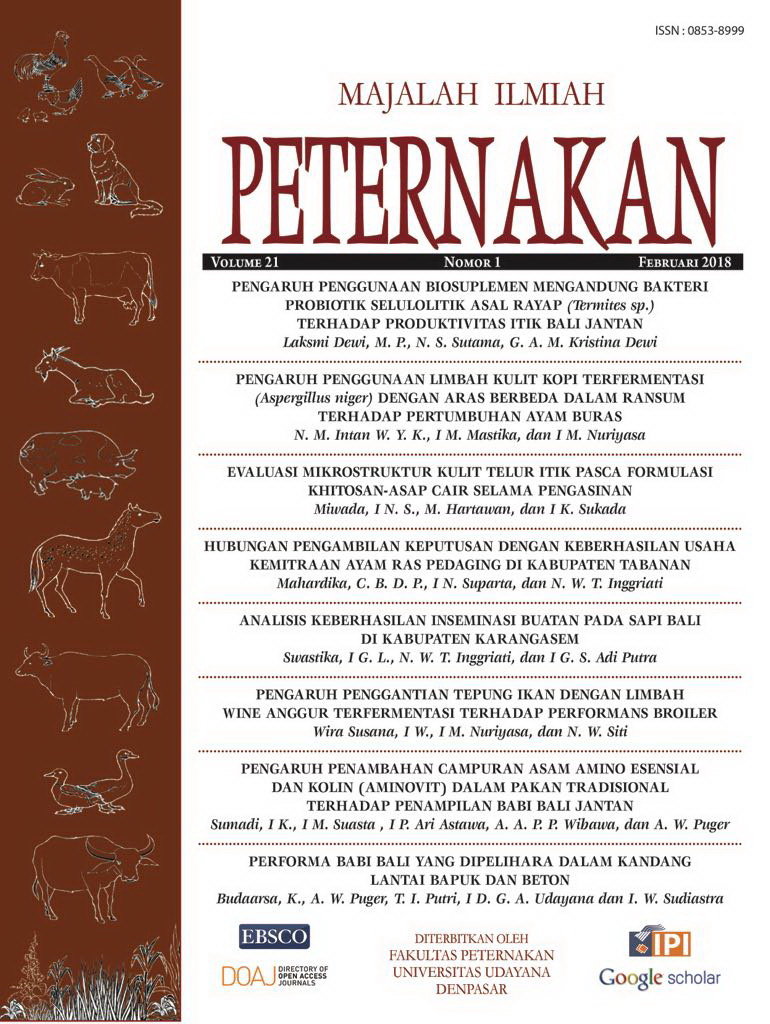 This work is licensed under a
Creative Commons Attribution 4.0 International License
.