PELATIHAN TEKNIK ELEKTROPLATING NIKEL BAGI INDUSTRI KERAJINAN KUNINGAN DI DESA KAMASAN KABUPATEN KLUNGKUNG
T. G. Tirta Nindhia

Grup Riset Industri Manufaktur dan Permesinan, Jurusan Teknik Mesin, Fakultas Teknik, Universitas Udayana

I W. Surata

Grup Riset Industri Manufaktur dan Permesinan, Jurusan Teknik Mesin, Fakultas Teknik, Universitas Udayana

I K. Adi Atmika

Grup Riset Industri Manufaktur dan Permesinan, Jurusan Teknik Mesin, Fakultas Teknik, Universitas Udayana

D.N.K. Putra Negara

Grup Riset Industri Manufaktur dan Permesinan, Jurusan Teknik Mesin, Fakultas Teknik, Universitas Udayana

A.A.I.A. Sri Komaladewi

Grup Riset Industri Manufaktur dan Permesinan, Jurusan Teknik Mesin, Fakultas Teknik, Universitas Udayana

I M. Sucipta

Grup Riset Industri Manufaktur dan Permesinan, Jurusan Teknik Mesin, Fakultas Teknik, Universitas Udayana
Abstract
The Village of Kamasan at Klungkung in the Province of Bali is recognized as a centre of metal handicrafts,
especially the handicraft made from brass. Many home industries for the brass handicraft are established in this
village. Recently due to Rapid progress of Tourism in Bali, The brass handicraft in Kamasan are growing well
because the demand for the souvenir. However some problem arise such as limited of variation, and surface quality
of the brass handicraft that tend to become blurred or dull due to the process of oxidation. This condition make
the brass handicrafts become not so interest as silver handicrafts that can shine for quite long time. To overcome
this problem it is needed to coating the surface of the brass handicrafts so that there will be no contact with
oxygen. The coating will be more benefit if able to exhibit more interesting appearance, as what nickel coating
can affect the appearance of the surface to become like silver but more clear. Equipment for nickel elektroplating
was designed for this purpose and donated for this purpose. The unique of the equipment that was donated were
small in size therefore only low electric power is needed, only 1 liter electrolyte was used and can be use many
time. The positive result is obtained for this activity where all participants able to operate the elektroplating
process with excellent result.
Downloads
Download data is not yet available.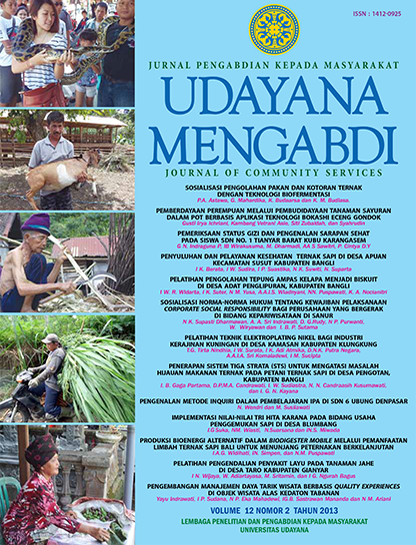 How to Cite
NINDHIA, T. G. Tirta et al. PELATIHAN TEKNIK ELEKTROPLATING NIKEL BAGI INDUSTRI KERAJINAN KUNINGAN DI DESA KAMASAN KABUPATEN KLUNGKUNG.
Buletin Udayana Mengabdi
, [S.l.], v. 12, n. 2, nov. 2013. ISSN 2654-9964. Available at: <
https://ojs.unud.ac.id/index.php/jum/article/view/7362
>. Date accessed: 28 jan. 2022.

This work is licensed under a Creative Commons Attribution-ShareAlike 4.0 International License.