BUDIDAYA TANAMAN HIAS ANGGREK SEBAGAI UPAYA KONSERVASI ANGGREK SULAWESI TENGAH
BUDIDAYA TANAMAN HIAS ANGGREK SEBAGAI UPAYA KONSERVASI ANGGREK SULAWESI TENGAH
Zulkaidhah Zulkaidhah

Muslimin Muslimin

A. Hapid

B. Toknok
Abstract
As ornamental plants, orchids which are included in the Orchidaceae family are those with the most diverse plants in the world and have a very high selling price in compared to other ornamental plants. The quality of orchids leads to their prospective business where they can be marketed in the forms of pot plant and floristry. Approximately 35,000 species of orchids and thousands of orchid hybrids have been recorded. However, it is estimated as many as 203 species are at high risk of extinction due to habitat destruction and forest conversion. This study mainly aimed to carry out orchids conservation, particularly the endangered species, considering that the prevailing business system in Central Sulawesi is by directly cutting the flowers in the forest zone. In addition, it is an attempt to provide a program of nursery in Palu City by promoting the orchids propagation method as well as innovation in ornamental orchids marketing.
The implementation of this program is specifically targeted to produce orchid seeds rapidly and massively as well as to gain superior properties in order to meet the demand of ornamental plants. It is particularly preoccupied on species with high demand, aesthetic value, and marketable, including: Phalaenopsis celebencis, Bulbophyllum echinolabium, Gramatophyllum stapeliiflorum, Vanda sp., Coelogyne celebensis and Cymbidium sp. Vegetative propagation using in vitro methods through tissue culture was carried out in this program, namely cuttings and separation of clumps.
The yield was 110 pots of orchid breeds from various species and the availability of media for tissue culture. The production included 800 seedlings in the form of flower pots and approximately 100 bottles in the form of seeds bottle (tissue culture) for the next 2-3 month acclimatization, where every bottle can produce 10 saplings. Furthermore, the marketing system was initiated by conducting partnership with several nurseries in Palu City, government agencies, private sector and also individuals for hobbies, as well as by organizing local-scale exhibitions. In this program, the products consist of plant tissue cultures in bottle, seedlings aged 4—5 months and seedlings from separation of clumps/cuttings.
Downloads
Download data is not yet available.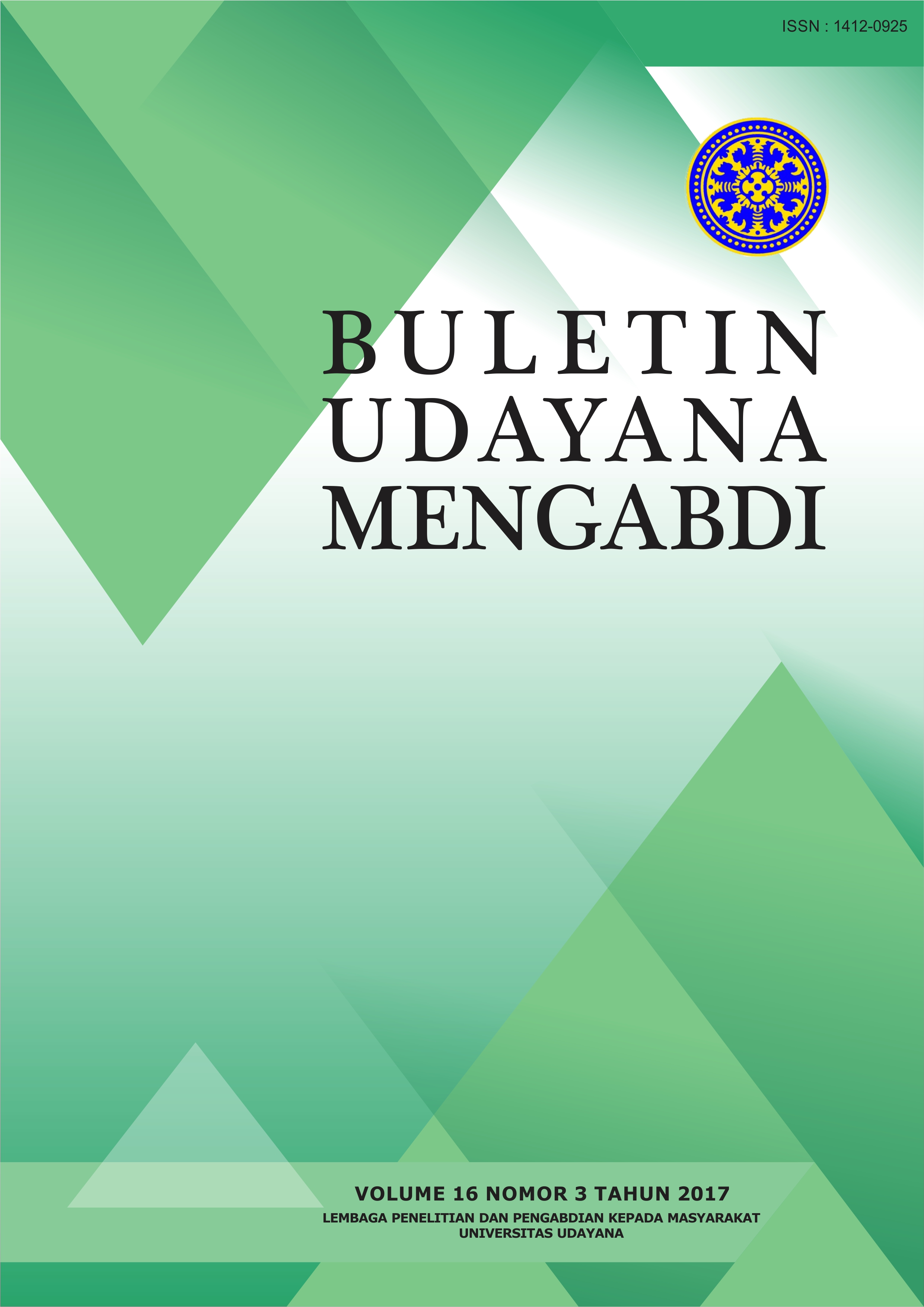 How to Cite
ZULKAIDHAH, Zulkaidhah et al. BUDIDAYA TANAMAN HIAS ANGGREK SEBAGAI UPAYA KONSERVASI ANGGREK SULAWESI TENGAH.
Buletin Udayana Mengabdi
, [S.l.], p. 373-378, jan. 2018. ISSN 2654-9964. Available at: <
https://ojs.unud.ac.id/index.php/jum/article/view/37298
>. Date accessed: 01 oct. 2023.

This work is licensed under a Creative Commons Attribution-ShareAlike 4.0 International License.