REINTRODUKSI TANAMAN LANGKA DI HUTAN LINDUNG BATUKARU, TABANAN, BALI
Abstract
Changes in forest land use can lead to the existence of endemic species of the unique plants and even threatened by the extinction in the wild. Bali Botanic Gardens as a conservation agency feels necessary to do the activities reintroduction of Dacrycarpus imbricatus (Blume) De Laubenf, Elaeocarpus grandiflorus J.E.Sm, Michelia champaca L. in the protected Forest Batukaru, as an effort to reduce the level of destruction of species - those species conservation while providing for public education about the importance of preserving, the experience involves both globally and locally.
Downloads
Download data is not yet available.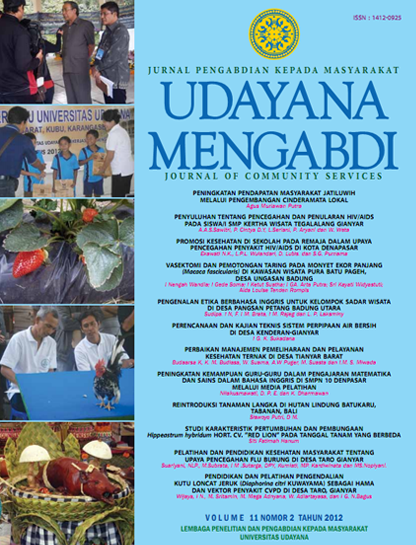 This work is licensed under a Creative Commons Attribution-ShareAlike 4.0 International License.