PELAYANAN KESEHATAN HEWAN PADA SAPI PUTIH DI DESA TARO GIANYAR
N. S. Dharmawan

K. Budaarsa

N. N. Suryani

Gede Mahardika
Abstract
The activity of this community services was carried out on September 20, 2009 at Taro Village, Gianyar Regency. The purpose of this community services is to share knowledge about the health management of livestocks to the Taro cattle's breeders. The other purposes are to avoid the economic lost caused by the death of animals, by giving animal health service and epizootic septichemic vaccination to the taro cattle. Among this thirty nine taro cattles, twenty five (64.10%) were vaccinated with epizootic septichemic vaccine and three of them were injected with B complex vitamin. All the cattle were also sprayed with insecticide to control the insect attack. From the enormous responses and enthusiasm of the Taro cattle's breeders, it can be concluded that the activity came into satisfying result. Since the taro cattles are an asset in Bali, in the future the similar activities should be done regularly. It is suggested that the government should spend budget for taro cattle maintenances and their health services.
Downloads
Download data is not yet available.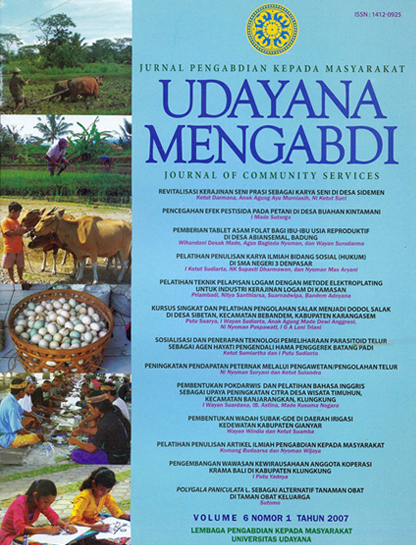 This work is licensed under a Creative Commons Attribution-ShareAlike 4.0 International License.