ANALISIS KEPUASAN PENGGUNA JASA PEMELIHARAAN DAN PERBAIKAN ATAS PELAYANAN UPT-PP (UNIT PELAKSANA TEKNIS PEMELIHARAAN DAN PERBAIKAN) POLITEKNIK NEGERI BALI
I Made Aryana

I M. Alit K Salain

I W Yansen
Abstract
ABSTRACT: PNB is avocational education institution. With vocational predicate, PNB have diverse learning facility. In order for these assets remain in top condition (ready to use), there should be a special unit that handles maintenance and repair issues. UPT-PP (Unit Pelaksana Teknis Pemeliharaan dan Perbaikan) is one of the units in PNB which has a function implementing maintenance and repairs of all assets, and all equipment used in the activities of the learning process. UPT-PP has the functions and responsibilities are quite heavy and vital in supporting the smooth learning activities both theory and practice. This situation demands UPT-PP should have good human resources, competent, reliable and should be supported by the provision of hardware and software that is adequate. This study aims to determine the value of service user satisfaction level of maintenance and repair of services given by UPT-PP Politeknik Negeri Bali and identify the factors that need attention in order to increase user satisfaction with the services UPT-PP Politeknik Negeri Bali. Retrieval of data obtained from the spread of the questioner about facts and reality associated with service quality and user expectations UPT-PP Politeknik Negeri Bali. While the calculation of the correspondence between the level of quality and user expectations UPT-PP is the comparison of the quality weight with the weight of expectations/interests. This conformity level will show the level of user satisfaction with the services. Results of a descriptive analysis of user satisfaction with the services UPT-PP can be determined by the value of the conformity level. After analysis, the conformity level of each dimension is obtained from the tangible value 81.08%, conformity level of reliability79.04%, conformity level of responsiveness to the value of 81.09%, the assurance dimension with value 84.20% and dimensions of empathy with the conformity value 83.23%. From five dimensions of conformity level assessment between service quality expectations of service users UPT-PP Politeknik Negeri Bali is 81.07% or user satisfaction level can achieve 81.07%. The advice can be given to UPT PP services is able to calculate the time it takes to handle a case, time discipline and may provide an explanation to user about problems experienced and can establish a harmonious working relationship to all service users, in order to increase the trust of all users.
Downloads
Download data is not yet available.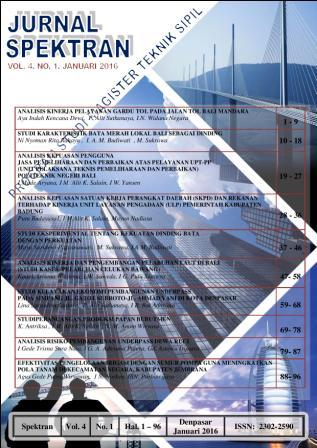 Keywords
UPT-PP Bali State Polytechnic, Satisfactionand Service
This work is licensed under a
Creative Commons Attribution 4.0 International License
.