MENGAPA PERUSAHAAN MELAKUKAN AUDITOR SWITCH?
Abstract
The existence of a large number of accounting firms allowsprovides companies choices whether to stay with current firm or switchto another accounting firm. Decision of Minister of FinanceNo.423/KMK.06/2002 states that a company must switch auditor afterfive years of consecutive assignment. This is mandatory. The questionrises when a company voluntarily switches its auditor. Why does thishappen?One of the reasons is that management does not satisfy withauditor opinion, except for unqualified opinion. New management teamwould directly or indirectly encourage auditor switch to align accountingand reporting policies. Moreover an expanding company expects positivereaction when it does auditor switch. Profitability is also one reason fora company to switch auditor, for example, when a company earns moreprofit it tends to hire more credible auditor. On the other hand, when thecompany faces a financial distress, it probably would switch auditor aswell.
Downloads
Download data is not yet available.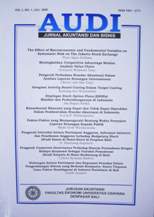 Keywords
accounting firm, auditor opinion, auditor switch, company

This work is licensed under a Creative Commons Attribution-ShareAlike 4.0 International License.