PEMANFAATAN TEKNOLOGI INFORMASI DAN PENGARUHNYA TERHADAP KINERJA INDIVIDUAL PADA KANTOR PELAYANAN PAJAK PRATAMA DENPASAR BARAT
ASTUTI HANDAIYANI SIREGAR

I KETUT SURYANAWA
Abstract
An appropriate utilization of information technology (IT) wouldenable a company to gain competitive advantages, while improvingindividual performances of the company's employees. Before utilizing IT,an IT developer must understand factors considered in deciding ITapplication. This research aims to investigate factors influencing ITutilization and the impact on individual performance in Taxation OfficeKPP Pratama West Denpasar. Sample consists of all employees using ITto have job done. Data are obtained using questionnaire anddocumentation. Hypothesis are tested with multiple and simpleregression.Results show that factors like social, affect, job fitness, long-termconsequences, and job complexity simultaneously affect IT utilizationpositively and significantly. Partially, job fitness and long-termconsequences provide positive and significant impact; while social factor,affect, and complexity have positive relation with IT utilization but notsignificant. Furthermore, facilitating condition factor negatively relatedbut insignificant to IT utilization. Finally, the IT utilization affectsindividual performance positively and significantly.
Downloads
Download data is not yet available.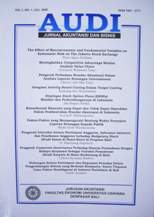 How to Cite
HANDAIYANI SIREGAR, ASTUTI; SURYANAWA, I KETUT. PEMANFAATAN TEKNOLOGI INFORMASI DAN PENGARUHNYA TERHADAP KINERJA INDIVIDUAL PADA KANTOR PELAYANAN PAJAK PRATAMA DENPASAR BARAT.
Jurnal Ilmiah Akuntansi dan Bisnis
, [S.l.], v. 4, n. 2, july 2009. ISSN 2303-1018. Available at: <
https://ojs.unud.ac.id/index.php/jiab/article/view/2610
>. Date accessed: 19 oct. 2021.
Keywords
technology application, IT utilization, individual performance, information system developer
This work is licensed under a
Creative Commons Attribution 4.0 International License
.