PENGARUH KEBIJAKAN DIVIDEN DAN KEPEMILIKA
A.A.G.P. WIDANA PUTRA

NI MADE DWI RATNADI
Abstract
The purpose of this research is to examine impact of dividend policy and managerial ownership on agency cost. Based on data availability, sample consists of 105 observations. Data collection method is non participants' observation. The results show that 1) dividend policy does not statistically affect agency cost at significance level of 95 percent, 2) leverage affects agency cost negatively and significantly at the level of 95 percent, 3) companies managed by owner managers have lower agency cost than those managed by non owner managers.
Downloads
Download data is not yet available.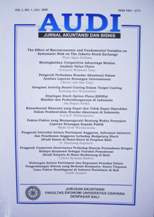 Keywords
conflict of interest, dividend policy, managerial ownership, agency cost
This work is licensed under a
Creative Commons Attribution 4.0 International License
.