DECISION USEFULNESS: TRADE-OFF ANTARA RELIABILITY DAN RELEVANCE
Abstract
The purpose of this article is to search for trade-off solution betweenreliability and relevance. Approach that can be used to have more reliable andrelevant financial statement is decision usefulness. This approach suggests thatfinancial statement must be useful to become a base of investors' decision making.The change function of financial statement from just a tool of responsibility tobecome a tool of decision making has caused historical cost-based financialstatement could not be used to predict future value of a firm. This problem couldbe solved by presenting full disclosure of financial statement. Discussion sessionshows that full disclosure results in more useful and reliable accountinginformation to be used in decision making process of various users.
Downloads
Download data is not yet available.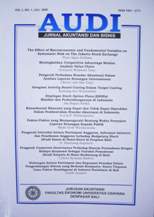 Keywords
decision usefulness, trade-off, full disclosure, financial reporting
This work is licensed under a
Creative Commons Attribution 4.0 International License
.