Lipid Profile of Cholelithiasis Patients at Dr. Mohammad Hoesin Central General Hospital, Palembang
Mutiara Tri Florettira

Faculty of Medicine, Sriwijaya University, Palembang

Efman Efraim Ulrich Manawan

Department of Surgery, Faculty of Medicine, Sriwijaya University, Palembang

Subandrate Subandrate

Biochemistry Division, Faculty of Medicine, Sriwijaya University, Palembang
Abstract
Aim: To determine the lipid profile of cholelithiasis patients at Dr. Mohammad Hoesin Central General Hospital, Palembang. Methods: This study was an observational descriptive study. The data were obtained from medical records in the Medical Record Centre of Dr. Mohammad Hoesin Hospital during the period of 1 January 2016 – 30 June 2019 by total sampling technique. Collecting data from medical record were patient's age, gender, body mass index (BMI), occupation and lipid profile. Results: Most cholelithiasis patients were > 40 years old (69.6% of 253 patients), female (62.1% of 253 patients), normal BMI (42.6% of 195 patients), and a housewife (38% of 163 patients). The mean of total cholesterol level in 38 patients was 191.82 ± 49.63 mg/dL (104 – 350 mg/dL), the mean triglyceride level in 32 patients was117.16 ± 43.46 mg/dL (36 – 212 mg/dL), the mean of LDL level in 35 patients was 125.31 ± 36.64 mg/dL (62 – 244 mg/dL) and the mean HDL level in 36 patients was 43.33 ± 14.35 mg/dL (17 – 84 mg/dL). Conclusion: Almost all cholelithiasis patients at Dr. Mohammad Hoesin Central General Hospital, Palembang had normal lipid profile.
Downloads
Download data is not yet available.
References
1. Dorland WAN. Kamus Saku Kedokteran Dorland. Jakarta: EGC; 2015.
2. Njeze GE. Gallstones. Niger J Surg. 2013;19:49-55.
3. Stinton LM, Shaffer EA. Epidemiology of Gallbladder disease: Cholelithiasis and Cancer. Gut and Liver. 2012;6:172-87.
4. Marschall HU, Einarsson C. Gallstone Disease. Journal of Internal Medicine. 2007;261:529-42.
5. Sjamsuhidajat R, Jong W. Buku Ajar Ilmu Bedah Edisi 4. Jakarta: EGC; 2017.
6. Sueta MAD, Warsinggih. Faktor Risiko Terjadinya Batu Empedu di RSUP Dr. . Wahidin. JBN (Jurnal Bedah Nasional). 2017;1:20-6.
7. Channa NA, Khand F, Ghanhro AB, et al. Quantitative Analysis of Serum Lipid Profile in Gallstone Patients and Controls. Pakistan J Anal Environ Chem. 2010;11:59-65.
8. Batajoo H, Hazra NK. Analysis of Serum Lipid Profile in Cholelithiasis Patients. J Nepal Health Res Counc. 2013;11:53-5.
9. Hayat SZ, Hassan SH, Changazi A, et al. Comparative Analysis of Serum Lipid Profiles in Patients with and Without Gallstones: A Prospective Cross-Sectional Study. Ann Med Surg. 2019;42:11-3.
10. Gyedu A, Adae-Aboagye K, Badu-Peprah A. Prevalence of Cholelithiasis Among Persons Undergoing Abdominal Ultrasound at The Komfo Anokye Teaching Hospital, Kumasi, Ghana. Afr Health Sci. 2015;15:246-52.
11. Palermo M, Berkowski DE, Córdoba JP, et al. Prevalence of Cholelithiasis in Buenos Aires, Argentina. Acta Gastroenterol Latinoam. 2013;43:98-105.
12. Figueredo JC, Haiman C, Porcel J, et al. Sex and Ethnic/Racial-Specific Risk Fators for Gallbladder Disease. BMC Gastroenetology. 2017;17:153.
13. Zamani F, Sohrabi M, Alipour A, et al. Prevalence and Risk Factors of Cholelithiasis in Amol City, Northern Iran: A Population Based Study. Arch Iran Med. 2014;17:750-4.
14. Pak M, Lindseth G. Risk Factors for Cholelithiasis. Gastroenterol Nurs. 2016;39:297-309.
15. Taher MA. Descriptive Study of Cholelithiasis with Chemical Constituents Analysis of Gallstones from Patients Living in Baghdad, Iraq. Int J Med Med Sci. 2013;5:19-23.
16. Jessri M, Rashidkhani B. Dietary Patterns and Risk of Gallbladder Disease: A Hospital-based Case-Control Study in Adult Woman. J Heal Popul Nutr. 2015;33:39-49.
17. Yin TZ, Seng YH. Weight Status, Body Image Perception and Physical Activity of Malay Housewives in Kampung Chengkau Ulu, Negeri Sembilan. Int J Adv Sci Arts. 2010;1:35-45.
18. Stender S, Nordestgaard BG, Tybjærg-Hansen A. Elevated Body Mass Index as a Causal Risk Factor for Symptomatic Gallstone Disease: A Mendelian Randomization Study. Hepatology. 2013;58:2133-41.
19. Banim PJ, Luben RN, Wareham NJ, et al. Physical Activity Reduces The Risk of Symptomatic Gallstones: A Prospective Cohort Study. Eur J Gastroenterol Hepatol. 2010;22:983-8.
20. Wang Y, Xu D. Effects of Aerobic Exercise on Lipids and Lipoproteins. Lipids Health Dis. 2017;16:132.
21. West WM, Brady-West DC, West KP, et al. Cholelitiasis on Imaging – An Analysis of Clinical Presentations by Age and Gender in a Jamaican Population. West Indian Med J. 2009;58:375-8.
22. Bansal A, Akhtar M, Bansal AK. A Clinical Study: Prevalence and Management of Cholelithiasis. Int Surg J. 2014;1:134-9.
23. Khan IT, Ahmed MM, Iqbal MI, et al. Relationship of BMI and Age With Cholelithiasis. J Surg Pakistan. 2017;22:101-4
24. Das AK, Saikia AM, Baruah R. Body Mass Index: A Predictor of Gall Stone Disease?. Indian J Basic Appl Med Res. 2015;5:521-7.
25. Panpimanmas S, Manmee C. Risk Factors for Gallstone Disease in A Thai Population. J Epidemiol. 2009;19:116-21.
26. Weerakoon HTW, Ranasinghe WS, Navaratne A, et al. Serum Lipid Concentrations in Patients with Cholesterol and Pigment Gallstones. BMC Res Notes. 2014;7:548.
27. Aulakh RH, Mohan AK, Attri JK, et al. A Comparative Study of Serum Lipid Profile and Gallstone Disease. Indian J Pathol Microbiol. 2007;50:308-12.
28. Satria BI. Profil Lipid Serum Pada Penderita Batu Kandung Empedu Di RSUP Haji Adam Malik Medan Dan RS Jejaring FK-USU [tesis]. Medan; Sumatera Utara University; 2016.
29. Greenberger NJ, Paumgartner G. Diseases of the Gallbladder and Bile Ducts. In: Longo DL, Fauci AS. Harrison's Gastroenterology and Hepatology 2nd Edition. United States: McGraw-Hill Education; 2013.
30. Smelt AHM. Triglycerides and Gallstone Formation. Clin Chim Acta. 2010;411:1625-31.
31. Röhrl C, Stangl H. Cholesterol Metabolism-Physiological Regulation and Pathophysiological Deregulation by The Endoplasmic Reticulum. Wien Med Wochenschr. 2018;168:280-5.
32. Sniderman AD, Graaf J, Couture P, et al. Regulation of Plasma LDL: The apoB Paradigm. Clin Sci. 2009;118:333-9.
33. Halldestam I, Kullman E, Borch K. Incidence of and Potential Risk Factors for Gallstone Disease in A General Population Sample. Br J Surg. 2009;96:1315-22.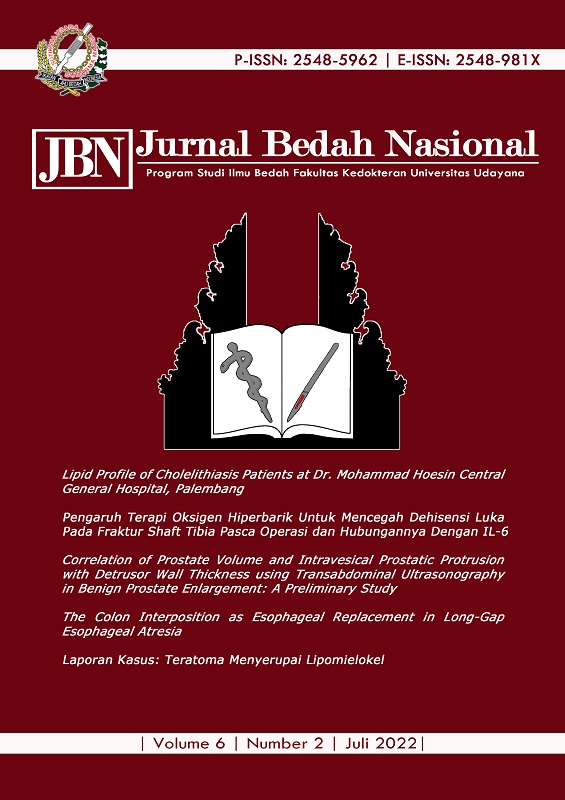 This work is licensed under a Creative Commons Attribution 4.0 International License.
Program Studi Ilmu Bedah Fakultas Kedokteran Universitas Udayana.

This work is licensed under a Creative Commons Attribution 4.0 International License.