Wujud Rekonsiliasi dalam Kearifan Lokal Budaya Flores
Maria Yulita C. Age

STIPAR, Ende
Abstract
This article aims to describe conclusions about several forms of local wisdom of Flores culture which are a description of customs and beliefs that are able to restore a situation or relationship to be good as before and describe the similarities and differences between these forms of reconciliation from a religious point of view. This study uses a qualitative approach. Data was collected by means of interviews, documentation, and observation. The results showed that there is local wisdom of Flores culture which is a form of reconciliation, namely wale, waja, and tala. These three things are an effort to restore a relationship in relation to traditional marriage. When viewed from a religious perspective, these three things have similarities and differences with the sacrament of penance. The similarities are seen in purpose, substitution, non-representation, and reconciliation. What distinguishes it is the form of execution/implementation, the person involved, the form of substitution, the method of recognition, and the intention
References
Afif, A. (2019). Forgiving the Unforgivable. Jakarta: Buku Mojok.
Badan Pengembangan dan Pembinaan Bahasa. (2017). Kamus Besar Bahasa Indonesia. Jakarta: Adi Perkasa.
Balo, D. (2016). Tapak-Tapak Hidup Kristiani dari Kelahiran sampai Kematian. Malang: Dioma.
Departemen Dokumentasi dan Penerangan KWI. (1993). Dokumen Konsili Vatikan II. Jakarta: Obor.
Konferensi Waligereja Indonesia. (1996). Iman Katolik. Jakarta: Obor.
Konferensi Waligereja Regio Nusa Tenggara. (1995). Katekismus Gereja Katolik. Ende: Nusa Indah.
Konradus, D. (2018). Politik Hukum Penyelesaian Konflik Pengelolaan Konservasi yang Humanis: Suatu Kajian Berbasis Kearifan Lokal Masyarakat Adat. Hukum. 219-243.
Labu, N. (1994). Penilaian Moral Atas "Waja" Pada Orang Ratogesa-Ngadha. Maumere: STFK Ledalero.
Lestariningsih, A. D. (2020, 09 30). Kebudayaan Jalan Rekonsiliasi: Kompas.co.Retrieved 03 09, 2021, from Kompas.co: kompas.id
Ly, T. (2018). Rekonsiliasi Kultural Suatu Studi Terhadap Budaya Henged'u Suku Sabu. Studi Budaya, 34-47.
Moleong, L. J. (2017). Metode Penelitian Kualitatif. Bandung: Remaja Rosdakarya.
Muhni, D. A. (1994). Moral & Religi Menurut Emile Durkheim & Henri Bergson. Yogyakarta: Kanisius.
Prasetijo, A. (2000). Konsep Rekonsiliasi. Etnobudaya, 12-25.
Ranjabar, J. (2016). Sistem Sosial Budaya Indonesia (Suatu Pengantar). Bandung: Alfabeta.
Rijal, A. (2016, 03 16). Tempo.co. Retrieved 03 08, 2021 from tempo.co:tekno.tempo.co
Schreiner, L. (2019). Adat dan Injil: Perjumpaan Adat dengan Iman Kristen di Tanah Batak. Jakarta: Gunung Mulia.
Schreiter, R. J. (2001). Pelayanan Rekonsiliasi. Ende: Nusa Indah.
Tantama, Y. (2014, 08 10). Berbagi Kisah, Renungan dan Ziarah Katolik. Retrieved 03 06, 2021, from Berbagi Kisah, Renungan dan Ziarah Katolik:http://www/wordpress.com
Tara, T. (2017). Memahami Model-Model Teologi Kontekstual Stephen B. Bevans Dalam Konteks Budaya Ende-Lio Sebagai Bagian Dari Kejujuran Berteologi. Stipar Ende, 1-12.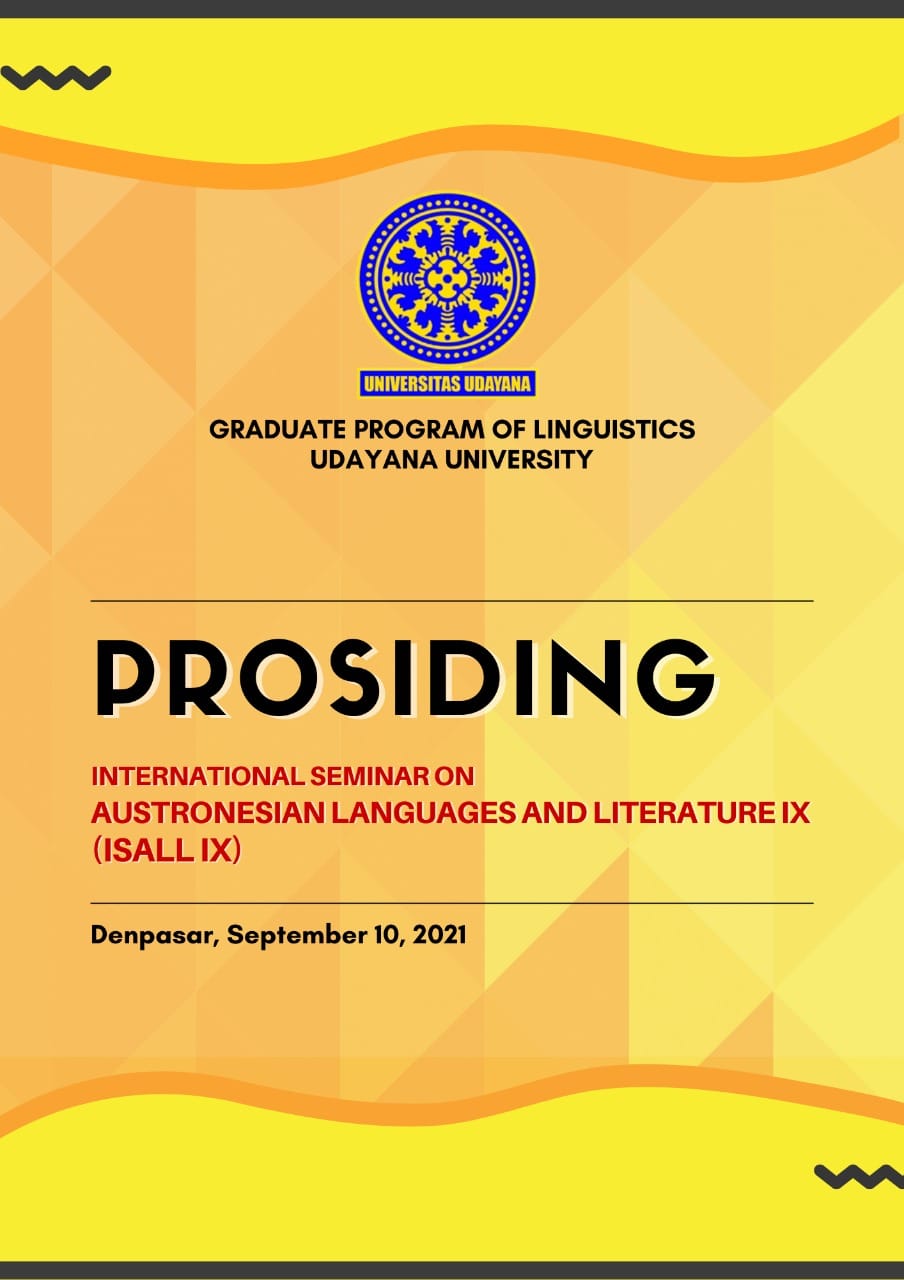 How to Cite
YULITA C. AGE, Maria. Wujud Rekonsiliasi dalam Kearifan Lokal Budaya Flores.
International Seminar on Austronesian Languages and Literature
, [S.l.], v. 9, n. 1, p. 133-138, nov. 2021. Available at: <
https://ojs.unud.ac.id/index.php/isall/article/view/79893
>. Date accessed: 25 mar. 2023.