The Analysis of Determinant Factors of Customer Preferences on Café as a Culinary Tourism Destination in Malang
Nonny Aji Sunaryo

Universitas Negeri Malang, Indonesia

Mazarina Devi

Universitas Negeri Malang, Indonesia

Laili Hidayati

Universitas Negeri Malang, Indonesia

Zorayda Nabila Denata

Universitas Negeri Malang, Indonesia

Firlia Wahyu Puspitasari

Universitas Negeri Malang, Indonesia
Abstract
Malang City continues to be optimistic to be one of the cities that makes culinary tourism one of the mainstay trademarks. In culinary tourism, cafes are one of the destinations that tourists usually go to. Currently, the presence of cafes in Malang is growing very rapidly. This study aims to analyze the determinant factors that influence customer preference in choosing a café as a culinary tourism destination, especially in Malang. This research method is quantitative research, the survey was conducted through the distribution of questionnaires, the sample of this research was 120 respondents who were selected purposively. The collected data were analyzed using exploratory factor analysis (EFA) techniques. Base on EFA, founds 5 factors determinant (Marketing mix, Psychology, Personal, Attraction Social and Cultural, Personality) customer preferences on café as a culinary tourism destination in Malang. Based on the results of the study it can be concluded that the factor determinants of customer preferences are related to the selection of cafes as a culinary tourism destination in Malang. The results of this study can be used by tourism stakeholders in Malang City to understand customer preference so that they can develop cafes as destinations of culinary tourism.
Keywords: determinant factor, customer preferences, café, culinary tourism
Downloads
Download data is not yet available.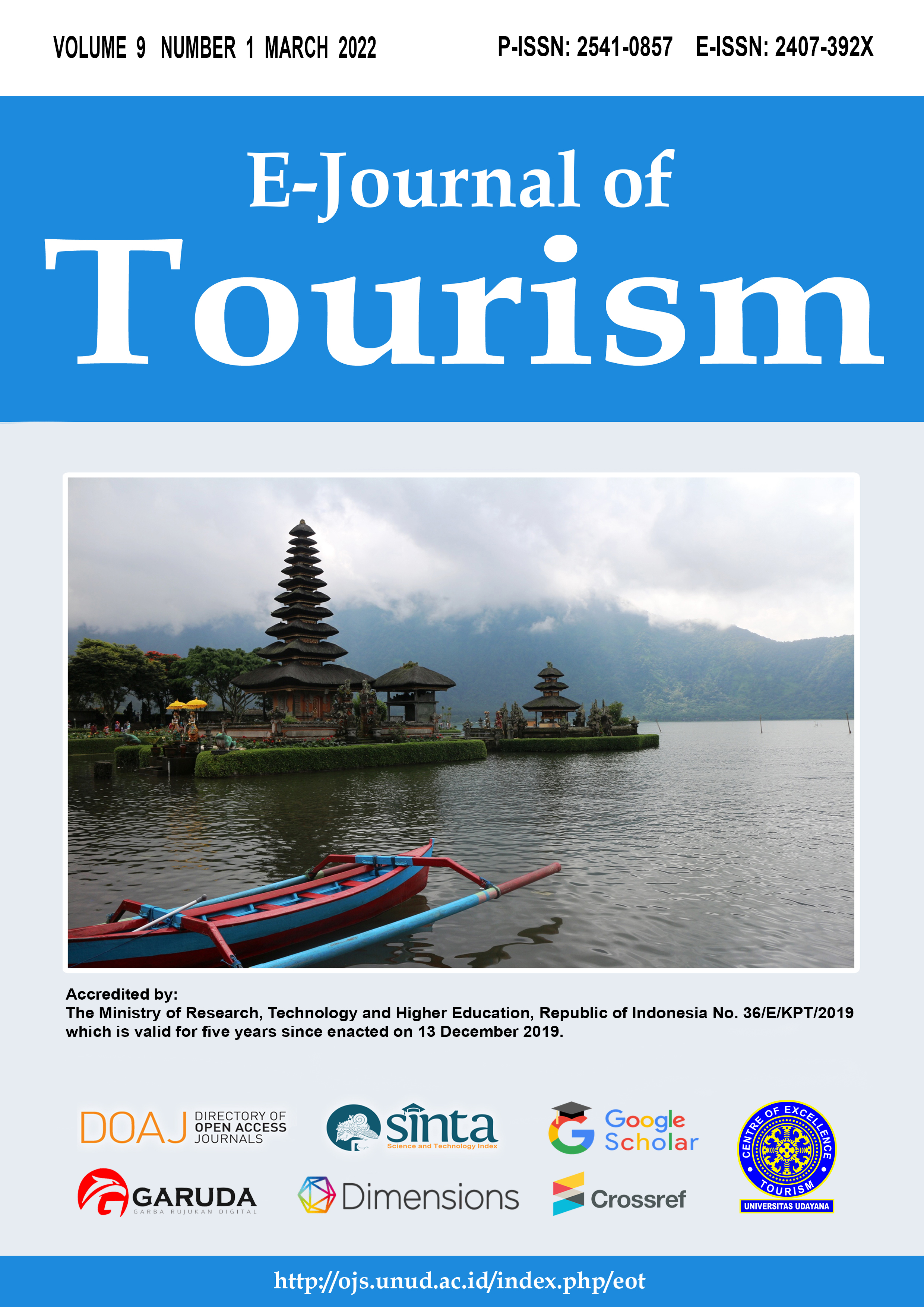 This work is licensed under a Creative Commons Attribution 4.0 International License.
The copyright of the received article shall be assigned to the journal as the publisher of the journal. The intended copyright includes the right to publish the article in various forms (including reprints). The journal maintains the publishing rights to the published articles.