The Modifications of Spiritual Healing in Bali Tourism
I Gede Sutarya

Doctorate Program in Tourism Universitas Udayana

I Nyoman Sirtha

Doctorate Program in Tourism Universitas Udayana
Abstract
Spiritual healing is a health development through a kind of spiritual activities like mantra, religious symbols, rituals, breathing, and meditation that have entered into the tourism of Bali. The study reveals the modifications of spiritual healing in Bali tourism. The research was conducted in Ubud Tourism Region and in the Region of Muncan. This study is a qualitative research. The collection of data was conducted through literature study, observation and interviews. The analysis was conducted qualitatively by classification, interpretation and inference. Modification of spiritual healing in Bali tourism occurred as a result of the dialogue among tourists with healers or local gurus.This modification revises and adds spiritual healing, by maintaining the native gurus and the native rituals of Bali. Native gurus and native rituals of Bali are the expectation of the spiritual healing of foreign tourists in Bali. This expectation is manifest in the longing for gurus and the development of authentic atmosphere. Thus, the native gurus and the native Balinese ritual are augmented products in the Bali spiritual healing in the face of competition from similar products. This indicates that Bali must retain its image as the original source of spiritual healing in the world.
Downloads
Download data is not yet available.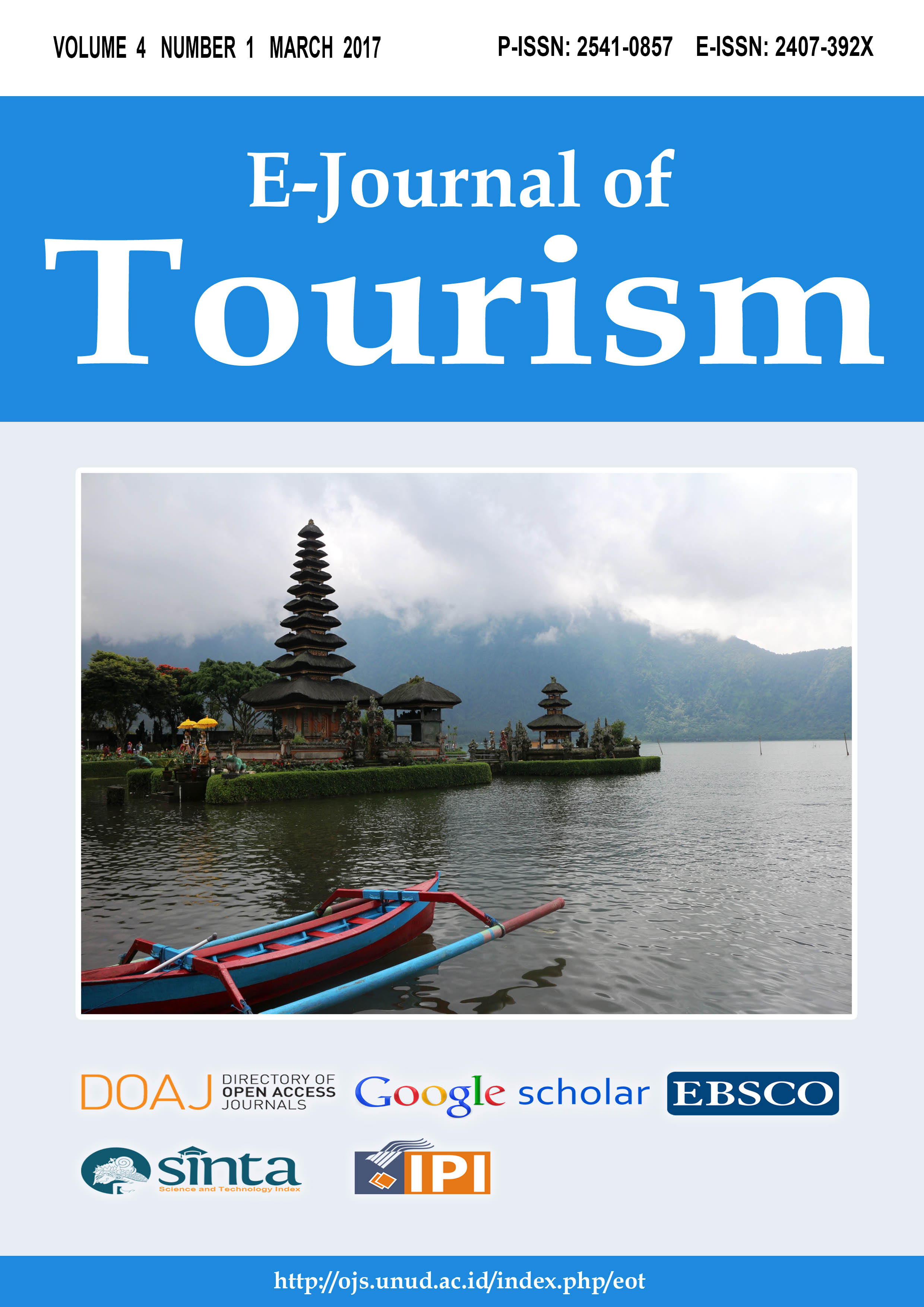 Keywords
spiritual healing; Bali tourism; native gurus and rituals; augmented products

This work is licensed under a Creative Commons Attribution 4.0 International License.
The copyright of the received article shall be assigned to the journal as the publisher of the journal. The intended copyright includes the right to publish the article in various forms (including reprints). The journal maintains the publishing rights to the published articles.