Cohesion Aspects of Learning Narrative Writing Using Comic Media without Text in Class X Students of Senior High School in Denpasar
Ni Putu Candra Gunasari

Faculty of Law Tabanan University
Abstract
This research aims to analyze cohesion are considered as two important components of writing skills which are an important part of writing quality assurance. This research was conducted in several public high schools in Denpasar. This study took class X senior high school because the curriculum in class X senior high school included learning to write narrative. The results of this study are related to the three existing problem formulations. The discussion of the results of this research is in the form of the first one related to the implementation of comic media without text in learning to write narrative in class X Denpasar State Senior High School, the cohesion aspect of learning to write narration using comic media without text in class X senior high school Negeri Denpasar.
Downloads
Download data is not yet available.
References
Beaugrande, R.A. & W.U. Dressler, 1986. Introduction to Text Linguistics. Third Edition. Harlow-Essex: Longman Group Limited.
Dueraman, Bayattee. 2007. Cohesion and Coherence in English Essay Written by Malaysian and Thai Medical students. Downloaded 17 June 2014
Halliday, M. A. K & Hasan, Ruqaiya. 1976. Cohesion in English. London: Longman.
Leo, Krista. 2012. Investigating Cohesion and Coherence Discourse Strategies of Chinese Students with Varied Lengths of Residence in Canada. Canada: Journal / Revue Tesl Du Canada volume 29, Special Issue 6, 2012
Moeliono, Anton M. 1985. Language Development and Fostering: Alternative Avenues in Language Planning. Jakarta: Djambat.
Muvindi, Israel. 2013. Cohesion And Coherence: Implications For Esl Teachers. Zimbabwe: International Journal of Innovative and Applied Research (2013), Volume 1, Issue (1): 80- 84.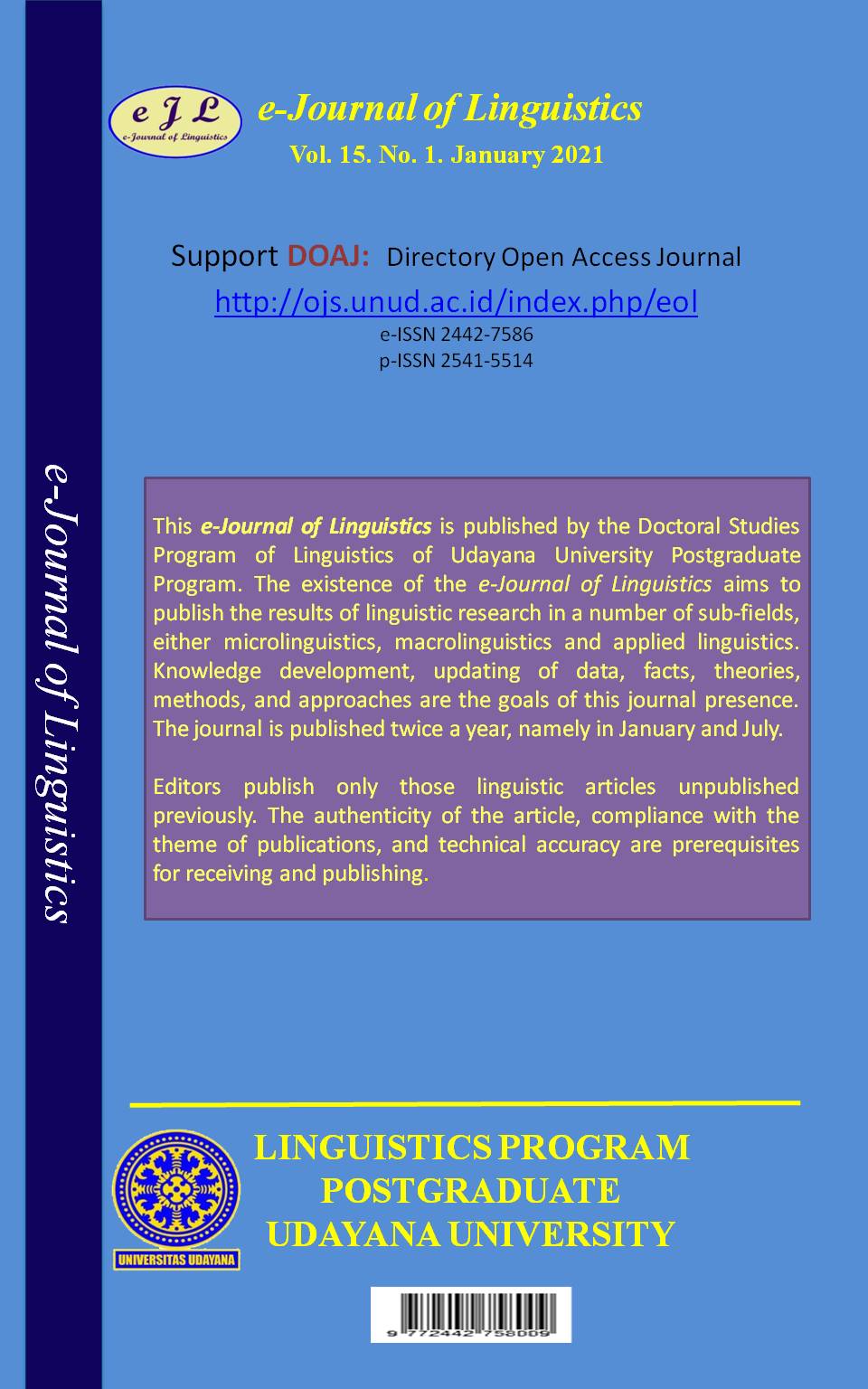 How to Cite
CANDRA GUNASARI, Ni Putu. Cohesion Aspects of Learning Narrative Writing Using Comic Media without Text in Class X Students of Senior High School in Denpasar.
e-Journal of Linguistics
, [S.l.], v. 15, n. 1, p. 96-103, dec. 2020. ISSN 2442-7586. Available at: <
https://ojs.unud.ac.id/index.php/eol/article/view/68025
>. Date accessed: 19 june 2021.

This work is licensed under a Creative Commons Attribution 4.0 International License