PENGARUH PENAMBAHAN KARET SILIKON TERHADAP SUDUT KONTAK HIDROPOBIK DAN KARAKTERISTIK ARUS BOCOR PERMUKAAN PADA BAHAN RESIN EPOKSI
Abdul Syakur

Ika Novia

Sarjiya Sarjiya

Tumiran Tumiran

Hamzah Berahim
Abstract
Currently, polymer materials such as epoxy resin have been used as an insulator in the distribution and
transmission line. Some advantages of using this epoxy resin material having the dielectric properties are better than
porcelain and glass insulators. On the other side, epoxy resins are also disadvantage the surface is hygroscopic. For
the repair was done by adding the surface properties of silicone rubber material
This paper describes the effect of adding silicone rubber against contact angle of hidrophobicity and surface
leakage current characteristics of epoxy resin materials ( Di-Glycidyl Ether of Bisphenol A (DGEBA) and
Methaphenylene-Diamine (MPDA). The study was conducted in the laboratory using the electrode method IEC
587:1984 with NH4Cl contaminants. The voltage applied to the epoxy resin sample at 3.5 kV and 50 Hz frequency
The experimental results showed that the addition of silicon rubber in epoxy resin makes the surface material
contact angle increases. The higher percentage of silicone rubber, the greater the contact angle and the longer time
required for the occurrence of surface discharge.
Downloads
Download data is not yet available.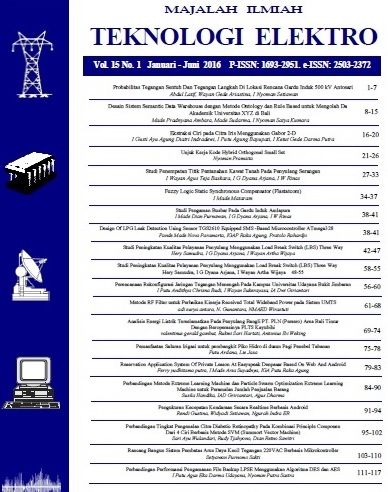 How to Cite
SYAKUR, Abdul et al. PENGARUH PENAMBAHAN KARET SILIKON TERHADAP SUDUT KONTAK HIDROPOBIK DAN KARAKTERISTIK ARUS BOCOR PERMUKAAN PADA BAHAN RESIN EPOKSI.
Majalah Ilmiah Teknologi Elektro
, [S.l.], nov. 2012. ISSN 2503-2372. Available at: <
https://ojs.unud.ac.id/index.php/jte/article/view/3084
>. Date accessed: 27 nov. 2022.

This work is licensed under a Creative Commons Attribution 4.0 International License