PERBANDINGAN UNJUK KERJA ANTARA PANEL SEL SURYA BERPENJEJAK DENGAN PANEL SEL SURYA DIAM
Abstract
The ability to produce electrical energy at Solar Power Plant  is highly dependent on the magnitude and duration of sun exposure on the solar cell panels. The movement of the sun from east to west that periodicity in every day is a problem at  the  optimization generation of electricity at  Solar Power Plant   if using solar panel that motionless. This is because the solar cell panel can not catch the maximum sun exposure.
To solve the above problem then designed a solar cell panel  tracker  capable of follo-wing the movements of the sun. Then conducted a test to see the performance of solar cell pa-nel  tracker  and compare it with the performance of solar cell panel was motionless. The testing doing along 6 days, with way to irradiate the panel of solar cells  tracker  and panels of solar cell motionless with sun exposure  along a  full day. Then the electric current generated each panel were recorded. The comparison of current then generating comparison of electric power delivery.
The result show that the solar cell panel  tracker  produce the average current is 2.19 A whereas solar-cell panel still 1.97 A.  This result   indicate that average power for solar cell panel  tracker  39.41 W while for solar cell panel that motionless is  35.46 W. These results indicate that the performance of solar cell panel  tracker  better than  solar cell panel motionless.
Downloads
Download data is not yet available.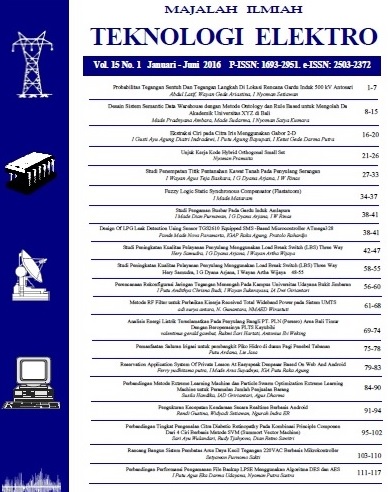 How to Cite
CH, Syafaruddin. PERBANDINGAN UNJUK KERJA ANTARA PANEL SEL SURYA BERPENJEJAK DENGAN PANEL SEL SURYA DIAM.
Majalah Ilmiah Teknologi Elektro
, [S.l.], aug. 2012. ISSN 2503-2372. Available at: <
https://ojs.unud.ac.id/index.php/JTE/article/view/1624
>. Date accessed: 05 july 2022.

This work is licensed under a Creative Commons Attribution 4.0 International License