IN SILICO PRIMER DESIGN AND ANNEALING TEMPERATURE OPTIMIZATION TO AMPLIFY THE FRAGMENT OF gyrB GENE Mycobacterium tuberculosis ISOLATE P010 USING POLYMERASE CHAIN REACTION
Abstract
One of the factors causing XDR-TB is due to mutations in the Mycobacterium tuberculosis gene, one of them is in
the gyrB gene. Amplification of gyrB gene fragments from Mycobacterium tuberculosis DNA using Polymerase
Chain Reaction (PCR) method. The amplification process by the PCR method requires a pair of primers (forward
and reverse) to limit the area to be amplified. The current study aims to obtain the best primer pair generated by in
silico design using Clone Manager Suite 6 program while simultaneously optimizing the annealing temperature to
amplify the fragment of gyrB Mycobacterium tuberculosis. The template used in designing the primer is the
sequence of gyrB Mycobacterium tuberculosis H37Rv isolate obtained from NCBI database of genbank code
AL123456.3.
The current study obtained a pair of primer which respectively had 19 oligonucleotide length and the best annealing
temperature of 56ºC. The primer is be able to do in silico amplification of the fragment of gyrB Mycobacterium
tuberculosis gene isolate P010 in the nucleotide area range from 1271-1755 bp with 485 bp fragment length.
Downloads
Download data is not yet available.
References
[1] Borah, P, 2011. Primer Designing for PCR.
Science Vision. 11(3): 134-136.
[2] Handoyo, D. dan A. Rudiretna, 2000. Prinsip
Umum Dan Pelaksanaan Polymerase Chain
Reaction (PCR) (General Principles and
Implementation Of Polymerase Chain Reaction).
Unitas. 9 (1) : 17-29.
[3] Judelson, H. 2006. Guidelines For Designing
Primers. Primer Guidelines. 10 (6) : 1-5.
[4] Li, J., X. Gao, T. Luo, J. Wu, G. Sun, Q, Liu, Y.
Jiang, Y. Zhang, J. Mei and Q. Gao, 2014.
Associaton of gyrA/B mutations and resistance
levels to fluoroquinolones in clinical isolates of
Mycobacterium tuberculosis. Emerging Microbes
and Infections.
[5] Palomino, J. C. and A. Martin. 2014. Drug
Resistance Mechanisms in Mycobacterium
tuberculosis. MDPI. Vol 3 : 317-340.
[6] Premier Biosoft International (PBI). 2009. Net
Primer Manual. Available at:
http://www.PremierBiosoft.com. (Cited December
18, 2014).
[7] Sasmito, D. E.K., Rahadian, K., Izzati,
Muhimmah. 2014. Karakteristik Primer pada
Polymerase Chain Reaction (PCR) untuk
Sekuensing DNA: Mini Review, Seminar Nasional
Informatika Medis (SNIMed) V: Yogyakarta.
[8] World Health Organization (WHO). 2016. Global
Tuberculosis Report 2016. Perancis: World Health
Organization.
[9] World Health Organization (WHO). 2017. Global
Tuberculosis Report. Available at:
http://www.who.int/tb/publications/global_report/
en/. (Cited December 20, 2017).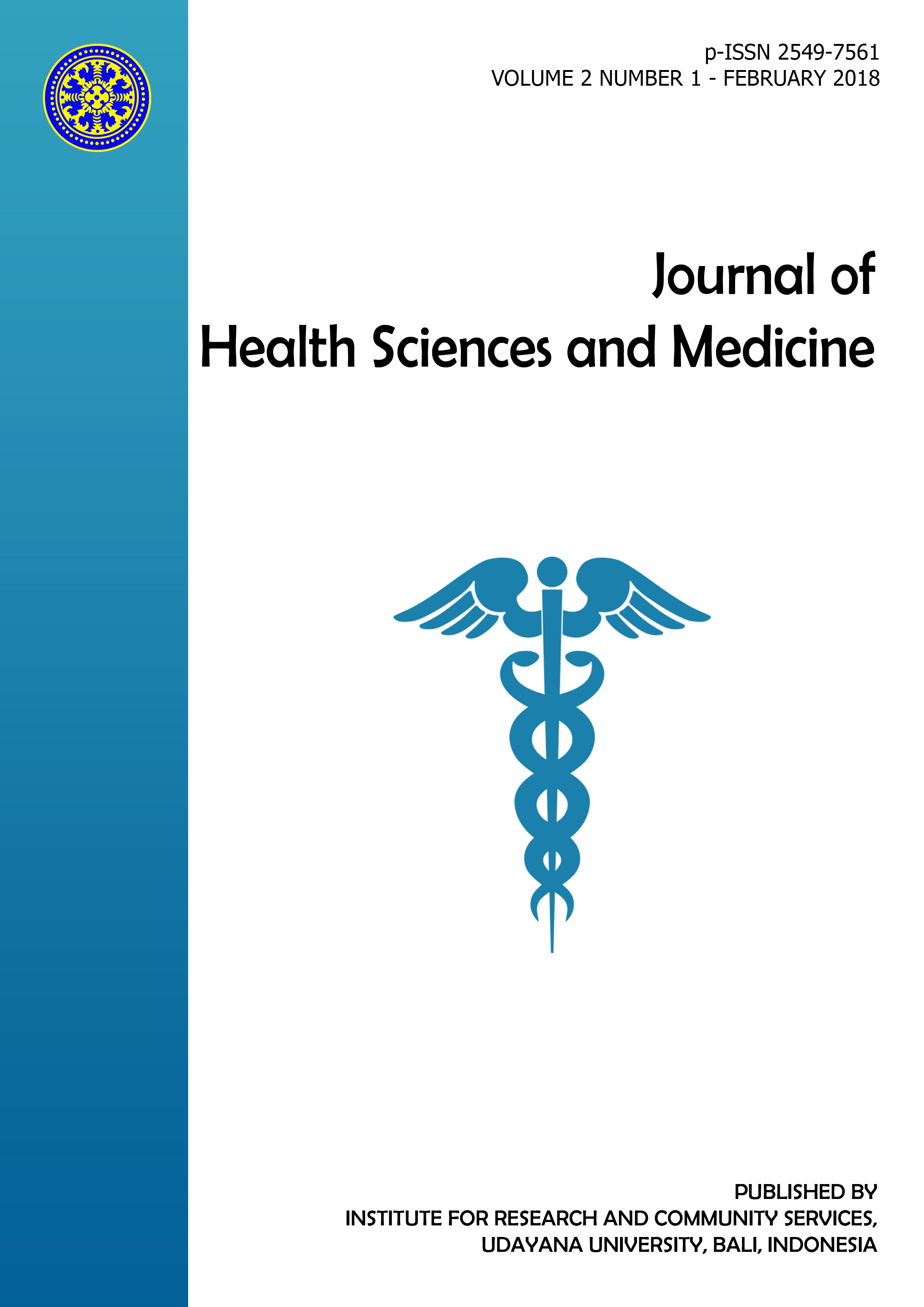 How to Cite
HANDAYANI, Putu Irma. IN SILICO PRIMER DESIGN AND ANNEALING TEMPERATURE OPTIMIZATION TO AMPLIFY THE FRAGMENT OF gyrB GENE Mycobacterium tuberculosis ISOLATE P010 USING POLYMERASE CHAIN REACTION.
Journal of Health Sciences and Medicine
, [S.l.], v. 2, n. 1, p. 4, feb. 2018. ISSN 2622-0555. Available at: <
https://ojs.unud.ac.id/index.php/JHSM/article/view/47788
>. Date accessed: 04 feb. 2023.