Tingkat Perkembangan Biologi Nematoda Puru Akar (Meloidogyne spp.) pada Berbagai Jenis Tanaman Famili Solanaceae
PUTU AYU FRAHMI NANDRIATI

Program Studi Agroekoteknologi Fakultas Pertanian Universitas Udayana, Jl. PB. Sudirman Denpasar Bali 80231

I MADE SUDANA

Program Studi Agroekoteknologi Fakultas Pertanian Universitas Udayana, Jl. PB. Sudirman Denpasar Bali 80231

I MADE SUDARMA

Program Studi Agroekoteknologi Fakultas Pertanian Universitas Udayana, Jl. PB. Sudirman Denpasar Bali 80231
Abstract
Level Developmental Biology Root Nematode (Meloidogyne spp.) On Different
Types of Plants Family Solanaceae
Meloidogyne spp. is an important parasitic nematodes which attack many crops
in Indonesia. One of the host plants that are favored by Meloidogyne spp. is family
solanaceae. Solanaceace plant widely cultivated in Indonesia because of high
economic value and become an important food ingredient. Attacks Meloidogyne spp.
makes losing a very high yield so that the necessity of controlling performed to
suppress the attack of Meloidogyne spp .. Control with nematicides is a fast and
practical way, but the impact on the environment to be unfavorable. Therefore,
controlling use of technical culture by means of crop rotation using a crop that is less
favored by Meloidogyne spp. be an environmentally friendly alternative to control.
This research see the development of larval stages II to IV and adult nematodes at 1
gram root and larval stage II at 300 grams of soil by using red pepper plant (Capsicum
annuum L.), cayenne pepper (Capsicum frutecesns L.), eggplant (Solanum melongena
L .) and tomato plants (Lycopersicum esculentum Mill).
Downloads
Download data is not yet available.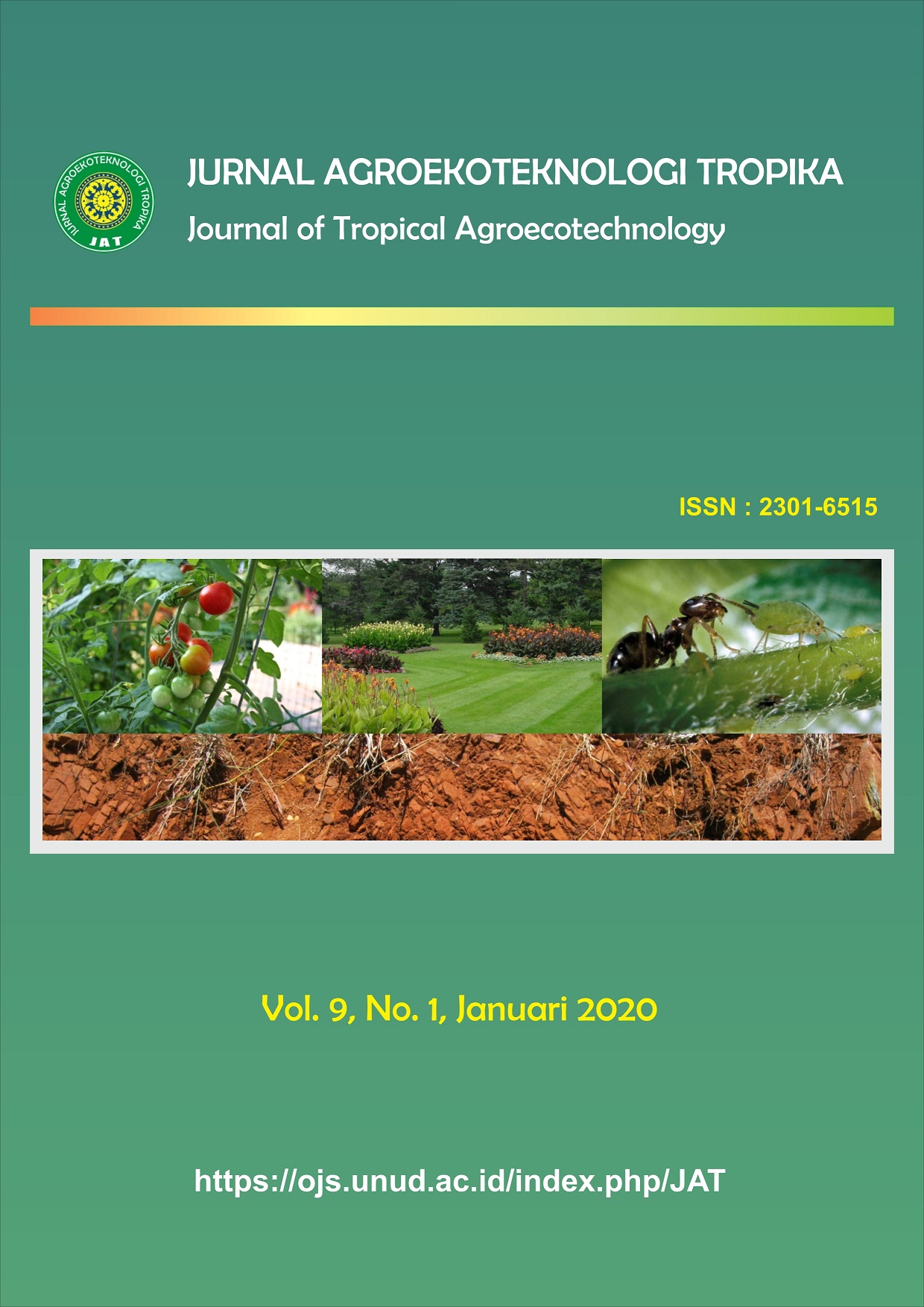 How to Cite
NANDRIATI, PUTU AYU FRAHMI; SUDANA, I MADE; SUDARMA, I MADE. Tingkat Perkembangan Biologi Nematoda Puru Akar (Meloidogyne spp.) pada Berbagai Jenis Tanaman Famili Solanaceae.
Jurnal Agroekoteknologi Tropika (Journal of Tropical Agroecotechnology)
, [S.l.], p. 52-61, jan. 2020. ISSN 2301-6515. Available at: <
https://ojs.unud.ac.id/index.php/JAT/article/view/56751
>. Date accessed: 27 mar. 2023.