Isolasi Jamur Endofit Pada Tanaman Anggur Bali (Vitis vinifera L. var. Alphonso Lavalle ) serta Efektivitasnya untuk Menekan Pertumbuhan Penyakit Busuk Kapang Kelabu pada Buah Anggur Bali
NI LUH PUTU NOVITA DEWI

Program Studi Agroekeoteknologi Fakultas Pertanian Universitas Udayana

I MADE SUDARMA

Program Studi Agroekeoteknologi Fakultas Pertanian Universitas Udayana

TRISNA AGUNG PHABIOLA

Program Studi Agroekeoteknologi Fakultas Pertanian Universitas Udayana
Abstract
Endophytic Fungi Isolation on Balinese Grape Plants (Vitis vinifera L. var.
Alphonso Lavalle ) and its Effectivenese to Control Grey Mold Disease on
Balinese Grape

Gray mold rot is the disease caused by pathogen Botrytis cinerea. It is an
important disease in grapes (Vitis vinifera L.) since it can reduce the quantity and
quality of grapes. Nowadays people use synthetic fungicides to control the pathogen,
but the cost of synthetic fungicides is expensive and continuous usage will give a
negative impact to the environment therefore endophytic fungus is an alternative way
that can be used to control the pathogen in grapes. The purpose of this study was to
obtain endophytic fungi and obtain the best endophytic fungus to control gray mold
rot pathogens. This study uses two methods which are in vitro endophytic fungal
antagonist test and in vivo endophytic fungal antagonist test in the laboratory. The
results showed that there were 10 endophytic fungi. The results of in vitro and in vivo
tests showed that the best endophytic fungus was Miselia sterilia A as confirmed by
the percentage of inhibition of Miselia sterilia A in the in vitro test of 82.14% and the
smallest percentage of pathogen attack in the in vivo test of 6%.
Downloads
Download data is not yet available.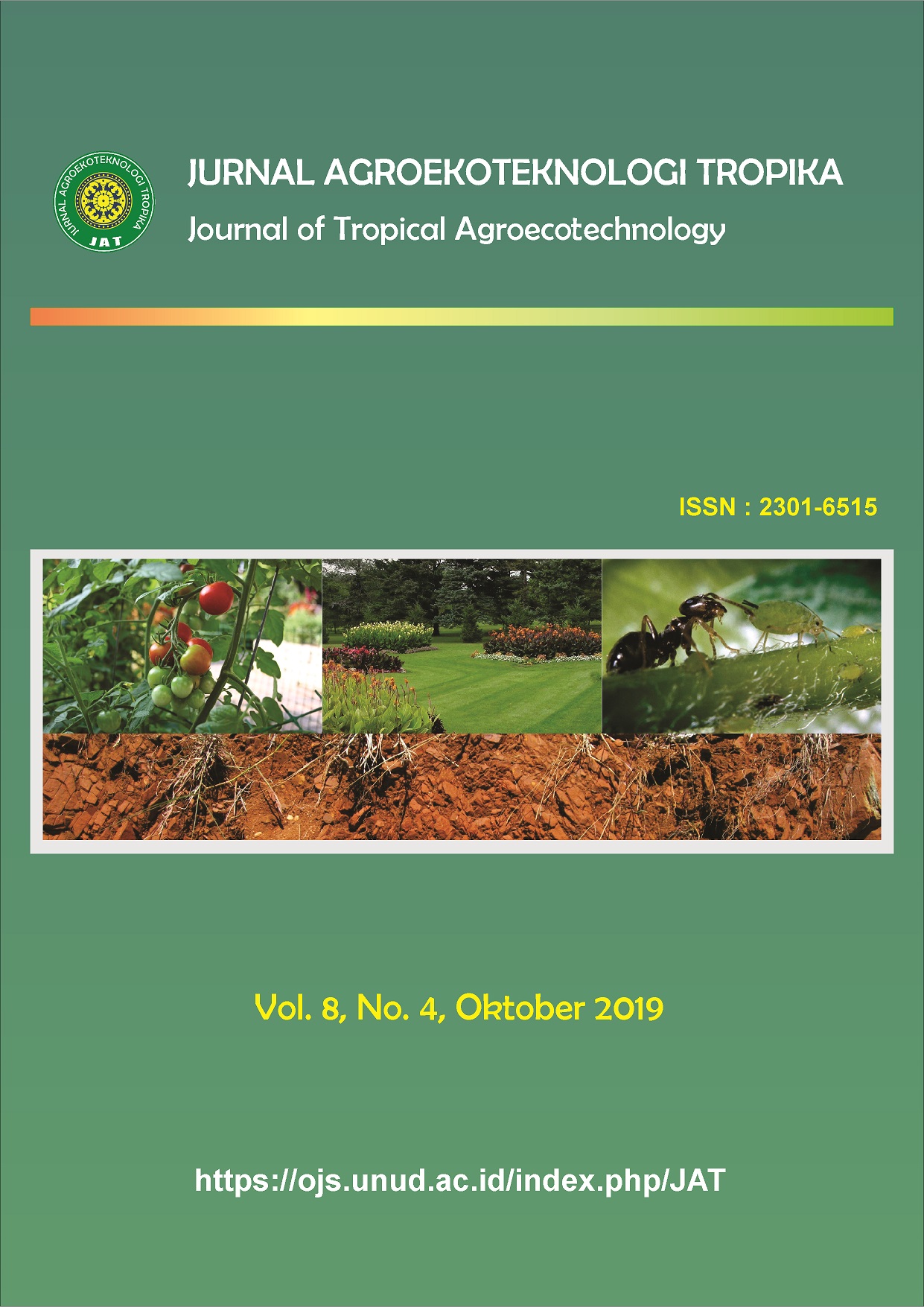 How to Cite
DEWI, NI LUH PUTU NOVITA; SUDARMA, I MADE; PHABIOLA, TRISNA AGUNG. Isolasi Jamur Endofit Pada Tanaman Anggur Bali (Vitis vinifera L. var. Alphonso Lavalle ) serta Efektivitasnya untuk Menekan Pertumbuhan Penyakit Busuk Kapang Kelabu pada Buah Anggur Bali.
Jurnal Agroekoteknologi Tropika (Journal of Tropical Agroecotechnology)
, [S.l.], p. 447-457, nov. 2019. ISSN 2301-6515. Available at: <
https://ojs.unud.ac.id/index.php/JAT/article/view/54491
>. Date accessed: 20 jan. 2021.