Pemetaan Potensi dan Kerawanan Longsor Lahan di Desa Belandingan, Desa Songan A dan Desa Songan B Kecamatan Kintamani, Kabupaten Bangli
NI MADE DWI PRADNYASARI

Program Studi Agroekoteknologi Fakultas Pertanian Universitas Udayana Denpasar

WIYANTI WIYANTI

Program Studi Agroekoteknologi Fakultas Pertanian Universitas Udayana Denpasar

TATIEK KUSMAWATI

Program Studi Agroekoteknologi Fakultas Pertanian Universitas Udayana Denpasar
Abstract
Mapping of Landslide Potential  and Susceptibility at  Belandingan Village, Songan A Village and Songan B Village, Kintamani District ,Bangli Regency
The research conducted in order to find out how the potential for landslides in the Belandingan Village, Songan A Village and Songan B Village. Scoring and overlay method used to determine the results of landslide potentials in the study area. Parameter used as the basis for overlay and scoring are soil types, rainfall data, structural geology, landform, slope and land use map. From the overlay result, 41 land unit were mapped on the research area. Based on scoring, there are 4 classes of landslide potential. They are potential including no Potential, low Potential, moderate Potential, high Potential. Most area of study area are are included as low Potential and medium Potential. Meanwhile high Potential mainly concentrated on the ancient caldera on west part of Batur Lake. Belandingan, Songan A and Songan B villages have various levels of landslide potential, starting from this non-Potentialous category, covering land units 34 and 39. Low potential on land units 26, 29, 25, 23, 21, 38, 3, 12 and 11. While on land units 36, 30, 31, 32, 14, 15, 16, 17, 19, 4, 20, 40, 24, 6, 13, 2, 37, 7, 8, 9, 27.10, 22, 41, 1. 5 and high potential on land units 33, 18, 35, and 28. The no Potential class mainly located in Songan A and Songan B Village with total area 244,17 Ha. The Low Potential class are located mainly in Songan A Village and Songan B Village with small amount in Belandingan with total area 1059,21 Ha. Moderate Potential class located in all with total area 1904,42 Ha . The High landslide Potential class located mainly in Songan B Village with small amount in Belandingan Village and Songan A Village with total area ??343,36 Ha.
Downloads
Download data is not yet available.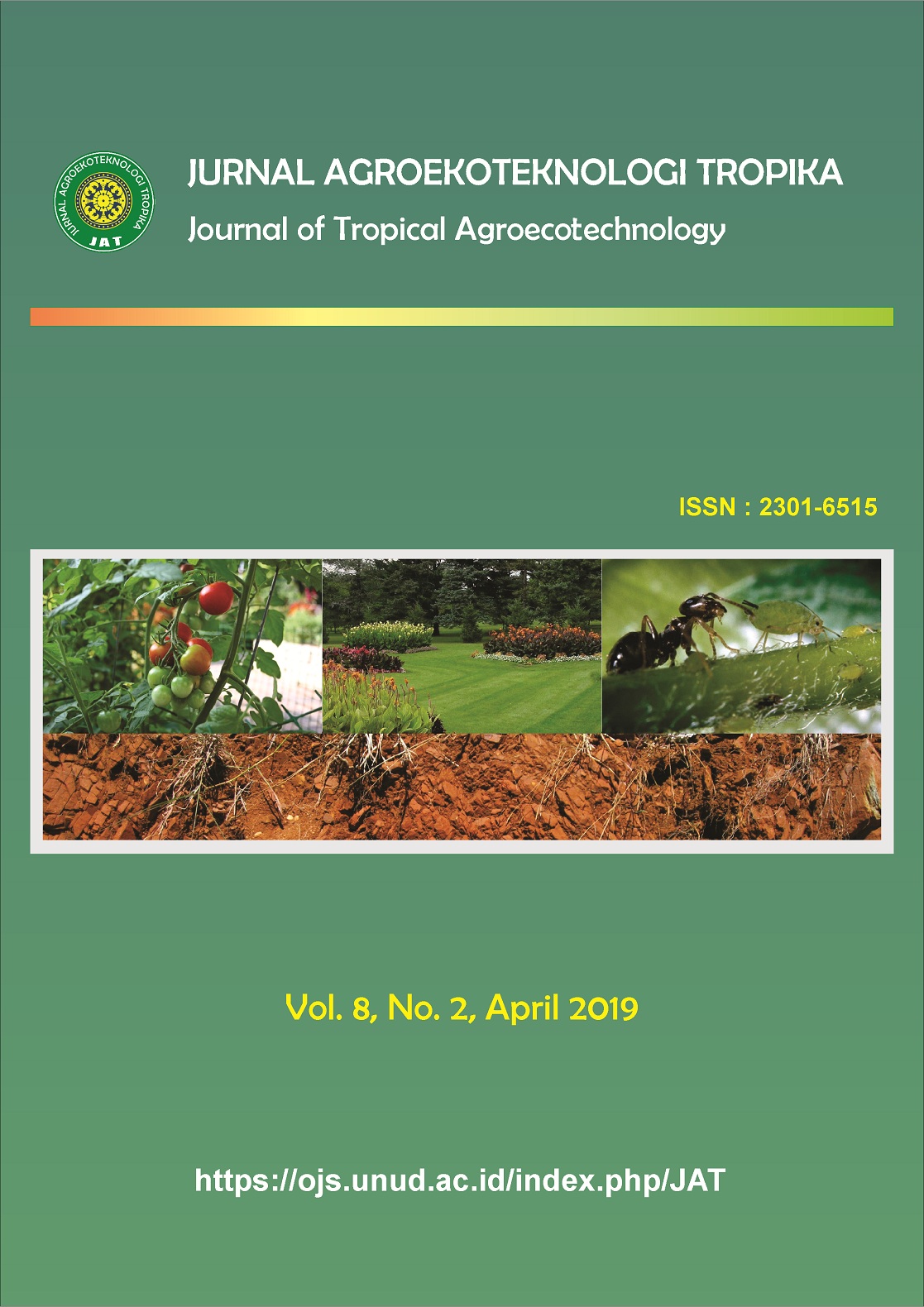 How to Cite
PRADNYASARI, NI MADE DWI; WIYANTI, WIYANTI; KUSMAWATI, TATIEK. Pemetaan Potensi dan Kerawanan Longsor Lahan di Desa Belandingan, Desa Songan A dan Desa Songan B Kecamatan Kintamani, Kabupaten Bangli.
Jurnal Agroekoteknologi Tropika (Journal of Tropical Agroecotechnology)
, [S.l.], p. 231-241, july 2019. ISSN 2301-6515. Available at: <
https://ojs.unud.ac.id/index.php/JAT/article/view/51201
>. Date accessed: 02 june 2023.